Lien Chan offers to help resolve Ma-Wang dispute
Former Chinese Nationalist Party (KMT) chairman Lien Chan (連戰) yesterday expressed his willingness to resolve the political battle between President Ma Ying-jeou (馬英九) and Legislative Speaker Wang Jin-pyng (王金平), amid calls within the KMT for a reconciliation meeting between the two KMT heavyweights.
"I can't guarantee ... but everyone will be willing to smooth things out [between Ma and Wang] if given a chance," he said at Taiwan Taoyuan International Airport before embarking on a private visit to China.
Lien has voiced his support for Wang in the wake of Wang's alleged improper lobbying. His comments yesterday echoed the calls of another KMT heavyweight, former KMT chairman Wu Poh-hsiung (吳伯雄), for Ma and Wang to sit down and resolve their dispute over the incident.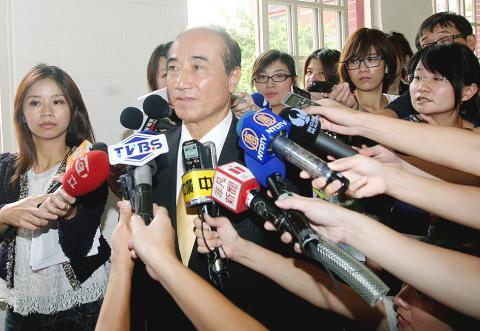 Legislative Speaker Wang Jin-pyng yesterday talks to reporters in Taipei about holding a cross-party negotiation regarding Premier Jiang Yi-huah's report to the legislature.
Photo: CNA
The rift in the KMT has caused great concerns within the party about party unity. Several KMT politicians, including Taipei Mayor Hau Lung-bin (郝龍斌) and New Taipei City (新北市) Mayor Eric Chu (朱立倫), have voiced support for a proposed Ma-Wang meeting and said they expect the matter to be resolved as soon as possible.
"It would be good for the two to meet ... I also expect Speaker Wang to allow Premier Jiang Yi-huah (江宜樺) to present a performance report on the legislative floor, and that the administrative and legislative branches will function normally," Hau said.
Chu, on the other hand, said while the dispute is being addressed via legal procedures, Ma and Wang should have the "wisdom" to resolve the political rift and interact with each other "in a natural way."
Ma, who has dismissed suggestions of a so-called "elimination plan" targeting Wang, yesterday declined to comment on the lobbying dispute and his problematic relations with the legislative speaker.
The Presidential Office said Ma has learned about party heavyweights' call for a Ma-Wang meeting, but insisted that there are also calls for the incident to be settled through legal means.
Amid calls for a reconciliation between Ma and Wang, the legal battle over Wang's party membership and speakership status continued, as the Taiwan High Court yesterday assigned a courtroom to hear the KMT's appeal against the decision by a lower court to allow Wang to keep his party membership for the time being.
While there has been no plans for a formal meeting between Ma and Wang, the two could meet on Friday next week if both decide to attend an annual ceremony celebrating Confucius' birthday in Taipei.
The KMT has also dismissed allegations that it withdrew its invitation for Wang to attend the 19th party congress on Sunday next week.
It remains uncertain whether Wang will attend the event.
Meanwhile, the High Court announced the names of the three judges who will hear an appeal filed by the KMT.
High Court spokesman Hung Kuang-tsan (洪光燦) told a press conference that Presiding Judge Wang Li-li (王麗莉), Judge Lee Yuan-yuan (李媛媛) and Judge Wei Li-chuan (魏莉娟) would hear the appeal.
Hung said the selection of a civil court with its three judges was done by a computer drawing lots, which is a regular practice for the High Court's civil courts.
Three presiding judges and two judges of the civil courts formed a task force to monitor the computerized drawing of lots, which was transparent and fair, he added.
Wang's attorney on Tuesday requested that the High Court hold a public drawing of lots to decide which court would hear the appeal and requested that attorneys for both sides be allowed to watch the process.
Hung said a computer drawing lots with senior judges monitoring the process was in accordance with the Judges' Act (法官法).
The KMT's attorneys on Monday filed an appeal with the High Court against the ruling handed down on Friday by the Taipei District Court in favor of Wang.
Wang last week requested an injunction from the Taipei District Court against the KMT's decision to revoke his party membership, over his alleged role in attempting to influence a prosecutor in a legal case involving Democratic Progressive Party caucus whip Ker Chien-ming (柯建銘).
The district court ruled that Wang may keep his rights as a KMT member until a final ruling, on condition that he pays NT$9.38 million (US$315,000) as a collateral deposit.
The court's ruling took effect on Saturday after it had been delivered to the KMT, the Central Election Commission and the legislature.
Comments will be moderated. Keep comments relevant to the article. Remarks containing abusive and obscene language, personal attacks of any kind or promotion will be removed and the user banned. Final decision will be at the discretion of the Taipei Times.