Owner of bulldozed house found dead
DOUBLE TRAGEDY: Chang Sen-wen's body was found close to where his Dapu home once stood and friends blamed the Miaoli County commissioner for his death
A 60-year-old resident of Dapu Borough (大埔), Miaoli County, whose house was forcibly torn down by the Miaoli County Government in July, was found dead in an irrigation channel near his former home yesterday in the latest in a series of incidents that have drawn attention to the county in recent months.
With family and friends in tears, the body of Chang Sen-wen (張森文) was lifted out of the water by rescuers yesterday afternoon.
"Who killed you? Tell me who killed you?" Chang's wife, Peng Hsiu-chun (彭秀春), cried out when she saw her husband's body, while their son, Chang Yuan-hao (張元豪) stood to the side, repeatedly calling out for his father.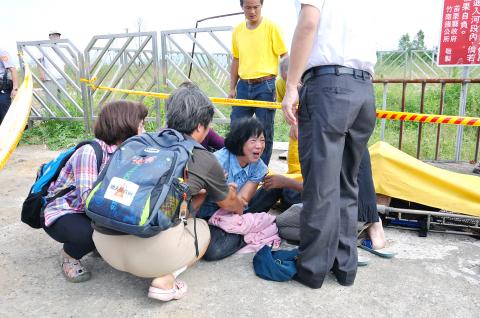 Neighbors comfort Peng Hsiu-chun, center, wife of Chang Sen-wen, after her husband's body was found in a ditch in Miaoli County's Dapu Borough yesterday.
Photo: Peng Chien-li, Taipei Times
"I was quite worried when I woke up in the morning and did not see my dad, because he would usually come back home at about 6am — no later than 7am — from his morning walk," Chang Yuan-hao told reporters in the morning before his father's body was discovered.
"It was a bit weird, because he had left his wallet and cellphone at home," he added.
After receiving a telephone call from Chang Yuan-hao at about 10am, the local police station checked surveillance camera footage of the area where the Changs now live, and saw Chang Sen-wen walking southward by himself at about 2:30am.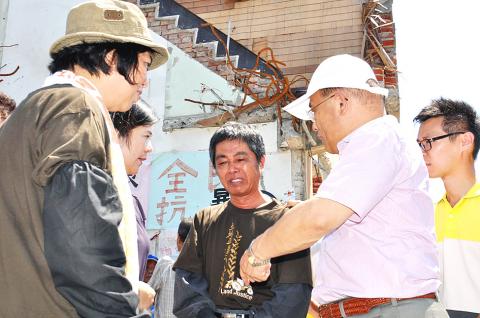 Democratic Progressive Party Chairman Su Tseng-chang, second right, comforts Chang Sen-wen, center, on Aug. 9 after Chang's house and pharmacy in Miaoli County's Dapu Borough were demolished.
Photo: Peng Chien-li, Taipei
Searching along the road, the police found his body in an irrigation channel, about 200m from where his demolished house once stood.
Speaking on Chang Sen-wen's death when asked by the media at a separate setting, Miaoli County Commissioner Liu Cheng-hung (劉政鴻) — who ordered the demolition of the Changs' house and pharmacy on July 18 — said he was mourning, though only after being reminded of the tragedy by journalists.
"For the, uh, I should say, accident, that happened to Mr Chang, I would say, uh, I would lament it, I would lament it," Liu said. "As maybe I should say, I mourn his death, I mourn his death, yes, that's a better term, I mourn his death."
Despite being rebuffed by the Changs when he asked to visit them, Liu insisted on going to their house to pay his respects to the deceased, leading to clashes between police officers escorting him and supporters of the Changs.
Chanting "Liu the killer," the crowd pushed Liu and the police out of the house, throwing bottles and shoes at him before slamming the door shut.
Liu left after getting hit by a shoe.
At press time, the police and the prosecutor were still investigating the cause of Chang Sen-wen's death.
However, netizens and supporters of the Changs have blamed Liu for his death.
Huang Fu-ji (黃福記), a former resident of one of the four homes demolished in July, told reporters that Liu should receive the death penalty and be gunned down.
Chang Sen-wen had been mentally and physically on the edge of collapse since before the forced demolition on July 18.
Two other Dapu residents had committed suicide earlier in protest against the demolitions to make way for a science park.
Additional reporting by Rich Chang
Comments will be moderated. Keep comments relevant to the article. Remarks containing abusive and obscene language, personal attacks of any kind or promotion will be removed and the user banned. Final decision will be at the discretion of the Taipei Times.