Court rules in favor of Wang Jin-pyng
'VICTORY': The court said it accepted Wang's injunction because his loss of position as legislative speaker and a legislator-at-large would be irreversible if it was rejected
The Taipei District Court yesterday ruled in favor of Legislative Speaker Wang Jin-pyng's (王金平) provisional injunction seeking to retain his Chinese Nationalist Party (KMT) membership and position as head of the legislature.
The court ruled that Wang would be able to retain his membership and rights as a KMT member after submitting a guarantee of about NT$9.38 million (US$314,300), Taipei District Court spokesperson Lai Chien-yi (賴劍毅) told reporters.
The guarantee was calculated based on Wang's monthly salary and the remainder of his current term of about two-and-a-half years, Lai said.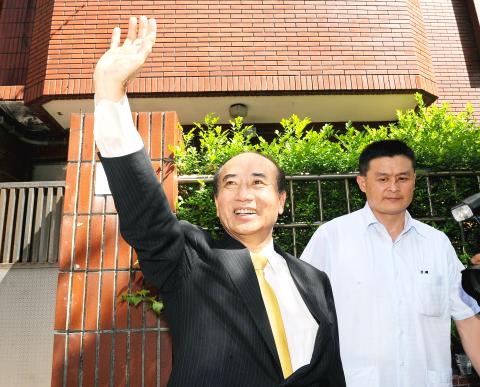 Legislative Speaker Wang Jin-pyng smiles and waves to his supporters as he leaves his home in Taipei yesterday morning.
Photo: Fang Pin-chao, Taipei Times
The ruling was considered a victory for Wang in his battle with President Ma Ying-jeou (馬英九) to keep his political power.
'ILLEGAL LOBBYING'
The 72-year-old senior politician, who has been accused of being involved in illegal lobbying of the judiciary, had his KMT membership revoked on Wednesday, which the party said should invalidate his status as a KMT legislator-at-large and as legislative speaker.
Wang decided to take the matter to court after the KMT failed to grant him a 20-day appeal period and immediately notified the Central Election Commission (CEC) about Wang's party membership being revoked.
The court rejected the KMT's offer of a counter guarantee in its challenge to Wang's claim, Lai said.
Wang's injunction was accepted because his loss of position as legislative speaker and a legislator-at-large would be irreversible if the injunction was rejected, Lai said, adding that Wang's membership would not be affected before another civil lawsuit that Wang had filed said otherwise.
An additional temporary restraining order filed by the Wang camp late on Thursday night, which argued that Wang should retain his position as speaker, was dismissed, the spokesperson said.
Wang's lawyer, Hsu Ying-chieh (許英傑), told reporters that the ruling was "a complete victory" in terms of the provisional injunction, despite dismissal of the restraining order.
"We are glad the judges have made a critical decision in this historic case," Hsu said.
The lawyer said the court's upholding of Wang's claim was crucial because the KMT's decision was a revocation of his party membership rather than as a lawmaker or speaker.
"As the revocation of Wang's party membership was invalidated, the KMT's moves after the revocation have been nullified as well, which means the CEC's notification to void Wang's speaker position was ineffective," Hsu said.
Chen Ming (陳明), the KMT's lawyer, told reporters that his client planned to file an appeal within 10 days.
Chen claimed that Wang was disqualified as a KMT legislator-at-large and as legislative speaker immediately after his party membership was revoked.
At around 9:30pm last night, Wang delivered a short statement calling for unity within the party "under the leadership of President Ma Ying-jeou" to work together to meet shared challenges.
Wang reiterated that he will be a KMT member "forever and ever."
Comments will be moderated. Keep comments relevant to the article. Remarks containing abusive and obscene language, personal attacks of any kind or promotion will be removed and the user banned. Final decision will be at the discretion of the Taipei Times.