Ma orders Wang to return to Taiwan
MAKING HAY: The president said damaging allegations of illegal lobbying involving Legislative Speaker Wang Jin-pyng, who is in Malaysia, must be explained forthwith
Amid the latest political storm over the alleged illegal lobbying for a lawsuit involving Democratic Progressive Party Legislator Ker Chien-ming (柯建銘), President Ma Ying-jeou (馬英九) yesterday urged Legislative Speaker Wang Jin-pyng (王金平) to return to Taiwan immediately and explain his alleged involvement in the incident.
"[The incident] will damage the credibility of the judicial system and at the same time hurt the Chinese Nationalist Party's (KMT) image … I hope Speaker Wang can return to Taiwan and explain the issue to the public as soon as possible," Ma, who doubles as KMT chairman, said after casting his vote for the KMT's Central Standing Committee election at the Taipei City Council.
Accompanied by a group of KMT Taipei City councilors, Ma said he has instructed KMT Secretary-General Tseng Yung-chuan (曾永權) to contact Wang and ask him to clarify the issue as soon as possible.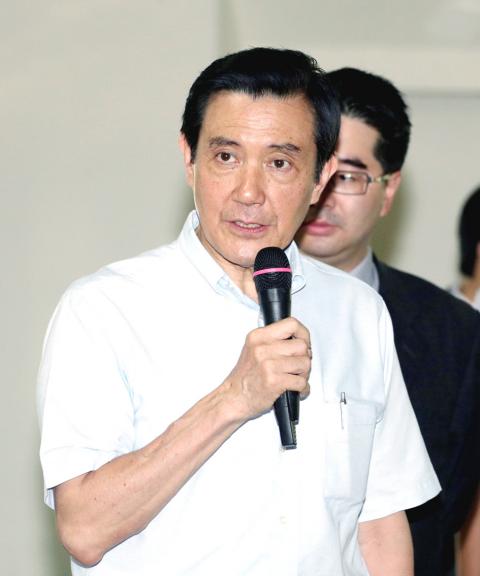 President Ma Ying-jeou speaks at the Chinese Nationalist Party's (KMT) Central Standing Committee meeting in Taipei yesterday.
Photo: CNA
Wang is in Malaysia on a family vacation. According to his assistant, Wang will not return to Taiwan any time soon because he is hosting his second daughter's wedding today.
The assistant added that Wang has already heard the news about the alleged Ker-case lobbying from his office, but decided to refrain from commenting on the case.
Wang is scheduled to return on Tuesday, the assistant added.
Meanwhile, Ma yesterday also defended his decision to accept the resignation of former Minister of Justice Tseng Yung-fu (曾勇夫) on Friday night over accusations that he had abused his power to stop a prosecutor from appealing Ker's case with the Supreme Court.
"As the general public has questions about the case, Tseng can no longer carry out his duty as the justice minister under such circumstances," Ma said.
Tseng, who had originally refused to step down, while insisting on his innocence, announced his resignation late on Friday night after meeting with Premier Jiang Yi-huah (江宜樺) twice earlier in the day.
Jiang yesterday dismissed the idea that Ma had forced Tseng's resignation and said Tseng was defending his innocence during their private meetings.
"We both agree that he, as the top official in the judicial system, should hold his own performance to higher standards," Jiang said.
Jiang said Tseng agreed to take "political responsibility" for the allegations and that his resignation did not mean that he admitted any involvement in illegal lobbying.
"We had a peaceful and rational discussion yesterday, and he was not forced to step down," Jiang said.
Politicians in the pan-blue camp yesterday expressed concern about the incident and urged the Ma administration to handle it carefully.
Taipei Mayor Hau Lung-bin (郝龍斌) said the incident involves administrative, legislative and judicial issues, and such a constitutional matter should be addressed carefully.
Former Taipei EasyCard Corp (悠遊卡公司) chairman Sean Lien (連勝文) expressed concern about the Special Investigation Division's (SID) eavesdropping on Ker and Wang, but refrained from commenting further on the case.
Lien's father, former KMT chairman Lien Chan (連戰), also showed up at the Taipei City Council to cast his vote, but declined to comment on the incident.
Meanwhile, conspiracy theories have been fueling the rumor mill, with KMT Legislator Liao Cheng-ching (廖正井) saying that he saw the incident as "sheer infighting" in the government's judiciary system between Tseng and Prosecutor-General Huang Shih-ming (黃世銘), who led the SID, while others said it was an internal struggle in the Ma administration — infighting between Ma and Wang.
Wang does not have a position within the KMT, but as legislative speaker and a key figure in the party's localization factions, he has great influence in the party.
Wang also represents the KMT's old power bloc, along with party heavyweights including Lien Chan and former KMT chairman Wu Poh-hsiung (吳伯雄), and has had problematic relations with Ma in the wake of fierce competition over the KMT chairmanship in 2005.
Additional reporting by Shih Hsiu-chuan and staff writer
Comments will be moderated. Keep comments relevant to the article. Remarks containing abusive and obscene language, personal attacks of any kind or promotion will be removed and the user banned. Final decision will be at the discretion of the Taipei Times.