Renowned toxicologist Lin Chieh-liang dies from pulmonary infection at 55
Toxicologist Lin Chieh-liang (林杰樑) yesterday died of multiple organ failure caused by a lung infection, said a medical team at Linkou Chang Gung Memorial Hospital, where the 55-year-old had been hospitalized.
"It is with deep regret that we announce the passing of Lin, who died of pulmonary infection-induced multiple organ failure at 12:42pm today, despite our all-out efforts to treat him over the past few days," hospital deputy superintendent Yeh San-jou (葉森洲) told a press conference.
Lin was rushed to the hospital by ambulance on Friday afternoon after he woke up with breathing difficulties that morning, Yeh said, adding that he was later transferred to an intensive care unit.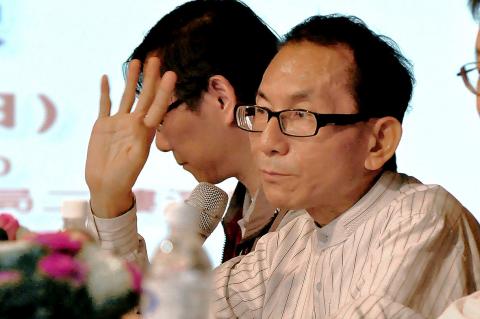 Toxicologist Lin Chieh-liang, who died yesterday, gestures during a conference in an undated photograph.
Photo: CNA
"We made a preliminary diagnosis of pulmonary infection after running a variety of tests on Lin and subsequently put him on antibiotics and an extracorporeal membrane oxygenation [ECMO] machine," Yeh said.
However, because Lin remained unconscious for several days and showed no signs of improvement, his family decided to take him off life support to end his suffering, Yeh said.
As for the cause of Lin's lung infection, Yeh said he believed it was bacterial, but the medical team had not yet identified what kind of bacteria.
The hospital said it has established an ad-hoc committee to help Lin's family members with funeral arrangements and set up a mourning hall to allow members of the public to pay their last respects to the doctor.
It has also set up a research memorial fund in Lin's honor to carry on his life-long mission to safeguard public health, the hospital said.
A graduate of Taipei Medical University's School of Medicine, Lin gained a reputation as a guardian of public health after giving valuable food safety advice to the public amid a wave of food scares in recent years.
He made several notable contributions to medicine and society, such as establishing the "Green Cross Healthcare Service Team" about two decades ago to provide free medical consultations to people from areas with limited medical resources.
Lee Chyi-long (李奇龍), chief of the hospital's Department of Obstetrics and Gynecology, who was in Lin's class in college, said Lin had undergone dialysis for more than three decades after suffering renal failure during medical school, but he never ceased to be public-spirited.
Lin's oldest son, Lin Hung-chen (林泓楨), said his father had been so concerned about public health that on the night before he fell ill, he was researching the potential adverse effects of rabies vaccines on human health.
Department of Health and Welfare Minister Chiu Wen-ta (邱文達) sent his condolences to Lin's family.
"Lin was a long-term adviser to the health department and had offered much constructive advice. I am truly grateful for his dedication to public health and food safety," Chiu said.
Comments will be moderated. Keep comments relevant to the article. Remarks containing abusive and obscene language, personal attacks of any kind or promotion will be removed and the user banned. Final decision will be at the discretion of the Taipei Times.