Asian house shrew found infected with rabies: COA
OMINOUS FIRST: Until the shrew, the 14 confirmed cases of rabies had been confined to only a single species, the ferret-badger. Authorities are stepping up vaccinations
An Asian house shrew has been confirmed to have been infected with rabies, the Cabinet's Council of Agriculture (COA) said last night.
The Asian house shrew, or money shrew, was caught last week in a house in Taitung County. A woman there was first suspected of having been bitten by the animal, but was later found to be free of any bite marks, the council said.
Until the infected shrew, all 14 cases of animal infections had been found in wild Formosan ferret-badgers, covering 12 townships or districts in six counties and cities in central and southern Taiwan, the council said.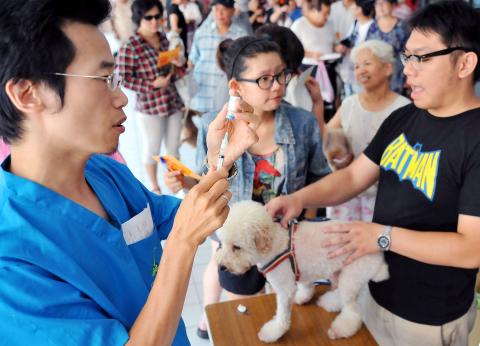 An animal healthcare worker, left, draws a rabies vaccine into a syringe in New Taipei City yesterday.
Photo: Mandy Cheng, AFP
Since Taiwan reported its first rabies cases on July 16, of the 14 cases involving Formosan ferret-badgers from the mountainous areas, Nantou County has accounted for seven, the council said. Nearby Greater Taichung and Yunlin County have reported one each, while Greater Tainan has reported one and Greater Kaohsiung has reported two. Taitung County has reported two cases so far.
Of the two most recent confirmed cases involving ferret-badgers, one had bitten a nine-year-old girl living in Nantou County's Renai Township (仁愛).
The girl was vaccinated immediately afterward.
"And since the ferret-badger involved in the biting has been confirmed to be infected, human rabies immune globulin (HRIG) has also been administered to the girl," Centers for Disease Control (CD) Deputy Director-General Chuang Jen-hsiang (莊人祥) said.
The other case was found in Greater Kaohsiung's Meinong District (美濃), Chuang added.
Speaking before the shrew had been found to have been infected, CDC Director-General Chang Feng-yee (張峰義) had emphasized that the rabies outbreaks were so far still restricted to a single species, ferret-badgers.
"Since 1999, the year we started to conduct monitoring and surveillance for rabies, no dogs [or cats or bats] have been tested positive for the virus," Chang said.
The center also reported that during the 24-hour period through 4pm on Monday, 100 more people who have suffered animal bites or scratches have asked for rabies vaccine, raising the total to 245 since July 21. Among them, 115 have been approved to use of the vaccine and 16 to use HRIG.
Bureau of Animal and Plant Health Inspection and Quarantine Director Chang Su-san (張淑賢) said that given that all infected animals have been found in mountainous areas, local authorities will step up their efforts to vaccinate cats and dogs living in the mountains and round up stray dogs and immunize them.
When asked whether the council has considered dropping oral vaccines attached to food as bait to attract wild animals from the air in the mountains to control any outbreak of rabies among wildlife, as the US and some European countries, such as Belgium, France and Germany, have done, she said that the competent authority has to first go through a whole series of evaluations before undertaking such preventive measures, and the measures have not yet been decided.
The World Organization for Animal Health announced on Friday that it has listed Taiwan as a rabies-affected area.
Taiwan had been free of rabies since 1961.
Additional reporting by CNA
Comments will be moderated. Keep comments relevant to the article. Remarks containing abusive and obscene language, personal attacks of any kind or promotion will be removed and the user banned. Final decision will be at the discretion of the Taipei Times.