Protests against cross-strait pact begin in Taipei
A group of civic organizations yesterday began a series of protests against the opacity of the recently signed cross-strait service trade agreement, asking the government to scrap the agreement and renegotiate with China over the terms of the pact.
"President Ma Ying-jeou's (馬英九) government did not consult with any industries or the legislature before signing the agreement," Democratic Progressive Party (DPP) Chairman Su Tseng-chang (蘇貞昌) told the rally held in Taipei.
"Industries I spoke to all said they are worried about the negative impacts there may be as a result of the signed agreement, and yet Ma keeps saying that 'certain political parties and media' are exaggerating negative consequences of the service pact," he said.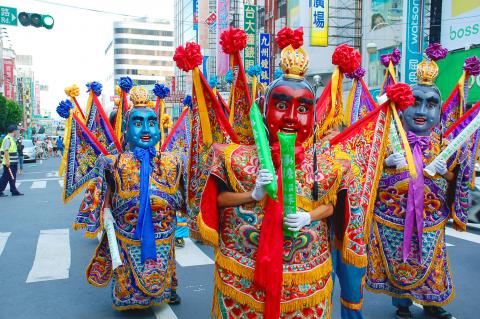 Protesters dressed as folk deity Nezha, or the Third Prince, participate in a demonstration against the service trade agreement with China in Pingtung County yesterday.
Photo: Lee Lee-fa, Taipei Times
As governing and opposition lawmakers have reached a consensus to review the cross-strait service trade agreement during an extraordinary legislative session slated to take place beginning on Tuesday, the DPP will insist that the legislature screen the pact item-by-item, he added.
National Taiwan University economics department chairwoman Jang Show-ling (鄭秀玲) said in a video shown at the rally that the Ma administration violated three principles in signing the cross-strait service trade agreement.
The signing lacked transparency throughout the process, it put commercial interests ahead of national interests by opening air, sea and land transportation and communication industries to China and the agreement is unequal, she said.
Saying the pact would only benefit big business and damage small and medium-sized enterprises and their workers in the service sector, Jang called for the government to renegotiate the pact with China.
Former Examination Yuan president Yao Chia-wen (姚嘉文), one of the conveners of the series of protests which the groups plan to stage over the next seven days, voiced concerns that when Chinese businesses establish themselves in Taiwan, not only industry, but national security would be affected.
In addition to the rally yesterday, a protest organized by groups such as the Cross-Strait Agreement Watch, Taiwan Democracy Watch and the Taiwan Labor Front will take place in front of the Legislative Yuan tonight.
Comments will be moderated. Keep comments relevant to the article. Remarks containing abusive and obscene language, personal attacks of any kind or promotion will be removed and the user banned. Final decision will be at the discretion of the Taipei Times.