Ferret-badger with rabies bit man
FIRST BLOOD: The man was bitten on the finger by a sick ferret-badger, but the Centers for Disease Control said first tests have found no sign of rabies in the man
The first case of a person being bitten by a wild Formosan ferret-badger infected with rabies was confirmed in Taitung County's Donghe Township (東河) on Tuesday night, the Council of Agriculture said.
The incident came in the wake of the council's announcement last week that three cases of rabies infection were found in dead wild ferret-badgers in Yunlin County's Gukeng (古坑) and Nantou County's Yuchi (魚池) and Lugu (鹿谷) last year, causing Taiwan to fall off the list of rabies-free countries after 54 years.
According to the council, a 31-year-old man surnamed Huang (黃) of Donghe's Singchang Village (興昌) was bitten by a wild ferret-badger at home on Monday night. He reported the case to the local animal disease control center on Tuesday and was sent to the Hualien Hospital for emergency precautionary treatment consisting of intravenous injections of immunoglobulin and rabies vaccine.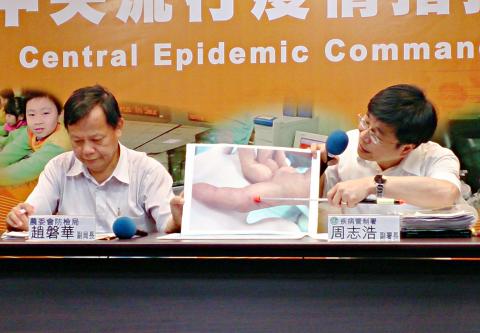 Centers for Disease Control Deputy Director Chou Jih-haw, right, and Bureau of Animal and Plant Health Inspection and Quarantine Deputy Director-General Chao Parn-hwa hold a joint press conference yesterday in Taipei to brief the public on rabies prevention measures.
Photo: CNA
Centers for Disease Control (CDC) Deputy Director-General Chou Jih-haw (周志浩) said while initial testing found no signs of the virus having infected Huang, the center will continue to monitor his health for a month and administer the necessary five vaccine shots in this period.
Chang Su-san (張淑賢), director of the council's Bureau of Animal and Plant Health Inspection and Quarantine, said Huang felt an animal climbing onto his neck when he was working on a computer at home at about 7pm on Monday and was bitten on the finger by the animal when he tried to chase it away.
"He had the presence of mind to capture the ferret-badger in a rat cage and the animal was found dead on Tuesday morning," Chang said.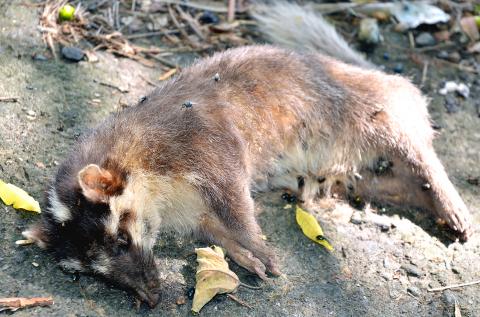 A dead ferret-badger was found in Taitung County's Donghe Township yesterday.
Photo: CNA
"Huang reported the case to the local animal disease control center at about 9am on Tuesday. The center immediately reported the case and sent the dead animal to the council's Animal Health Research Institute for testing," he added.
Having conducted a fluorescent antibody test, as recommended by the World Organisation for Animal Health (OIE), the dead animal was confirmed to be infected with rabies at about 7pm on Tuesday night," Chang said.
According to Tsai Hsiang-jung (蔡向榮), director-general of the council's Animal Health Research Institute, the DNA of the virus found in the rabies-infected ferret-badger is close in structure to the rabies virus found in southern China.
Tsai said the conclusion was based on DNA sequencing data for rabies posted on the Web site of the US' government-funded National Center for Biotechnology Information.
"The possibility that the ferret-badger was bitten by a wild animal from China that was smuggled into Taiwan and released into the wild cannot be ruled out," he said.
An official with the Bureau of Animal and Plant Health Inspection and Quarantine said the bureau would send an official to China to learn more about its rabies situation.
Meanwhile, Council of Agriculture Minister Chen Bao-ji (陳保基) said the council has gathered specialists at animal disease prevention centers to conduct epidemiological research to better understand the outbreak and the source of the infection.
"We also urge the public not to take their pets to forest recreation areas or into the mountains, to prevent pets chasing wild animals and running the risk of getting infected with rabies," he said.
The CDC said it has established a rabies prevention work group at the council. They agreed in their first meeting yesterday to give free vaccines and immunoglobulin inoculations to people with high-risk exposure to the virus and to increase the number of inoculation centers from 15 hospitals to 25 hospitals.
People working with animals who wish to get precautionary vaccines and inoculations will be informed by the council according to their exposure risk as soon as it has sufficient vaccines, it said, adding that any animal that is suspected of having rabies should be reported to the relevant local authority.
Taitung County officials said more than 10 cases of sudden Formosan ferret-badger deaths have been reported in Singchang Village in the past few days. County officials in charge of animal health visited the village yesterday to help vaccinate villagers' pets.
Singchang Village Warden Lin Hsien-shen (林憲身) said he was also concerned that villagers may have eaten more ferret-badgers recently because they have been easier to catch.
Lin said residents of Singchang, where at least half the population are Aborigines, hunt the animal for food.
The Council of Indigenous Peoples said it plans to launch an information blitz in conjunction with other agencies to educate villagers in these regions on animal health and urge them not to eat ferret-badgers.
Chou Chin-cheng (周晉澄), dean of National Taiwan University's School of Veterinary Medicine, said people cannot be infected if a ferret-badger with rabies is well-cooked, but they would be vulnerable if they have surface wounds while preparing the animal for cooking.
Comments will be moderated. Keep comments relevant to the article. Remarks containing abusive and obscene language, personal attacks of any kind or promotion will be removed and the user banned. Final decision will be at the discretion of the Taipei Times.