Free-for-all breaks out in legislature
STANDOFF: After a deadlock of nearly six hours and intermittent fighting, lawmakers managed to reach a consensus on how to handle several controversial bills
Clashes broke out in the legislature yesterday as ruling party and opposition lawmakers pushed and shoved to take over the podium during a plenary meeting of the extra legislative session.
A male lawmaker complained of being bitten by a female colleague, while another female lawmaker screamed as she was frog-marched from the podium by a male opponent. Several legislators also had coffee sprayed on their faces during a scuffle.
The podium was first occupied by Chinese Nationalist Party (KMT) lawmakers, who were instructed by the party on Monday night to assemble outside the legislative chamber before 6:30am. When Democratic Progressive Party (DPP) and Taiwan Solidarity Union (TSU) lawmakers arrived soon after, fighting broke out.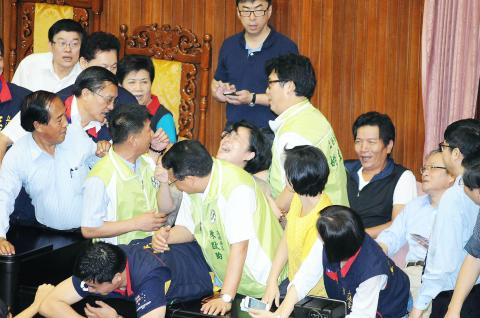 Chinese Nationalist Party (KMT) and Democratic Progressive Party lawmakers jostle to occupy the podium in the Legislative Yuan in Taipei yesterday during the last day of an extra legislative session.
Photo: CNA
Running out of the legislative hall in tears, KMT Legislator Wang Huei-mei (王惠美) told reporters she could not believe it when DPP Legislator Pasuya Yao (姚文智) grabbed her hands from behind and dragged her away from the podium.
"It's the last day of the extra legislative session. What I was asking was that we should begin reviewing bills. Why did he attack a woman?" Wang asked.
Yao said he was trying to tell Wang not to jostle for space with DPP Legislator Hsu Chih-chieh (許智傑), who was already on the podium.
KMT Legislator Wu Yu-jen (吳育仁) showed reporters a bite mark on his upper left arm, accusing DPP Legislator Lin Shu-fen (林淑芬) of biting him when she rushed into the chamber and saw him standing on the podium.
"I didn't feel pain at first, but it began to hurt an hour or two later. I think she bit me really hard," Wu said.
Wu later posted a message on his Facebook page saying that he had taken a doctor's advice and received a tetanus shot to prevent possible infection.
In response, Lin accused Wu of pressing his body against her and scratching her frantically.
"I bit him because he touched my breasts," Lin said.
Lin apologized to DPP legislators Ho Hsin-chun (何欣純) and Hsueh Ling (薛凌) and to KMT Legislator Hsieh Kuo-liang (謝國樑) for accidentally spraying them with water and coffee during the confrontation. She refused to apologize to Wu.
"Why should I apologize to someone who touched my breasts?" Lin said.
Several DPP lawmakers also demanded that Wu apologize to Lin.
Later last night, Wu denied that he deliberately touched Lin's breasts, but added that if she felt uncomfortable about the incident, he was willing to apologize.
KMT Legislator Ma Wen-Chun (馬文君) also wrestled with Lin in a separate clash.
In another round of fighting, DPP Legislator Chen Ting-fei (陳亭妃) was bundled into the back of KMT Legislator Chen Shu-hui (陳淑慧) and pulled out some of the latter's hair.
KMT Legislator Huang Chao-shun (黃昭順) checked into a hospital, saying she injured her back after she was pushed to the ground and could barely stand up.
The KMT occupied the podium to ensure the passage of a number of controversial bills, while the DPP and the TSU staged a boycott to protest the signing of a cross-strait service trade agreement om Friday last week in Shanghai.
Lawmakers managed to reach a consensus on how to handle the controversial issues at 12:45pm, bringing the nearly six-hour long deadlock to an end.
Comments will be moderated. Keep comments relevant to the article. Remarks containing abusive and obscene language, personal attacks of any kind or promotion will be removed and the user banned. Final decision will be at the discretion of the Taipei Times.