Reports of abuse of Filipinos fabricated
SOCIAL DISORDER: A journalist and a Facebook user face charges of disturbing public order by spreading rumors after two stories they posted online proved to have been falsified
A woman surnamed Tung (董) and a journalist surnamed Cheng (鄭) who had reported that they had personally witnessed incidents in which restaurant owners had refused to sell food to Philippine nationals amid the recent tensions between Manila and Taipei have admitted they had only "heard" about the incidents.
Amid the row between Taiwan and the Philippines over the fatal shooting of Taiwanese fisherman Hung Shih-cheng (洪石成) by Philippine Coast Guard personnel on May 9, two stories were circulated among netizens detailing incidents in which restaurant owners were said to have refused to sell food to Philippine nationals.
In a post on her Facebook page last week, Tung said that a Philippine worker had asked her to buy lunch for him because a restaurant owner had refused to sell food to Filipinos, adding that he had been trying to get food for more than an hour, but no one had been willing to help him.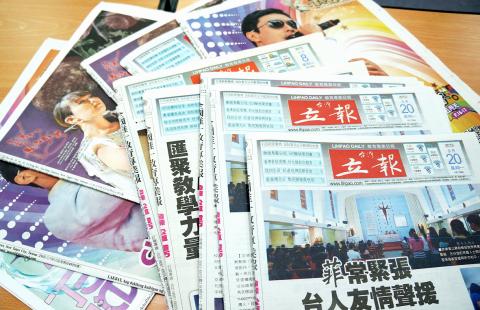 Shih Hsin University Chinese-language newspaper Lih Pao is pictured.
Photo: Chen Yi-ching, Taipei Times
Tung wrote that she had immediately bought food for the man and told the owner that it was wrong to vent his anger about the shooting on a Filipino worker in Taiwan.
Separately, Cheng, a journalist at the Chinese-language daily Lih Pao, posted a similar story on his Facebook page last week, saying that he saw a restaurant owner call two Filipinos "dogs" and saying he refused to sell food to "dogs."
Cheng wrote that as the two Filipinos protested, the owner had thrown food on the ground and told them to eat it like the dogs they were.
Cheng also claimed that he had told the owner his behavior was inappropriate and had bought lunch for the Filipinos.
The two posts quickly went viral and were shared by tens of thousands of Facebook users, many of whom condemned the restaurant owners, though others questioned if the stories were true.
To show that he supported and trusted his colleague, Chang Cheng (張正), editor-in-chief of Four Way Voice (四方報), Lih Pao's sister newspaper, asked Cheng to arrange an unofficial interview with the restaurant owner.
Chang posted the interview on his Facebook page, which seemed to validate Cheng's original post and confirm that the story was true.
However, doubts continued to grow and Minister of the Interior Lee Hong-yuan (李鴻源) ordered a probe into the stories.
"I was deceived, it was my fault, I apologize," Chang told a news conference at Lih Pao's head office in New Taipei City (新北市) yesterday afternoon. "After Cheng posted the story on his Facebook page, Lih Pao's deputy executive editor-in-chief Liao Yun-chang (廖雲章) and I confirmed with Cheng several times that the story was true. To further verify it, we also asked Cheng to arrange the interview with the restaurant owner."
However, to his horror, both the story and the interview turned out to be false, Chang said.
After being questioned by the police on Tuesday night, "Cheng admitted that he had merely 'heard' about the story instead of having 'witnessed' it personally, and that the restaurant owner [that I met] was not actually a restaurant owner, but a friend of his who agreed to act as the owner mentioned in his story," Chang said.
"I deeply regret Cheng's dishonesty and I apologize for my failure to recognize that the story was false," he added. "Cheng will be dismissed from his post immediately and I will also tender my resignation as editor-in-chief of Four Way Voice."
Tung also apologized to the public and journalists at a press confernce, once on Tuesday evening and again yesterday morning.
"I said [in my Facebook post] that I personally witnessed a Filipino worker being refused service by a restaurant, but in fact, I merely heard it from another customer at the restaurant while waiting in line to get my lunch," she said. "I want to stress that I did not make up the story, but I would like to apologize to the public for telling a lie that triggered such an uproar."
Police yesterday charged Tung and Cheng with violating the Social Order Maintenance Act (社會秩序維護法), which prohibits the spreading of rumors that cause a public disturbance.
According to the act, if convicted, the two could face a maximum detention of three days or a maximum fine of NT$30,000.
Their cases have been sent to the Taipei District Court for expedited trials.
Meanwhile, rights activists yesterday criticized the government for its handling of the incidents.
"The government has overreacted by employing the state apparatus to investigate whether two citizens had personally witnessed incidents posted on their private Facebook pages, especially since no person or establishment was named in either story," said Chiu I-ling (邱伊翎), executive secretary of the Taiwan Association for Human Rights. "It is equally ridiculous that the two have been charged with violating the Social Order Maintenance Act, which is already legislation left over from a time when the nation was under authoritarian rule."
Chu Wei-li (朱維立), the executive director of the National Federation of Independent Trade Unions, said that Cheng's employer may have violated the Labor Standards Act (勞動基準法) by dismissing him because of a non-work-related message he posted on a personal Web page.
In other developments, lawmakers on the legislature's Transportation Committee passed a resolution asking the National Communications Commission (NCC) to investigate if the media had violated any regulations by spreading false news reports on the Internet.
Democratic Progressive Party Legislator Yeh Yi-jin (葉宜津) said the false stories had damaged the image of Taiwanese since they had been spread internationally through the newspaper's Internet edition, giving people in other countries the impression that Taiwan was inhumane, she said.
Asked if the commision could can regulate the online editions of newspapers and magazines, NCC Chairman Howard Shyr (石世豪) said electronic editions "are a continuation of print media."
He thanked writer Giddens Ko (柯景騰), also known as Jiu Ba-dao (九把刀), for volunteering to validate the authenticity of the reports.
"I would like to thank the online community for wielding its positive influence in this occasion and the commission is also grateful that a writer [Jiubadao] and other netizens were willing to spend their free time investigating the matter. This is an example of why the independent operation of civic society should always respected," he said.
However, Yeh said Shyr was shirking his responsibilities and urged the commission to take action to regulate online media outlets.
Additional reporting by Shelley Shan and Rich Chang
Comments will be moderated. Keep comments relevant to the article. Remarks containing abusive and obscene language, personal attacks of any kind or promotion will be removed and the user banned. Final decision will be at the discretion of the Taipei Times.