Taiwan scores first table tennis gold in Paris win
DAVID BEATS GOLIATH: The Taiwanese duo's victory over the Chinese team was a shock to many, since the nation's pervious best result was silver two decades ago
Chuang Chih-yuan and Chen Chien-an will each receive NT$900,000 (US$30,033) from the government in recognition of their historic win over China in the men's doubles category at the World Table Tennis Championships on Sunday in Paris, France.
It was Taiwan's first gold medal since it began competing in the world championships in 1985.
"This is an important milestone in our table tennis history," Chinese Taipei Table Tennis Association secretary-general Chen Ching-yen said.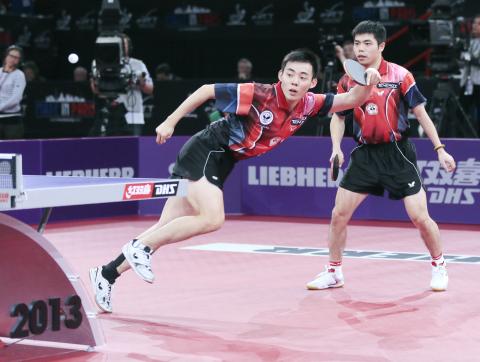 Taiwan's Chen Chien-an, left, and Chuang Chih-yuan return to China's Hao Shuai and Ma Lin (not seen) on Sunday during the men's doubles final match at the World Table Tennis Championships in Paris, France.
Photo: AFP
Chuang and Chen Chien-an toppled their formidable Chinese opponents, Ma Lin and Hao Shuai, 4-2 (9-11, 12-10, 11-6, 13-11, 9-11 and 11-8) to secure the title.
Taiwan's previous best result at the event had been a silver medal won by Chen Jing in the women's singles 20 years ago.
"This is the first time in our history, so this is a good result," said 32-year-old Chuang, a veteran player who ranks sixth in the world. "We played well and did very well tactically, both serving and receiving."
Chuang was full of praise for his 21-year-old partner, Chen Chien-an.
"I think [he] is a very tactical player, he's powerful and I play well with him," the right-hander said.
Chen Chien-an, 28th in the world rankings, has enjoyed growing attention since he beat China's Zhang Jike, last year's Olympics men's singles gold medalist, at the World Team Classic in March.
President Ma Ying-jeou (馬英九) said he was excited by the victory and was quoted as saying: "It's a hard-won achievement that highlights the Taiwan spirit of perseverance and fortitude."
Ma Lin, the 2008 Olympics table tennis singles champion and a four-time World Cup winner, praised the Taiwanese team as worthy winners.
"The team is a very good one, so it's no surprise we lost," Ma Lin said.
Hao struck a similar chord, saying: "We did well today but our opponents did better than us."
The 34-year-old Ma Lin, who was appearing in his ninth and final World Championships, also announced his impending plans to retire from the Chinese team.
"After this championship I think will quit the national team of China because at my age I have to rethink my career and my life, but for now I don't have any exact information. I don't have the exact plans. I will tell the media when I get more information," he said.
The Taiwanese duo's surprise victory squashed China's hopes of taking its 11th consecutive title at the world championships.
In Sunday's game, the focus was almost entirely on the Chinese team and the result came as a surprise to many spectators.
In Taiwan, netizens celebrated the hard-won victory.
"The duo is the pride of Taiwan. A new era is dawning in our table tennis history," one netizen wrote on PTT, the nation's largest bulletin-board system.
Additional reporting by Reuters
Comments will be moderated. Keep comments relevant to the article. Remarks containing abusive and obscene language, personal attacks of any kind or promotion will be removed and the user banned. Final decision will be at the discretion of the Taipei Times.