Ma sorry over confidante's bribery case
KMT CHAIRMAN: Calls from some party members that Ma should not run for party chief have emerged again, saying his close links to Lai Su-ju have tarnished the party
President Ma Ying-jeou (馬英九), who doubles as Chinese Nationalist Party (KMT) chairman, yesterday apologized for KMT Taipei City Councilor Lai Su-ju's (賴素如) alleged involvement in a bribery scandal, and promised to examine the party's integrity and restore its reputation.
"I am extremely shocked and saddened that a party member is involved in a bribery case, and that the party's reputation has been jeopardized. As party chairman, I cannot shirk responsibility and I must apologize to all party members and the people," he said while attending a ceremony to commemorate the war dead at the Taipei Martyrs' Shrine.
Lai, a close aide of Ma, was released on NT$1.2 million (US$40,170) bail early yesterday morning pending investigation into allegations that she accepted bribes from the developer in the bidding process for the Taipei Twin Towers (台北雙子星) project.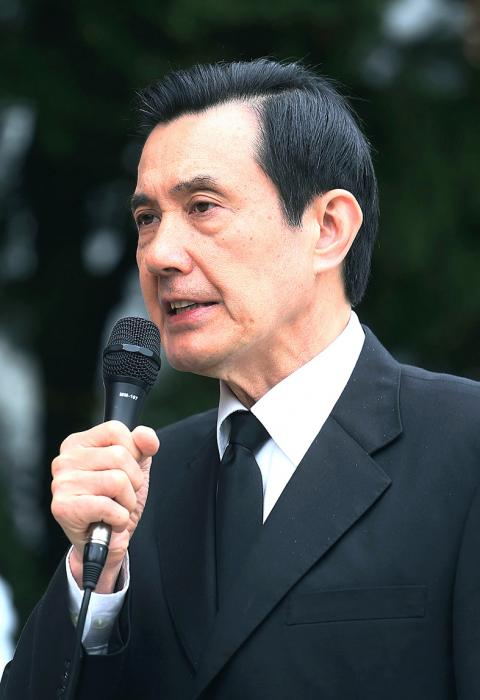 President Ma Ying-jeou apologizes for Chinese Nationalist Party (KMT) Taipei City Councilor Lai Su-ju's alleged involvement in a bribery scandal, after attending a ceremony to commemorate the war dead at the Taipei Martyrs' Shrine yesterday.
Photo: CNA
On Thursday evening, she resigned as director of Ma's KMT chairman's office, as KMT Central Committee member and as deputy director of the KMT's Culture and Communication Committee. Ma has approved her resignation.
A four-term Taipei City councilor since 1997, the 49-year-old lawyer had often discussed legal topics or issues with Ma during his tenure as Taipei mayor.
She offered counseling services for Ma when he was accused of illegal use of his special mayoral discretionary fund.
Lai also served as the chief defense lawyer in many KMT-related legal cases over the past years and often defended KMT policies in political talk shows.
Ma personally named her the spokeswoman of his campaign office in the run-up to last year's presidential election.
The KMT issued a written statement from the president at midnight on Thursday in which he apologized for Lai's alleged involvement in the bribery scandal.
With the scandal further tarnishing the Ma administration's image and casting doubts on his pledge to reform the party, the president again apologized yesterday morning and reiterated his commitment to party reform.
Prosecutors alleged Lai promised to help a multinational consortium win the bid for the project in exchange for a kickback of NT$10 million, and accepted a downpayment of NT$1 million in 2011.
Lai's legal case made her the second KMT politician with close links to Ma to be implicated in corruption scandals, after former party vice chairman and Executive Yuan secretary-general Lin Yi-shih (林益世) was indicted on graft charges in October last year.
Several party members have raised concerns about Ma's re-election bid for party chairman scheduled to be held in July.
KMT Legislator Alex Tsai (蔡正元) said Ma should reconsider his intent to seek another term as KMT chairman because Lai's alleged involvement in the bribery scandal has damaged his reputation as party leader.
Before Lai is able to clear her name before a court, Ma will have a bumpy ride if he decided to run for re-election, Tsai said.
"If Ma decided to run for re-election, he would be haunted by the scandal in the campaign," he said.
KMT Legislator Liao Cheng-ching (廖正井) said grassroots members have said Ma should consider not running for re-election in light of the latest alleged corruption.
Since Lai was a confidante and protege of the president, Ma should shoulder the responsibility for her role in the alleged scandal, KMT Legislator Lo Shu-lei (羅淑蕾) said.
"For that reason, he should not run for re-election," Lo said.
On the other hand, Legislative Speaker Wang Jin-pyng (王金平) said he would continue to support Ma's leadership in the party if he intended to run for chairmanship.
The KMT maintained a low profile in response to the challenges facing Ma. KMT officials who spoke on condition of anonymity said Ma still plans to run for re-election and would continue party reform while seeking unity within the party.
Additional reporting by Shih Hsiu-chuan and CNA
Comments will be moderated. Keep comments relevant to the article. Remarks containing abusive and obscene language, personal attacks of any kind or promotion will be removed and the user banned. Final decision will be at the discretion of the Taipei Times.