Nantou politician indicted over 117 cases of bribery
Nantou County prosecutors yesterday indicted Nantou County Commissioner Lee Chao-ching (李朝卿), a member of the Chinese Nationalist Party (KMT), on corruption and other charges, saying Lee is suspected of involvement in as many as 117 bribery cases.
The Nantou District Prosecutors' Office said Lee was suspected of receiving kickbacks from almost every bid for a county government project since coming to office in 2008.
Lee, who has been detained since Nov. 30 last year, is alleged to have received kickbacks of between 10 percent and 15 percent of project fees from contractors. Prosecutors say Lee took more than NT$31.7 million (US$1.06 million) in bribes, and part of the money was distributed to county government officials.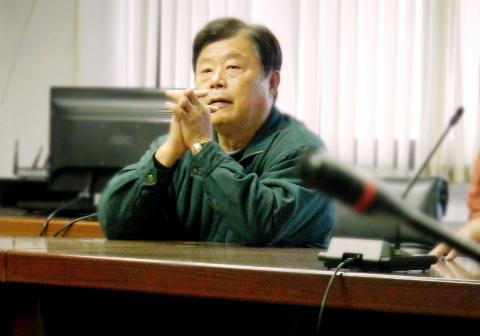 Nantou County Commissioner Lee Chao-ching's brother-in-law Chien Jui-chi, who was indicted yesterday on charges of handling contractors' bribes for Lee, is pictured in a file photo.
Photo: Hsieh Chieh-yu, Taipei Times
Prosecutors said Lee received dirty money in a total of 117 cases, and added that he was charged with corruption and violation of the Government Procurement Act (政府採購法).
Prosecutors said Lee denied that he was corrupt, arguing that his subordinates had been in charge of the deals and that he did not know anything about them.
Prosecutors suspect that Lee and other county government officials received kickbacks from contractors who had won bids for public projects such as construction, tourism or agriculture and on projects to repair roads damaged by typhoons and floods. The actions of Lee and his government have seriously damaged the county and its people, prosecutors said.
Sixteen other people were indicted alongside Lee yesterday, including Nantou County Government Public Works Department director Huang Jung-te (黃榮德), Lee's secretary Chang Chih-yi (張誌誼), Lee's brother-in-law Chien Jui-chi (簡瑞祺) and contractor Wu Chung-chi (吳仲琪).
Prosecutors said they suspect the county government had divided public projects into smaller ones, each with a budget of NT$1 million, so that it could assign contractors without inviting public tenders as required by the Government Procurement Act.
Prosecutors said suspicions had grown that Chien was acting as a broker between Lee and the contractors.
The district court decided to release Lee on bail of NT$20 million, while Chien was released on NT$10 million. Both have been barred from leaving the country.
On Nov. 29 last year, prosecutors searched Lee's office and several other locations and seized NT$300,000 in cash found in tea cans in Lee's office and more than NT$1 million in cash from Huang's house.
Comments will be moderated. Keep comments relevant to the article. Remarks containing abusive and obscene language, personal attacks of any kind or promotion will be removed and the user banned. Final decision will be at the discretion of the Taipei Times.