Taiwan increasingly leaning toward China: Stanton
Former American Institute in Taiwan (AIT) director William Stanton yesterday took issue with opinion polls showing that a majority of Taiwanese prefer maintaining the "status quo" in dealings with China.
Taiwan is actually increasingly leaning toward China, he said, and the "status quo," as perceived by Taiwanese, was "problematic" and "an illusion," given that China is growing ever stronger and Taiwan is increasingly dependent on China economically.
Taiwanese cannot unilaterally decide the development of cross-strait ties, Stanton said at the annual meeting of the World Taiwanese Congress in Taipei, adding that how much patience China shows toward maintaining the "status quo" remains a question if bilateral relations do not proceed the way China sees fit.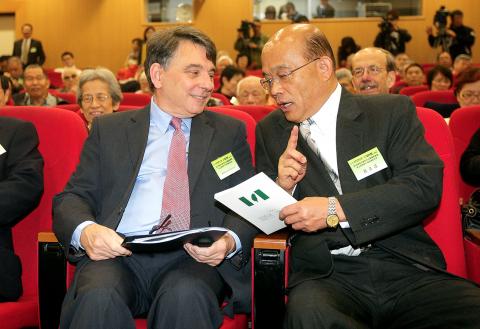 Democratic Progressive Party Chairman Su Tseng-chang, right, and former American Institute in Taiwan director William Stanton chat during the annual meeting of the World Taiwanese Congress in Taipei yesterday.
Photo: CNA
Pro-unification advocates often think of themselves as realists and say Taiwan has no choice other than uniting with China, and they optimistically imagine that with time and the model that Taiwan provides, it would ultimately produce a beneficial influence over China, Stanton said.
However, the Chinese Communist Party has given no indication that it would actually support democracy or brook any challenge to its authoritarian rule, Stanton said.
Moreover, although China's economy is stronger than ever, it has also brought with it a rekindling of nationalism, expansionism and a hawkish mindset, he said.
Taiwan should develop a broader and more in-depth understanding of what challenges its national security faces, and re-examine its national defense budget, he said.
The declining support for national security may stem from the falling morale of its armed forces, he added.
Taiwan should strengthen and invest more in national defense, while reducing market protectionism, Stanton said, adding that Taiwan should adopt measures that would increase its appeal to foreign investors, as well as step up processes to set up free-trade agreements with other nations.
Comments will be moderated. Keep comments relevant to the article. Remarks containing abusive and obscene language, personal attacks of any kind or promotion will be removed and the user banned. Final decision will be at the discretion of the Taipei Times.