Want Want intensifies attack in Chomsky controversy
Media outlets operated by the Want Want China Times Group (旺旺中時集團) yesterday intensified their campaign against a movement by a young Taiwanese student that invited two well-known US professors — who now claim they were "misled" — to be photographed holding a placard opposing media monopolization in Taiwan.
In a series of articles occupying a full page, the Chinese-language China Times, one of several print media owned by the group, provided what it claimed were exchanges with Noam Chomsky, a famous linguist from the US' Massachusetts Institute of Technology (MIT) and a controversial figure on the intellectual left, as well as Ned Block, a New York-based philosopher, in which both said they were unaware that the placard contained language opposing Chinese manipulation of Taiwanese media.
Chomsky, 84, said he did not know that the message on the placard, which was written in Chinese and read "Anti-Media Monopoly. Say no to China's black hands, defend press freedom. I am safeguarding Taiwan here in MIT," had anything to do with China or Taiwan.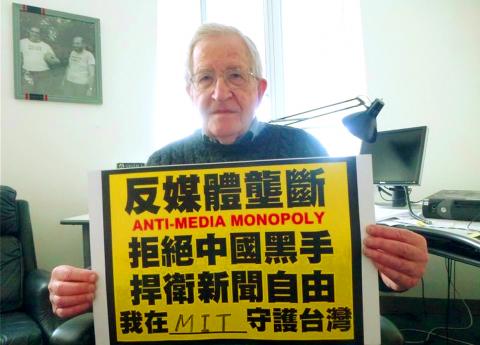 Renowned US linguist and author Noam Chomsky of the US' Massachusetts Institute of Technology expresses his opposition to media monopolization in Taiwan in this undated photograph taken from Facebook yesterday.
Photo: screen grab from facebook page
Lin Ting-an (林庭安), a Taiwanese graduate student at the Institute of Philosophy of Mind and Cognition at National Yang Ming University, who wrote to Chomsky asking for his support prior to visiting him at MIT, says she clearly explained the matter to him and translated the Chinese content before the photograph was taken.
Lin's e-mail also included links to an opinion piece in the Wall Street Journal and an academic paper published in The China Story that clearly articulated the threat of growing Chinese influence on Taiwan's media.
In one of its articles yesterday, the China Times reproduced what was purportedly Chomsky's e-mailed response to Liu Shih Diing (劉世鼎), an associate professor of communications at the University of Macau, who earlier this week was quoted, aga`in by the China Times, as saying that Chomsky had been deceived.
"Thanks for the interesting comments, which go far beyond anything I know about," Chomsky wrote in the e-mail, dated Jan. 28.
"I also don't recall a placard referring to 'Chinese manipulation.' What I was shown, and held, didn't go beyond media monopoly and freedom of the press. I hope that interpretations don't go beyond that," he said.
In an e-mail dated Jan. 29, Chomsky writes: "We were all apparently misled. The young woman [Lin] who asked me to take the photo informed me, and apparently others, that the poster called for free speech and opposed monopolies, nothing more, nothing about China."
Block, who was in Abu Dhabi when contacted by China Times reporters, said he did not know the placard contained the words "black hand of China" and added that since his is not an expert on China issues, he would not have agreed to being photographed with it had he known what the Chinese characters meant.
In what has become a predictable pattern in its reaction to individuals who oppose its growing influence in Taiwan's media, the group's various outlets seem to have added Lin to the other victims of personal attacks in recent months, which includes student leader Chen Wei-ting (陳為廷) and Academia Sinica associate research fellow Huang Kuo-chang (黃國昌).
An e-mail obtained by the Taipei Times written by John Zang (臧國華), Washington bureau chief for CtiTV, to Block, also shows how the academics were guided to provide certain responses.
"The photo has been posted online and is now part of a campaign in Taiwan by a few anti-China and pro-independence advocates against a prominent businessman [Tsai Eng-meng (蔡衍明)] who does a lot of business in China and who is the owner of several media outlets," wrote Zang, whose employer is also part of Tsai's media empire. "The so-called 'Rejecting China's Black Hand' is actually a veiled allegation, without facts, that Chinese money goes into Taiwan through this Taiwan businessman to influence over, interfere in or otherwise manipulate the Taiwan press."
"I would like to know that before you were asked to hold the placard for a photo, had you been told what the Chinese characters in the placard meant? Had you been told that your photo would be used in a political campaign against a Taiwan businessman?" he asked.
Comments will be moderated. Keep comments relevant to the article. Remarks containing abusive and obscene language, personal attacks of any kind or promotion will be removed and the user banned. Final decision will be at the discretion of the Taipei Times.