Thousands protest against Ma
BIG GUNS: Su Tseng-chang, Annette Lu, Frank Hsieh, Tsai Ing-wen and Yu Shyi-kun all joined demonstrators on the streets of Taipei yesterday
At least 100,000 protesters yesterday gathered in front of the Presidential Office in Taipei and demanded President Ma Ying-jeou (馬英九) step down, in the first mass demonstration since Ma was re-elected in January last year, while the leader of the opposition said he had initiated efforts to recall the president.
The Democratic Progressive Party (DPP), the organizer of the "Fury (火大)" rally, estimated that about 200,000 people participated in the protest. Police authorities estimated the number of protesters to be about half that figure.
As overnight rain stopped about noon and the weather was warmer than expected, the protest began on time at 3pm at Sun Yat-sen Memorial Hall, with participants marching down Renai Road and Zhongxiao E. Road in high spirits toward the assembly point in front of the Presidential Office on Ketagalan Boulevard.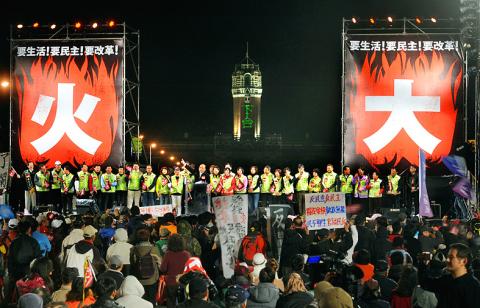 Opposition politicians rally on the stage flanked with Chinese characters that read: "Fury" during a protest against the President Ma Ying-jeou in Taipei yesterday.
Photo: Taipei Times
Taipei police said they had dispatched 500 police officers to maintain order along the route of the rally. An additional 300 police officers were deployed around Ma's residence to prevent a repeat of protests by students and workers outside the residence which took place on Dec. 30 last year.
Prior to the protest, DPP spokesman Lin Chun-hsien (林俊憲) said the party aimed at drawing more than 100,000 participants to the event and had mobilized 50,000 people, about 60 percent of whom were from Taipei, New Taipei City (新北市), Taoyuan County and Yilan County.
Buses that set off from southern Taiwan — the DPP's traditional stronghold — were also well loaded with participants in high spirits and eager to press their appeals to the government, Lin said.
Tens of thousands of people march through Taipei yesterday to protest against President Ma Ying-jeou, blaming him for the nation's economic and social problems and demanding Ma reshuffle his Cabinet or resign.
Photo: David Chang/EPA
The protest, which the DPP had been working on for nearly a month, came with three demands for the government: a Cabinet reshuffle, a rejection of the controversial Next Media Group (壹傳媒集團) deal and the organization of a national affairs conference.
DPP Chairman Su Tseng-chang (蘇貞昌) said last week that if Ma agreed to the three demands, the DPP would cancel the protest. The Ma administration did not respond and went on to block DPP-led amendments to media acts in the legislature on Friday.
Led by Su, party heavyweights, including former DPP chairperson Tsai Ing-wen (蔡英文), former vice president Annette Lu (呂秀蓮) and former premiers Frank Hsieh (謝長廷) and Yu Shyi-kun, as well as DPP six commissioners, attended the protest.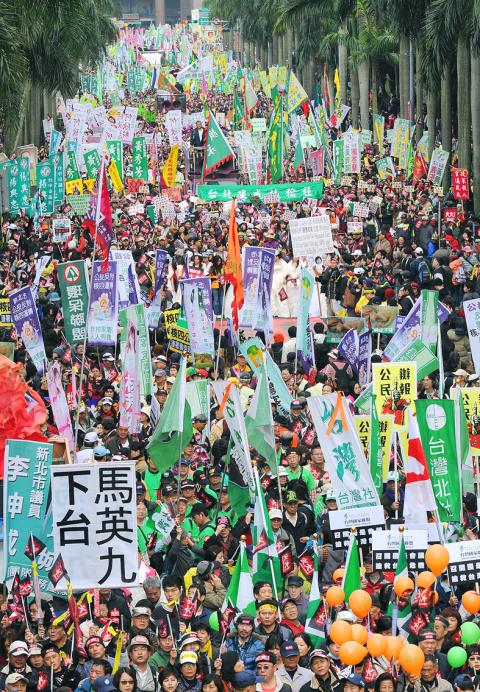 Supporters of Taiwan`s main opposition Democratic Progressive Party (DPP) hold placards as they take part in a demonstration in Taipei yesterday.
Photo: AFP
"Incompetent president, the public are furious," protesters chanted as they held up signs and banners to show their discontent at Ma's perceived failure in almost every aspect of government, in particular over the economy.
They arrived at the assembly point at 5pm for a nighttime rally.
"I'm very disappointed with the Ma administration. Not only has Ma been unaware of his incompetence and poor performance, he has refused to listen to the public's voice," a farmer, surnamed Liu, from Changhua County said.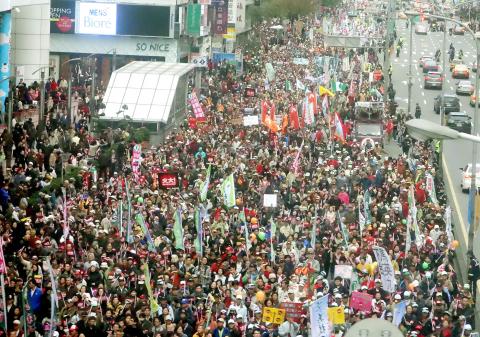 The Democratic Progressive Party's "Fury" rally against the government passes through Taipei yesterday. The rally, which started at the Sun Yat-sen Memorial Hall, ended in front of the Presidential Office.
Photo: Lu Chun-wei, Taipei Times
The crowd chanted "reject the deal" when they passed the National Communications Commission (NCC) building on Renai Road, demanding that the commission, which regulates broadcasting media, veto the Next Media deal.
People's disappointment with the government seemed to extend beyond its economic performance and media regulation, with many indicating discontent with the entire Chinese Nationalist Party (KMT) administration, both central and local governments.
Various advocacy groups attended the protest and highlighted their own causes, such as closing nuclear power plants, stopping illegal land expropriation and supporting press freedom in China. Some demonstrators, including several foreign residents in Taiwan, also held banners to protest what they said was Taipei Mayor Hau Lung-bin's (郝龍斌) inappropriate handling of night market regulations.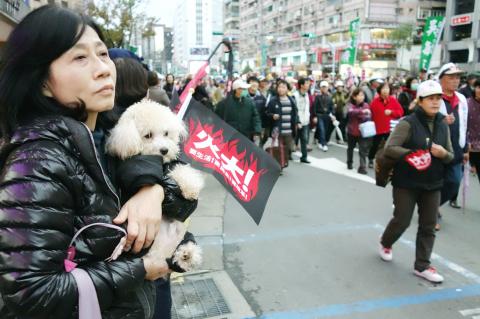 A bystander watches as the rally passes through Taipei yesterday.
Photo: Lu Chun-wei, Taipei Times
A ray of green laser light was projected onto the outer surface of the Presidential Office with the characters for "fury," "incompetent" and "responsibility," reflecting how the protesters felt about the president.
The nighttime rally, which consisted of speeches by students, politicians and representatives from various social groups as well as performances by several local rock bands, concluded at about 9:30pm.
Coincidentally, yesterday was a symbolic date for both Ma and the DPP.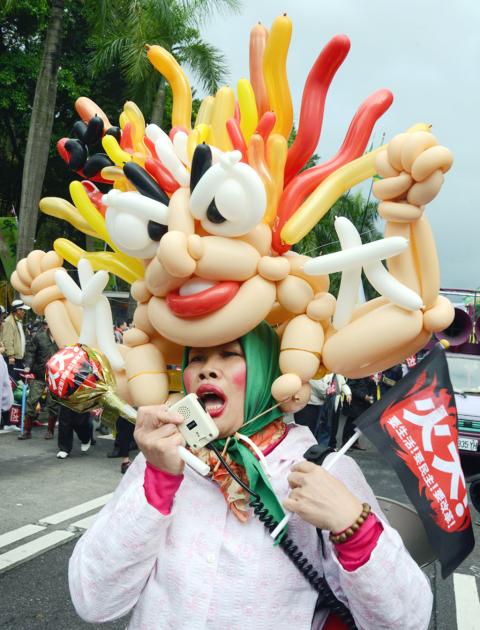 A woman wears a fire-shape balloon hat as she marches during the Democratic Progressive Party's "Fury" rally against the government in Taipei yesterday.
Photo: Sam Yeh / AFP
Former president Chiang Ching-kuo (蔣經國), who Ma served under and idolizes, died on Jan. 13, 1988. Former DPP presidential candidate Tsai Ing-wen concluded her election campaign on Jan. 13 last year, hoping to become the first female president in the nation's history, but eventually lost to Ma by 800,000 votes.
Last night in front of the Presidential Office, Su officially launched the party's counter offensive against Ma and said that the DPP would try to recall him and replace "any incompetent" KMT lawmaker and official.
"This is more than just a demonstration. This is the beginning of a reform movement, a resistance movement of the people against incompetent government as well as the beginning of a battle between reformists and anti-reformists," Su told supporters.
Citing a video recorded in 2006, in which Ma asked former president Chen Shui-bian (陳水扁) to step down over his low approval ratings, Su urged Ma "not to forget what you said."
"Ma said that 'if you did not step down, people would make you,' and that is what we want to remind him right now," Su said.
Su said Ma and the KMT could be labeled as being anti-reformists over what they have done in the past and the DPP would adopt a three-way strategy against the government: checks and balances in the legislature, policy recommendations and public pressure on issues such as nuclear power and pension reform.
"Moreover, we are going to try to replace failed policies, the president, anti-reform lawmakers and government officials," Su said
Before Su, several DPP heavyweights also called on Ma to take a good look at himself.
"A president who has made his people suffer and brave the cold wind and march on the streets for their rights should be ashamed of himself," Tsai said.
The conflicts and division within society have reached breaking point with the country's future at stake, she said.
"This is a time for solidarity as, throughout Taiwan's history, we could always sit down for a discussion and find the right direction," Tsai said, adding that a national affairs conference is necessary for resolving the country's woes.
Ma does not know how to resolve the current problems and refuses the DPP's assistance, former premier Frank Hsieh said.
"If he knows he has made a mistake then he has to correct it. If he does not know how to do it, he should resign. If he does not resign, people will make him step down. That is what democracy is all about," Hsieh said.
Additional reporting by Rich Chang and CNA
Comments will be moderated. Keep comments relevant to the article. Remarks containing abusive and obscene language, personal attacks of any kind or promotion will be removed and the user banned. Final decision will be at the discretion of the Taipei Times.