Taipei tells China to note indignation over passport
'INVALID': Taipei's efforts to explain its indignation with the passports were dismissed as invalid by Beijing, which said pro-independence activist were just making a fuss
In unusually direct language, Taipei yesterday called on Beijing to pay more attention to Taiwan's position on China's controversial new passport, saying that China's refusal to acknowledge its indignation had "hurt the feelings" of Taiwanese.
At the heart of the controversy is a new passport that the People's Republic of China (PRC) began issuing in May, which features watermarks that include famous tourist attractions in Taiwan, such as Nantou's Sun Moon Lake and Hualien's Chingshui Cliffs; Arunachal Pradesh and Aksai Chin — areas whose sovereignty Beijing disputes with India; and 90 percent of the South China Sea.
Countries in the region, including Vietnam, India and the Philippines, reacted with indignation when the contents of the new passport were reported in news articles last month, making demarches to Beijing and issuing visas to Chinese visitors bearing imprints of their own rectified maps.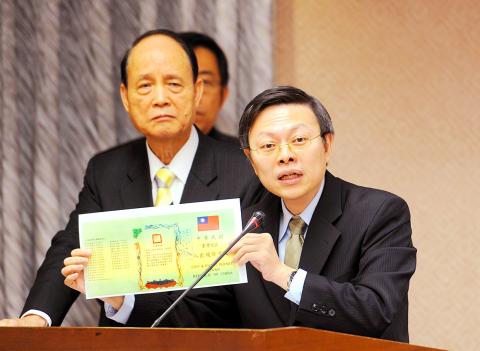 Mainland Affairs Council Minister Wang Yu-chi, right, yesterday tells the legislature that the Straits Exchange Foundation has written to the Association for Relations Across the Taiwan Straits to explain Taiwan's position on the depiction of Taiwanese territory as Beijing's in new Chinese passports.
Photo: Lo Pei-der, Taipei Times
Taiwan's response to the inclusion of its territory in the passport was much more muted than that of the other countries, prompting accusations that President Ma Ying-jeou (馬英九) was not being vocal enough in asserting Taiwan's independence and had failed to take seriously the implications of China's action on the nation's sovereign status.
Mainland Affairs Council Minister Wang Yu-chi (王郁琦) told the legislature yesterday that the Straits Exchange Foundation (SEF) had written to the Association for Relations Across the Taiwan Straits (ARATS) last week to explain Taiwan's position on the matter.
The SEF and ARATS are semi-official bodies created to handle cross-strait affairs in the absence of official bilateral diplomatic relations.
In a reply received on Wednesday, ARATS dismissed Taiwan's protest as "invalid," adding that the design of the new passport had only become an issue after "pro-independence activists" had "made a fuss" over the matter, Wang said.
Wang said that Beijing's response misrepresented the situation and he urged China to pay greater attention to Taiwan's indignation over the passports.
"This incident is not a partisan concern, nor does it bother only a small number of people in Taiwan," he said, dispelling the notion that only supporters of Taiwanese independence had been angered. "If the mainland authorities fail to realize this, the development of relations across the Taiwan Strait will be undermined."
Beijing's handling of the matter is "unacceptable" to Taiwan because it demonstrates that Beijing does not realize how serious an impact the incident has had on cross-strait ties, he said, adding that ties between Taiwan and China were defined as "special relations" rather than direct state-to-state relations, echoing remarks made by Ma the previous day.
Taiwan's territory as outlined in the Republic of China (ROC) Constitution includes China, but at present its jurisdiction covers only Taiwan and the outlying islands of Penghu, Kinmen and Matsu, he said.
Democratic Progressive Party (DPP) legislators last week demanded that SEF Chairman Lin Join-sane (林中森) step down after he said that Chinese officials had assured him that the new passport had not been designed with any "particular motive in mind," except to be "trendy."
In reaction to what it called an insufficiently assertive reaction to the matter on behalf of the government, the DPP began issuing passport stickers earlier this month featuring a map of Taiwan and its outlying islands over which a text reading: "Taiwan is my country" was superimposed.
Although the ROC does not recognize PRC passports and Chinese visitors who come to Taiwan are required to apply for a "compatriot pass" issued by the National Immigration Agency, the process nevertheless requires a passport.
Comments will be moderated. Keep comments relevant to the article. Remarks containing abusive and obscene language, personal attacks of any kind or promotion will be removed and the user banned. Final decision will be at the discretion of the Taipei Times.