'Clouded Leopard' delivery delayed until 2019
FORECAST CLOUDY: The production of the vehicles has suffered from myriad setbacks since 2005 and was previously delayed in 2009 due to design flaws
Taiwan's problem-plagued CM-32 "Clouded Leopard" armored infantry fighting vehicle ran into more difficulties this week with the announcement that delivery would be delayed by another five years, but the military denied that this was linked to steel-plate cracking and other design issues.
First unveiled in January 2005, the domestically produced eight-wheel-drive vehicle has encountered various problems from its inception and came close to being abandoned altogether in 2009 over design flaws and budgetary irregularities at the Ministry of National Defense, which resulted in the legislature's decision to freeze two-thirds of the production budget.
Earlier this week, the Chinese-language United Daily News reported that cracking in the vehicle's steel plating — which first surfaced three years ago — as well as disagreements over what type of cannon to use on the mounted turret, had prompted a decision to delay delivery of the vehicle by five years to 2019.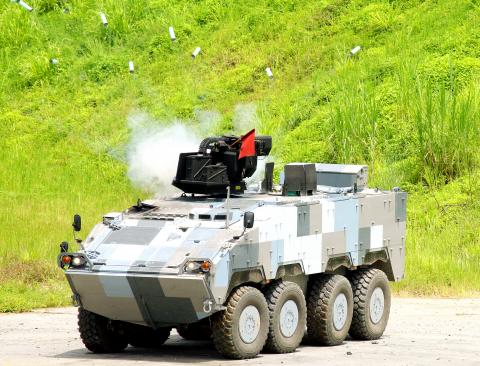 A CM-32 "Clouded Leopard" armored infantry fighting vehicle is shown in this picture.
Photo: CNA
The 25-tonne Clouded Leopard, a joint project between the Ordnance Readiness Development Center and the Chungshan Institute of Science and Technology started in 2000, is intended as a replacement for older armored personnel carriers and light-armed vehicles, including M113s and V-150s. Mass production, initially scheduled for 2007, began in late 2010, with the army set to procure 652 CM-32s for NT$58 billion (US$1.8 billion), or about US$2.7 million per vehicle.
Under the plan, the vehicles were scheduled for delivery in 2014. So far, only a limited number have been handed over to the army and to the Military Police for presidential protection.
Clarifying the matter, the min said it had suspended mass production after the chassis of four of the 14 CM-32s manufactured in 2008 displayed some cracks, but resumed full production in December 2010 after the problem was resolved.
"We instructed Army Command Headquarters, the Ordnance Readiness Development Center and the CSIST to form a taskforce, and to invite academics to jointly ascertain the causes of the cracks and address the problems," the ministry said.
Production of all 652 CM-32s will be done by 2019, it said, without providing reasons for the current delay.
Additional reporting by Stacy Hsu
Comments will be moderated. Keep comments relevant to the article. Remarks containing abusive and obscene language, personal attacks of any kind or promotion will be removed and the user banned. Final decision will be at the discretion of the Taipei Times.