King grilled on US, sexual orientation
TONGUE LASHING: Lawmakers interrogated the US representative on everything from his knowldege of key players in Washington to his sexual orientation
In his first appearance at the legislature's Foreign Affairs and National Defense Committee yesterday, Representative to the US King Pu-tsung (金溥聰) was confronted by lawmakers who seemed more interested in his sexual orientation than on the future of US-Taiwan relations, which many saw as a missed opportunity to discuss the state of relations with the nation's main ally.
King, who assumed his duties in Washington on Dec. 1, was presenting a report on the prospects for US-Taiwan relations.
At the meeting, questions posed to King, a long-term right-hand man of President Ma Ying-jeou (馬英九), were more focused on his role in shaping the Ma administration's policies and his partisan character than on US-Taiwan relations.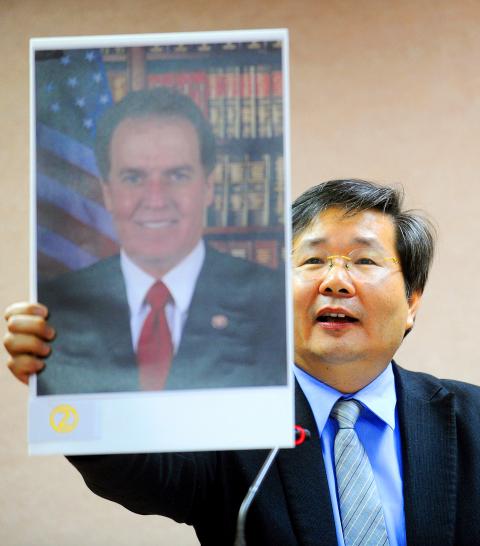 Taiwan Solidarity Union Legislator Hsu Chun-hsin holds up a picture of a US official yesterday and asks Representative to the US King Pu-tsung to identify him.
Photo: Liao Chen-huei, Taipei Times
King dodged most of the questions unrelated to his report, saying he always played whatever role he was asked to play, but refused to answer questions regarding the nature of his relationship with Ma.
In response to Chinese Nationalist Party (KMT) Legislator Liao Cheng-ching (廖正井) asking him about his sexual orientation to "give you [King] a chance to clarify the matter," King said he respected everyone no matter their sexual orientation, but said: "I am not [gay]," and that Ma and he were not in a relationship.
King said it was "unfair" that people have claimed that his political progress has been spurred along through sexual relationships, adding that the insinuation was also insulting to homosexuals.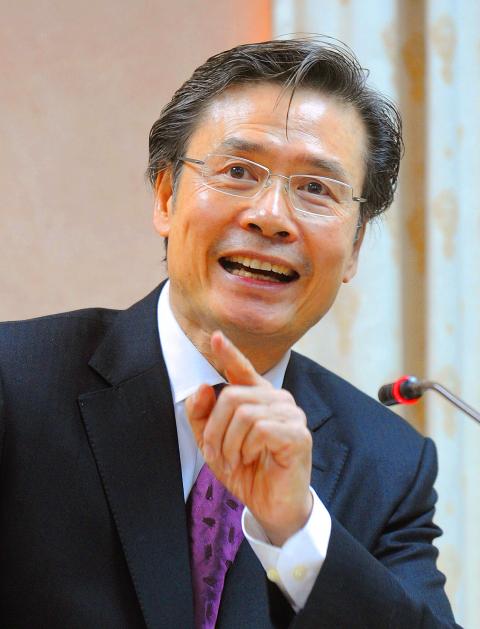 Representative to the US King Pu-tsung yesterday speaks at a meeting of the Legislative Yuan's Foreign Affairs and National Defense Committee in Taipei.
Photo: Liao Chen-huei, Taipei Times
Democratic Progressive Party (DPP) Legislator Pasuya Yao (姚文智) said he cared less about King's relationship with Ma and more about Ma's sexual orientation, asking King to answer him, to which King replied: "It's not a question I should answer."
King has been dubbed as a "behind-the-scenes fixer" and "underground president" by some DPP lawmakers who demand that King be held responsible for the "King and Ma system," a term first coined by People First Party Chairman James Soong (宋楚瑜) to refer to what he believes is the strong influence King exerts over Ma.
DPP Legislator Tsai Huang-liang (蔡煌瑯) demanded that King apologize for his "failure" to live up to promises in 2008 that he would not take any position in the Ma administration, for the decline in Taiwanese exports to China following the signing of the Economic Cooperation Framework Agreement, and for the poor governance of the "King and Ma system."
The "King and Ma system" has ruined normal government functions, DPP Legislator Ker Chien-ming (柯建銘) said.
"Even a three-year-old child knows you play an important role in the administration ... you should stop avoiding questions," Ker said.
Ker said that as Ma's envoy in Washington, King had the important role of communicating with the US as the Ma administration prepares to embark on critical political talks with China on a peace accord.
When asked whether Taiwan would sign such a pact and build a mechanism to ensure military mutual trust, King said that he is not in a position to address these issues, which he said fall under the mandate of the Mainland Affairs Council.
DPP Legislator Hsiao Bi-khim (蕭美琴) raised the issues of the US' "pivot to Asia" and territorial disputes in the South China Sea and demanded that King answer her questions in English because she "wanted to know how King explained the nation's positions on these issues to the US."
King insisted in answering in Mandarin because "not everyone in the room understands English."
King said US Assistant Secretary of State for East Asian and Pacific Affairs Kurt Campbell was likely to leave his position.
Possible candidates to succeed Campbell are Frank Jannuzi, the deputy executive director of Amnesty International USA; Michael Schiffer, former US deputy assistant secretary of defense for East Asia; and Richard Bush, a senior fellow at the Brookings Institution and director of its Center for Northeast Asian Policy Studies, King said.
In response to concerns raised by lawmakers that US Senator John Kerry, who has been nominated to succeed US Secretary of State Hillary Rodham Clinton, favors a China-friendly policy, King said he believed that Kerry would continue to support Taiwan as long it sticks to its current cross-strait policy.
Although Kerry has more experience in dealing with China than Taiwan, he has been consistent in basing his Taiwan policy on the three communiques signed by the US and Taiwan in 1972 and the US' Taiwan Relations Act and supporting the provision of defensive weapons to Taiwan, King said.
King said US Special Representative for Global Intergovernmental affairs Rita Lewis is scheduled to visit to Taiwan early next year as part of his office's efforts to promote visits by senior US officials.
At a press conference yesterday, Joseph Wu (吳釗燮), executive director of the DPP's Policy Research Committee, said King's report had "missed the point" and left several critical issues unanswered, such as Taiwan's handling of the Diaoyutai Islands (釣魚台) dispute.
King did not present his vision on Taiwan-US relations and failed to address US concerns about Taiwan's seemingly pro-China stance as well as the lack of progress on bilateral trade and security ties, said Wu, who has also served as an envoy to Washington.
While King and Ma have reiterated that Taiwan-US relations are "the best in three decades," recent developments do not support their claim, Wu said.
The US is concerned about the lack of transparency in cross-strait negotiations and lack of communication between Taipei and Washington on that subject, Wu said.
Washington has also expressed concern through various channels about Taiwan's position in disputes in the East China and South China Seas that Taipei appears to "have chosen to cooperate with China in challenging Japan and the US-Japan security alliance," Wu said, adding that Taiwan is standing on the opposite side of the US in the Asia-Pacific strategic landscape.
Ma had also failed to achieve his pledge to spend at least 3 percent of GDP on the military and has yet to submit new arms procurement proposals, he said.
On trade ties, King failed to point out that declining bilateral trade in recent years was due to Taiwan's closer economic integration with China, Wu said.
Taiwan's trade with the US accounted for 11.54 percent of its total trade volume in 2008, but only accounted for 10.04 percent this year, he said, adding that US imports from Taiwan fell from 11.28 percent of the total import volume in 2008 to 8.75 percent this year.
"Bilateral trade relations have been idle in the past three years, if you take the suspension of the Trade and Investment Framework Agreement negotiations since 2009 into consideration," Wu said.
Ker said King "would be someone that the National Security Council and the Ministry of Foreign Affairs would have problems managing," given his close ties with Ma and his invisible power as "the de facto president who makes most of the decisions."
Comments will be moderated. Keep comments relevant to the article. Remarks containing abusive and obscene language, personal attacks of any kind or promotion will be removed and the user banned. Final decision will be at the discretion of the Taipei Times.