Taiwan to carry out executions 'soon'
DEATH PENALTY: Anti-abolition advocate Wang Chien-shien said the nation should not be swayed by humanitarian arguments, because it would be unfair to victims
Deputy Minister of Justice Chen Shou-huang (陳守煌) yesterday told the legislature that while the ministry could carry out another execution "very soon," it would take the national interest into consideration and respect the views expressed by a group of experts who are reviewing Taiwan's human rights situation.
Chinese Nationalist Party (KMT) Legislator Lin Te-fu (林德福) told a meeting of the legislature's Finance Committee yesterday that two members of an international committee responsible for inspecting Taiwan's first national human rights report had sent a letter to President Ma Ying-jeou (馬英九) saying they hoped the ministry would not carry out executions before the committee completes its review of the report, which is due by the end of February.
The two members — Manfred Nowak, professor of International Law and Human Rights at Vienna University, and Eibe Riedel, a member of the UN Committee on Economic, Social and Cultural Rights — are part of a committee of international human rights experts invited by the Ministry of Justice to review the report.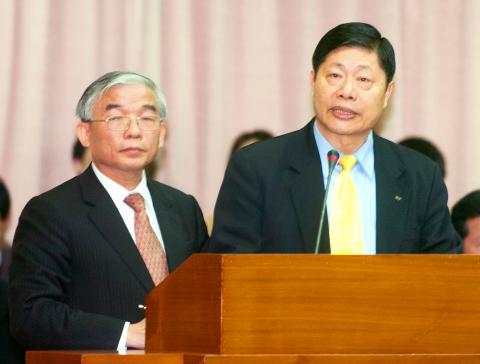 Vice Minister of Justice Chen Shou-huang, left, and Agency of Corrections Director Wu Sen-chang answer questions at the Legislative Yuan yesterday.
Photo: Wang Min-wei, Taipei Times
Lin asked whether the ministry had delayed executions and if so, when it intended to carry out the next round of executions.
Chen said there are currently 61 prisoners on death row, and that the ministry would carry out an execution "very soon," possibly before the end of February.
Chen added that the ministry follows its own timetable in carrying out capital punishment, but respects the suggestions made by rights experts.
At a separate setting, Peng Kun-yeh (彭坤業), director of the ministry's Legal System Department, said that if Nowak and Riedel were to withdraw from the committee, other members would follow suit.
Meanwhile, Control Yuan President Wang Chien-shien spoke out against abolishing the death penalty, saying that as a sovereign nation, Taiwan should not be swayed by humanitarianism in this regard.
Wang contacted reporters yesterday to offer his views on the matter.
"The Republic of China [Taiwan] is a sovereign, independent nation. It shouldn't be led by the nose by world humanitarian groups over the death penalty issue. Regarding human rights issues discussed in the world, we follow global norms when we consider they are right, but we do not follow those which do not fit the needs of the nation," Wang said.
To do away with capital punishment is not something the Taiwanese government has to do to demonstrate that it values human rights, Wang said.
"Every country has its own situation. Countries opposing the use of the death penalty represent a minority opinion in the world. A world without capital punishment would become more chaotic and more people would be harmed," he said.
The possibility that innocent people could be executed because of errors in the criminal justice system is not a good reason to scrap the death sentence, Wang said.
"Does it make sense that we introduce a ban on stewed meat just because there was a report about a person choking to death after eating a piece of stewed meat?" he asked.
"People in favor of abolishing the death penalty have promoted the rights of prisoners and argued that they have the right to life, but what about justice for the victims?" Wang asked.
Wang said he views human nature as depraved, "just like venomous serpents and fierce beasts."
"Education, religion and legal punishment all help deter crimes. If the death penalty is abolished, there will be more innocent people affected by crime," he said.
Comments will be moderated. Keep comments relevant to the article. Remarks containing abusive and obscene language, personal attacks of any kind or promotion will be removed and the user banned. Final decision will be at the discretion of the Taipei Times.