Labor activists pelt police with eggs
EGG ON MA'S FACE: Protesters said a proposal to allow more foreign workers, working for a different minimum wage, showed the government cared only for corporations
Close to 2,000 workers and labor rights advocates yesterday bombarded Ketaglan Boulevard in front of the Presidential Office with eggs while tussling with police as they protested against low wages, unfair labor policies, rising prices and a growing labor insurance deficit.
Despite attempts from the police to calm the crowd, the angry workers — mobilized by various labor organizations, including the Labor Party, Taiwan International Workers' Association (TIWA), Raged Citizens Act Now and unions from across the country — threw eggs in the direction of the Presidential Office, though they were kept 300m away from the building itself by a line of police.
"Down with the government! Taiwan is finished!" they chanted as they threw eggs across the police line.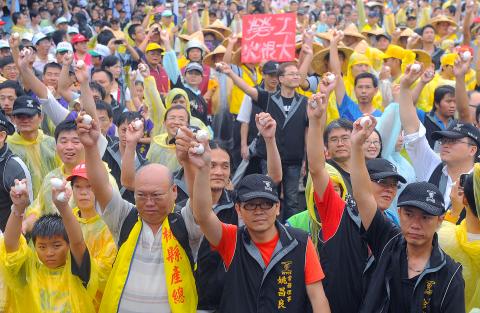 Participants in a demonstration organized by various labor organizations in Taipei yesterday kneel down asking for fairness, justice and equality.
Photo Wang Min-wei, Taipei Times
Failing to stop the crowd, hundreds of police officers in riot gear could do nothing but stand behind two large nets and hold their shields high to prevent eggs from hitting them.
Occasionally, officers would advance from behind the police line, trying to arrest protesters who threw more dangerous items, such as smoke bombs, but they were quickly surrounded by the crowd, trying to rescue their fellow protesters, sparking clashes between the two sides.
The demonstration was held in response to several developments affecting labor rights, including the Cabinet's decision to only partially agree to the Council of Labor Affairs' proposal to raise the legal minimum wage, the Cabinet's plan to relax restrictions on hiring foreign laborers and its mulling having separate minimum wages for domestic and foreign workers.
Participants in a demonstration organized by various labor organizations in Taipei yesterday kneel down asking for fairness, justice and equality.
Photo Wang Min-wei, Taipei Times
It also follows the news that the labor insurance system could go broke within two decades and that the government was considering increasing premiums for those who are working, but cutting payments to retired workers.
"President Ma Ying-jeou [馬英九] said that he would work to revive the economy, but when we look at the policies that the government came up with, it's not hard to realize that they are not working to revive the economy for all, they only work for the benefit of the few," Taipei City Confederation of Trade Unions secretary-general Chiang Wan-chin (蔣萬金) told the crowd. "They are working for the benefit of big corporations and the wealthy."
Chiang said that one of the measures that the government was mulling was the relaxation of restrictions on the number of foreign workers that a business may hire.
"This is going to help the big corporations because they can cut costs by hiring more foreign workers and laying off domestic workers," he said.
TIWA secretary-general Chen Hsiu-lien (陳秀蓮) criticized the government's proposal to have separate minimum wages for foreign workers and domestic workers.
"If an employer could hire a foreign worker for NT$15,000 a month, why would he or she hire a domestic worker for NT$35,000?" Chen asked.
Chen said that decades ago, big businesses threatened to move their production units overseas unless the government agreed to allow them to import foreign workers, but despite being allowed to hire foreign workers, they still moved their production overseas anyway.
"They are playing the same game again now, we should not be deceived again," she said.
Comments will be moderated. Keep comments relevant to the article. Remarks containing abusive and obscene language, personal attacks of any kind or promotion will be removed and the user banned. Final decision will be at the discretion of the Taipei Times.