Frank Hsieh returns to mixed reviews
NO CONSENSUS: Most within the DPP lauded Hsieh's efforts, but critics accused him of a lack of transparency, and his cross-strait formula has yet to win over the party
Former premier Frank Hsieh (謝長廷) yesterday returned to Taipei from a five-day visit to China and described the trip as fruitful, despite Democratic Progressive Party (DPP) members giving the landmark trip mixed reviews.
"We've achieved so much more than we expected. And we safeguarded Taiwan's values and dignity during the trip," Hsieh told reporters at Taiwan Taoyuan International Airport on his return from Beijing, where he met three senior Chinese officials in charge of Taiwan affairs over the weekend.
Hsieh, who visited China in a private capacity, became the most senior member of the former DPP administration to meet with high-ranking Chinese officials.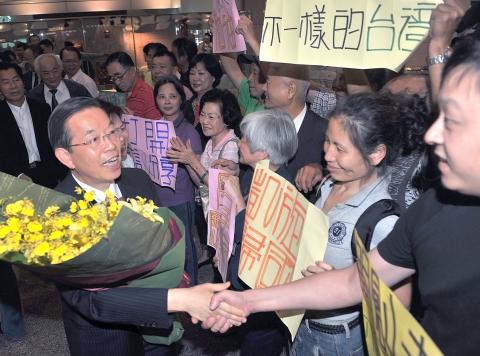 Former premier Frank Hsieh, holding a bouquet of flowers, shakes hands with supporters greeting him at Taiwan Taoyuan International Airport after returning from a five-day visit to China yesterday.
Photo: Yao Kai-shiou, Taipei Times
During his stay in the Chinese capital, the former DPP chairman met with Taiwan Affairs Office Director Wang Yi (王毅), Association for Relations Across the Taiwan Straits (ARATS) Chairman Chen Yunlin (陳雲林) and State Councilor Dai Bingguo (戴秉國).
Hsieh said he proposed to replace the so-called "1992 consensus," which the DPP says never existed, with his initiative of "constitutions with different interpretations (憲法各表)" and urged Beijing to give Taiwan more international space during his meeting with Dai, who oversees China's diplomatic affairs, on Sunday afternoon.
Those meetings ended with no consensus because both sides found it difficult to accept each other's position, Hsieh said, "but we recognized each other's good will to engage in dialogue."
The veteran politician said his meetings with Chinese Communist Party officials were impromptu and not pre-arranged.
He said that it has been his belief that the cross-strait situation should "be positioned by the Republic of China [ROC] Constitution," but acknowledged that DPP members remained divided over the proposal.
Speaking to reporters yesterday, DPP Chairman Su Tseng-chang (蘇貞昌) did not directly address Hsieh's trip, but said: "The DPP's position [on its China policy] remains unchanged despite there being different opinions in the party."
"The international community always encourages Taiwan and China to work out differences through dialogue ... The DPP always insists that engagement between Taiwan and China should be open and transparent," Su told reporters.
Su reiterated that Taiwan should actively engage China with confidence because dialogue is essential for smoothing out differences and Taiwan would win out in the end because of its democratic values, openness and diversity.
While most DPP members and pan-green supporters recognized the trip as a positive step toward the DPP's reconciliation with China, some of them criticized Hsieh during the past few days, accusing him of a lack of transparency in meeting with the officials.
Former DPP chairman Yao Chia-wen (姚嘉文), former DPP legislator Lin Cho-shui (林濁水) and Taiwan Solidarity Union Chairman Huang Kun-huei (黃昆輝) were among the strongest critics of Hsieh's visit and proposals, saying that his initiative was not workable because the ROC Constitution remained highly controversial in Taiwan.
DPP Legislator Pan Men-an (潘孟安) said yesterday morning that people should not read too much into the significance of Hsieh's visit and that the DPP's position, which supports the normalization of trade relations with China while safeguarding Taiwan's identity and sovereignty, remained unchanged.
DPP Legislator Hsu Chih-chieh (許智傑) lauded Hsieh's effort to promote better ties between the party and Beijing, but said that Hsieh's initiative would not be able to replace the "1992 consensus" because "consensus and 'different interpretations' are contradictory and not interchangeable."
Hung Chih-kun (洪智坤), a member of the DPP's Central Executive Committee, said Beijing took Hsieh's visit seriously by sending three senior officials to meet him.
However, Hung said Hsieh probably still had to persuade DPP members and supporters by clearly explaining the evolution of his proposals over the past decade — from "one country, two cities" (一國兩市) in 2000 to the "Constitutional one China" (憲法一中) in 2006 and the "constitutions with different interpretations" and "Constitutional consensus" last year, Hung said.
Comments will be moderated. Keep comments relevant to the article. Remarks containing abusive and obscene language, personal attacks of any kind or promotion will be removed and the user banned. Final decision will be at the discretion of the Taipei Times.