Work to begin next month at Patriot-3 missile sites
RIPPLE FIRING: In the first phase, four of the six PAC-3 units that Taiwan has purchased from the US will be deployed in areas around Taichung and Kaohsiung
After years of planning, work will officially begin early next month at sites around Greater Taichung and Greater Kaohsiung in preparation for the deployment of Patriot Advanced Capability-3 (PAC-3) air defense units purchased from the US, senior officials said yesterday.
In all, NT$61.4 million (US$2 million) has been set aside from next year's budget to prepare the sites for four PAC-3 units in the two special municipalities. A private contractor will oversee work at the sites, a Ministry of National Defense spokesman said, declined to provide further information on the engineering contract, citing Government Procurement Act (政府採購法) regulations.
Taiwan currently deploys three PAC-2 units, which were recently upgraded to PAC-3 configuration, around Taipei in Wanli (萬里), Nangang (南港) and Sindian (新店). During negotiations under Chen Shui-bian's (陳水扁) administration, it was decided that Taichung and Kaohsiung would both get Patriot units to protect the political and military centers, as well as critical infrastructure in central and southern parts of the country.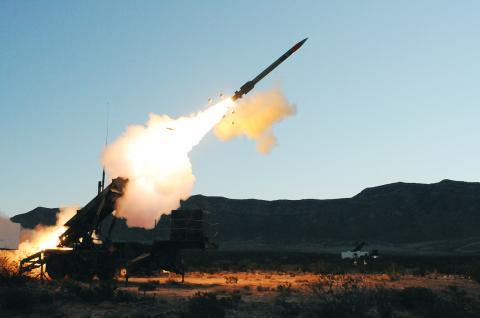 A Patriot PAC-3 air defense missile is launched in this undated file photo on the Web site of the Lockheed Martin Corp.
Photo courtesy of Lockheed Martin Corp
The ministry has reportedly mapped out a number of locations for the deployment of the PAC-3 units, including Greater Taichung's Dadu Mountain (大肚山), Greater Kaohsiung's Jenwu District (仁武), Greater Tainan's Hutoupi (虎頭埤), as well as the Pingtung and Chiayi airports.
A military official would not confirm the sites chosen for the four units, which were included in the US$6.4 billion arms package notified to US Congress in October 2008 and are scheduled for delivery in 2014 or 2015. Two more units were part of a subsequent package announced in January 2010 and will be introduced as part of a future phase.
Raytheon Corp is the manufacturer of the fire units and radars, with Lockheed Martin Co producing the hit-to-kill missiles.
Taiwan has so far purchased a total of 388 PAC-3 missiles as part of the multibillion-dollar procurement deals. To increase the chances of intercept, PAC-3 doctrine calls for the use of two missiles per incoming target, a method known as "ripple firing."
Although critics of the PAC-3 argue that the air defense system could easily be overwhelmed by a large number of Chinese ballistic missiles fired simultaneously or in close sequence, proponents of the system counter that from the beginning, the program was meant to deny Beijing the ability to engage in coercion by threatening limited missile attacks against key infrastructure to intimidate decisionmakers in Taipei.
Comments will be moderated. Keep comments relevant to the article. Remarks containing abusive and obscene language, personal attacks of any kind or promotion will be removed and the user banned. Final decision will be at the discretion of the Taipei Times.