Couple wed in first same-sex Buddhist service in Taiwan
Blessed by the Buddhist Master Shih Chao-hwei (釋昭慧), Yu Ya-ting (游雅婷) and Huang Mei-yu (黃美瑜) became the nation's first lesbian couple to be married in a Buddhist ceremony yesterday.
"Do you, Ya-ting, take Mei-yu to be your companion for life, to have and to hold, in sickness and in heath, in good times and woe, for richer or poorer, keeping yourself solely unto her for as long as you both shall live?" Shih asked to Yu in front of more than 100 guests attending the wedding and a statue of a sitting Buddha, after reciting Buddhist chants and a teaching on the meaning of marriage.
"I do," Yu answered.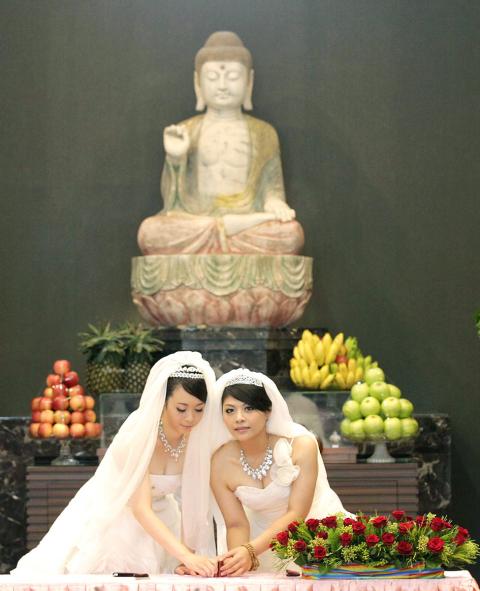 Yu Ya-ting, left, and her partner, Huang Mei-yu, stand in front of a statue of Buddha in the prayer hall of a monastery in Taoyuan County after getting married yesterday.
Photo: Rueters
Shih then turned to Huang and asked the question, to which Huang also answered "yes."
"You may exchange Buddhist beads now," Shih said.
"Congratulations to both of you," Shih said. "I am certain you will lead a life of happiness together, especially after you have overcome so much difficulty and societal discrimination. You have blessings not only from the Buddha, but also from those whom you may or may not know who are in attendance."
The couple then stamped their seals on a marriage certificate, as did Shih and two friends of the couple who hosted the wedding.
Shih said that for Buddhists, marriage is a vow two people make to move their relationship to the next level and turn their love of themselves into love for the other.
The wedding took place at a Buddhist monastery in Guanyin Township (觀音), Taoyuan County.
Although the wedding was attended by a sizable crowd that gave the couple their best wishes, the absence of the couple's parents reminded them that same-sex marriage is not so widely accepted by society.
"My parents have known my sexual orientation for many years, but at first, they couldn't really accept it," Huang told the media before the wedding. "So, when we started dating seven years ago, I took her [Ya-ting] home frequently to meet my family and let them know who I was going out with and gradually, they came to accept it."
Huang said Yu's parents only learned their daughter is a lesbian when they began to prepare for the wedding.
"Our parents originally agreed to come to our wedding, but they felt they were not prepared for the media exposure, so they decided not to come," Huang said.
Another reality they have to face is that the wedding is not legally recognized. The couple has written an open letter to President Ma Ying-jeou (馬英九) urging the government to recognize same-sex marriage as soon as possible.
"Marriage is a basic right, and the Constitution protects the equal rights of each citizen of this country to enjoy equal rights, so there is no reason that same-sex marriage should be excluded form legal recognition," said Chuang Chiao-ju (莊喬汝), a member of the Taiwan LGBT Rights Advocacy. "Ma calls himself a gay-friendly president so he should use his power to push for the legalization of gay marriage."
Huang said they decided to have a Buddhist wedding because they are Buddhists and since around 80 percent of the population are more or less Buddhist, they hoped a wedding blessed by a Buddhist master would help change society's views about same-sex marriage.
Comments will be moderated. Keep comments relevant to the article. Remarks containing abusive and obscene language, personal attacks of any kind or promotion will be removed and the user banned. Final decision will be at the discretion of the Taipei Times.