China and Japan in fresh territorial row
China told Japan yesterday to respect its "indisputable sovereignty" over islands claimed by both countries in the East China Sea, in the latest territorial row between Beijing and its neighbors.
Chinese Foreign Minister Yang Jiechi (楊潔篪) met Japanese counterpart Koichiro Gemba in Phnom Penh where he "reaffirmed China's principled position" on the islands known as Senkaku in Japanese and Diaoyutai (釣魚台) in Chinese, and are also claimed by Taiwan.
"He stressed that Diaoyu Islands and their affiliated islets have always been China's territory since ancient times, over which China has indisputable sovereignty," a statement from the Chinese delegation said.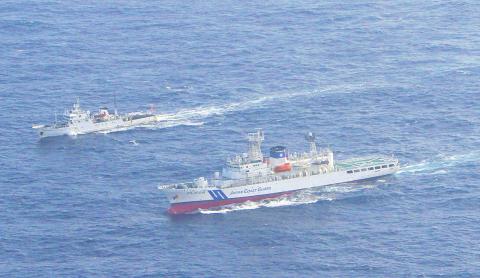 A Japan Coast Guard patrol ship, right, sails around a Chinese fisheries patrol ship yesterday near the disputed islands in the East China Sea, known as the Senkaku isles in Japan or Diaoyutais in China, in a handout photo taken by the Japan Coast Guard.
Photo: Reuters
Japan summoned the Chinese ambassador in Tokyo as three Chinese patrol boats approached the chain of islands, which are privately held by Japanese owners.
The crew of the Chinese vessels, which have since left the islands' immediate vicinity, initially rebuffed Japanese orders to leave, Japanese officials said.
"We are conducting official duty in Chinese waters. Do not interfere. Leave China's territorial waters," the Chinese crew said, according to the Japan Coast Guard.
The waters around the disputed islands have been the scene of previous rows, including the arrest of a Chinese trawlerman in late 2010.
Yesterday's spat is the latest clash over disputed territory between China and its neighbors that threatens to overshadow attempts to smooth regional relations at an Asian security summit in Cambodia this week.
ASEAN's 10 member countries have been trying to agree a long-stalled "code of conduct" for the South China Sea that would help settle overlapping claims in the resource-rich waterway.
The Philippines is leading a push for ASEAN to unite to persuade China to accept a code based on a UN law on maritime boundaries that would delineate the areas belonging to each country.
Manila also wants ASEAN to condemn a standoff last month between Philippine and Chinese ships over the Scarborough Shoal (Huangyan Island, 黃岩島) and also claimed by Taiwan, an outcrop in the South China Sea.
Yang urged Japan to adhere to agreements and understandings with China "in good faith" and said it should return to "the right path of managing differences through dialogue and consultation with the Chinese side."
China's assertiveness over disputed territories in the South China Sea, which is home to vital shipping lanes, is seen by analysts as pushing anxious neighboring countries closer to the US.
Beijing also recently angered Vietnam by inviting bids for exploration of oil blocks in contested waters, sparking protests in Hanoi.
US Secretary of State Hillary Rodham Clinton arrived in Cambodia yesterday to press for closer relations with ASEAN, part of Washington's strategy of "pivoting" toward Asia to challenge China's influence.
Comments will be moderated. Keep comments relevant to the article. Remarks containing abusive and obscene language, personal attacks of any kind or promotion will be removed and the user banned. Final decision will be at the discretion of the Taipei Times.