Military improves hit rate in exercise
INTRUDERS: The presence of a foreign fishing vessel in a closed-off maritime area forced some delays in what was an otherwise impressive display of missile precision
The armed forces yesterday held a missile exercise in the south, substantially increasing the hit ratio from a similar drill in January last year with a 96 percent success rate.
In all, 26 missiles were fired from 12 platforms in the Joint Live Fire Exercise of the Armed Forces at the Chung-Shan Institute of Science and Technology (CSIST) missile test base in Jioupeng (九鵬), Pingtung County. Three services — the army, air force and navy — participated, with more than 2,300 soldiers mobilized for the exercise.
Things got off to a rather dispiriting start when the first two items on the agenda, the CSIST-developed Tien Kung II (TK-2) surface-to-air missile and a US-made ship-launched Standard Missile I (SM-1) surface-to-air missile, were canceled seconds before they were to be fired. Just over 15 minutes after successful intercepts by ground-launched Hawk and air-launched Tien Chien II (TC-2) and MICA missiles, a Hsiung Feng II (HF-2) anti-ship missile launch from a Lafayette-class frigate had to be canceled after a fishing vessel reportedly ventured into the naval exclusion zone.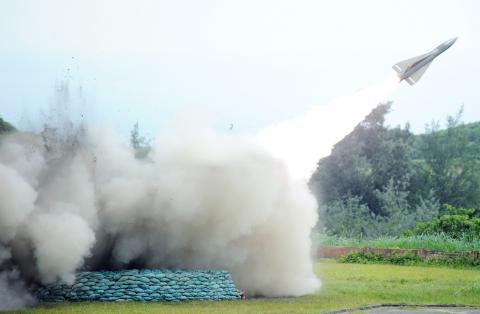 A Hawk ground-to-air missile is launched during a live-fire missile drill at a military base in Jioupeng, Pingtung County, yesterday.
Photo: Sam Yeh, AFP
Minutes later, a short-range HF-1, launched off a Jin Chiang-class missile corvette, hit its target, a decommissioned transport ship located 9 nautical miles (16.6km) into the Taiwan Strait.
From then on, the rest of the exercise went smoothly, with F-16-launched AGM-65 "Maverick" and AIM-9 "Sidewinder" missiles, and a "Ching Kuo" Indigenous Defense Force-launched TC-1, all hitting their targets in mid-flight. A ground-to-air version of the TC-1 also intercepted its target, while two AIM-9s launched by AH-1W Cobra attack helicopters hit their objectives.
Journalists cheered when the military announced that the HF-2 and SM-1 launches would now proceed, as the fishing vessel had cleared the area. While the SM-1, launched off a Perry-class vessel, intercepted its target, the HF-2 failed to hit home, missing another decommissioned transport ship 33 nautical miles at sea — the only miss that day.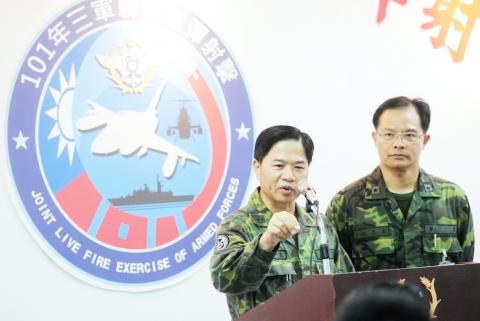 Air Force Lieutenant General Ma Ze-yong, left, commander of an annual live-fire exercise, and Air Combat Commander Yu Sy-tue yesterday answer questions at a press conference in Pingtung County after the exercise.
Photo: Lo Pei-der, Taipei Times
During a press conference following the exercise, Ministry of National Defense officials said they were "quite satisfied" with the results, which enjoyed a 96 percent hit ratio.
A malfunction during the launch of two UK-made Banshee drones accounted for the aborted launch of the TK-2, officials said.
Turning to the presence of a fishing vessel, the military said 19 navy ships had been out at sea to secure the area, adding that one ship was sent out to force the intruders away from the area. The ministry confirmed the fishing vessel was foreign, but did not give their country of origin.
However, an official said that if Chinese ships had been present — during exercises in the past, China sometimes relied on fishing vessels to gather intelligence — some types of missiles would not have been launched.
The US-made AIM-7 "Sparrow," which malfunctioned and dropped into the sea immediately after being launched during last year's exercise, was excluded this year. The ministry said the US was still investigating the cause of last year's failure and added that the decision not to include it had also been made for safety considerations, given the advanced age of the missile.
A ship-launched CK-3 Banshee drone also experienced technical failure and fell in Pingtung City, blowing a small crater in a road, officials said.
President Ma Ying-jeou (馬英九), who had expressed dissatisfaction after attending last year's exercise, which scored a 68.4 percent hit rate with six misses from 19 missiles launched, was not present yesterday.
Comments will be moderated. Keep comments relevant to the article. Remarks containing abusive and obscene language, personal attacks of any kind or promotion will be removed and the user banned. Final decision will be at the discretion of the Taipei Times.