President Ma Ying-jeou's popularity plunges to new low, TVBS poll shows
President Ma Ying-jeou's (馬英九) popularity has plunged to its lowest level yet, a poll showed yesterday, amid a bribery scandal involving a top official who had been a key confidant.
Ma's approval rating fell to 15 percent, according to the survey of 1,303 people conducted by the cable news channel TVBS this week, after former Executive Yuan secretary-general Lin Yi-shih (林益世) admitted taking bribes from a businessman.
Ma's previous lowest approval rating was 16 percent in August 2009 in another TVBS poll, following Typhoon Morakot, which killed more than 600 people and triggered widespread criticism that his government reacted too slowly.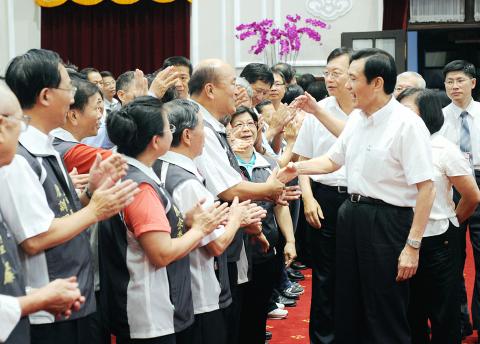 President Ma Ying-jeou meets with Taipei City borough chiefs at the Presidential Office yesterday.
Photo: CNA
A record high of 64 percent said this week they have no faith in Ma's future performance, while 78 percent said his administration has poor crisis-management skills, according to the latest poll.
Ma also saw his popularity dive 25 percentage points from a January poll conducted by the channel less than two weeks before he was re-elected for a second term.
Observers said Lin's bribery case dealt a heavy blow to Ma, who won his second term pledging to fight corruption after former president Chen Shui-bian (陳水扁) was implicated in several graft cases.
Lin, a former vice chairman of the Chinese Nationalist Party (KMT), was taken into custody on Tuesday after he admitted wrongdoing in a case that also implicated his mother and his wife.
Prosecutors did not specify how much money was involved, but a businessman alleged that Lin was paid NT$63 million (US$2.15 million) to help him gain a contract with a state firm two years ago.
Lin was also accused of soliciting another bribe of NT$83 million this year from the same businessman, who took the story to the media.
Comments will be moderated. Keep comments relevant to the article. Remarks containing abusive and obscene language, personal attacks of any kind or promotion will be removed and the user banned. Final decision will be at the discretion of the Taipei Times.