Ma 'regrets' Lin Yi-shih's alleged bribery
President Ma Ying-jeou (馬英九) said yesterday he regrets and feels sorry about allegations of former Executive Yuan secretary-general Lin Yi-shih's (林益世) involvement in corruption.
"I feel very regretful and apologetic for Lin being implicated in a judicial case," Ma said on the sidelines of the opening ceremony of Academia Sinica's annual conference, the top research institute in Taiwan.
Lin, who resigned from his post on Friday, was questioned by prosecutors on Sunday for his alleged role in a bribery case and, according to his lawyer Lai Su-ju (賴素如), Lin confessed his wrongdoings during a 12-hour questioning session that ended early yesterday.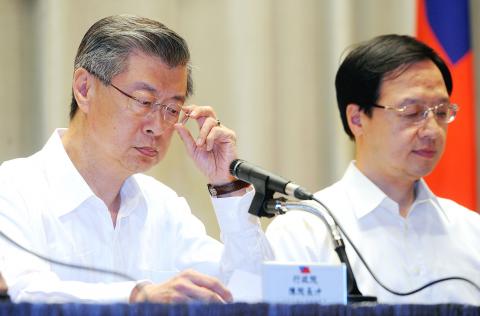 Premier Sean Chen, left, adjusts his glasses during a press conference in Taipei yesterday, in which he expressed profound sadness and regret over former Executive Yuan secretary-general Lin Yi-shih's alleged involvement in corruption.
Photo: Liu Hsin-de, Taipei Times
Ma said it was extremely regrettable that a member of his administration has been involved in such a case.
Noting that integrity and incorruptibility constitute the core values and basic moral standard for civil servants, Ma said any official who violates this principle and commits a crime should be dealt with according to the law.
"There is neither a 'gray area' nor room for anyone to dodge this rule," Ma said, adding that his administrative team would learn a lesson from this incident and would become even more cautious and prudent in recruiting personnel.
Ma said his administration would continue to be resolute in fighting against graft and preventing official corruption.
"We will continue our quest for an incorruptible civil service and clean politics," the president said.
Lin was accused of accepting a bribe of NT$63 million (US$2.15 million) from Chen Chi-hsiang (陳啟祥), the owner of Kaohsiung-based Ti Yung Co (地勇選礦公司), to help the company secure a slag treatment contract.
The contract was offered by China Steel Corp (中鋼) two years ago when Lin was a legislator.
The 44-year-old Lin was also accused of soliciting another bribe of NT$83 million from Chen between February and March this year. When the owner refused to pay up, Lin allegedly pressured China Steel, a listed company in which the government has a controlling stake, to stop supplying slag to Ti Yung for treatment.
Separately yesterday, Premier Sean Chen (陳冲) apologized to the public for the graft case involving Lin.
"I feel deep regret [over Lin's case]," the premier told a news conference held at the Executive Yuan.
After the case was exposed, he said, the Cabinet launched an internal investigation and offered information to the Supreme Prosecutors' Office Special Investigation Division. The Cabinet will also work with prosecutors to provide any further information they may need, he added.
The premier reiterated the importance of the integrity of government officials, saying he has asked the government's anti-corruption agency to strengthen its work to prevent and combat corruption.
Earlier in the day, Lin issued a statement in which he apologized for his misbehavior, saying he deeply regretted his dereliction of duty and getting involved in corruption.
"I would like to apologize to my family members and my supervisors and the public," Lin said in the statement, adding that he would like to return all illegal money to the nation and devote himself community services.
Prior to his confession, Lin had denied taking bribes from Chen Chi-hsiang or pressurizing anyone into paying bribes.
He filed a lawsuit against the company owner for aggravated libel.
Additional reporting by Rich Chang
Comments will be moderated. Keep comments relevant to the article. Remarks containing abusive and obscene language, personal attacks of any kind or promotion will be removed and the user banned. Final decision will be at the discretion of the Taipei Times.