'Forbes' names factory cleaner in list of heroes
A factory cleaner from Greater Taichung who has donated more than US$130,000 to charities was recently selected by the US magazine Forbes as one of its 48 Asian heroes of philanthropy.
Chao Wen-cheng (趙文正), 68, has donated about NT$4 million (US$133,600) over the past 30 years to orphanages in his hometown of Greater Taichung, as well as to the Taiwan Fund for Children and Families, World Vision Taiwan and the Tzu Chi Foundation.
In April, he sponsored a firefighting vehicle, which cost more than NT$600,000, for Greater Taichung's Fire Bureau.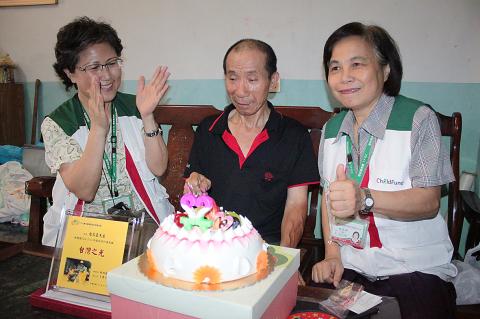 Chao Wen-cheng, center, is presented with a cake by representatives of the Taiwan Fund for Children and Families in Greater Taichung on Friday.
Photo: Yu Po-lin, Taipei Times
Having known the difficulties of being poor growing up in a low-income family, Chao, at 35, began donating about three-quarters of his modest salary, which is less than NT$20,000 a month, to charity after reading a story about a poor child in a newspaper.
As a father of five children, Chao also collects cans and bottles in the evenings to support his family.
"Once a young man teased me and said I look like a dog while I was finding recyclables in a garbage bin," he said, adding: "I was almost in tears, but I ignored him as I knew I had to do it to make a living and provide a good education for my children."
Although his children are now all grown up, Chao has no plans to stop doing what he does.
"I will never retire from my job, or from making donations to help people in need," Chao said.
Living in an old house with no decorations and walls with faded paint in Wurih (烏日), Chao said he prefers not to spend money on himself, but to help others instead, adding that it pains him to see people suffer from poverty.
"I don't make much money from collecting recyclables, but I saved every penny I earned and gathered them little by little," he said.
Chao's wife, Chao Hsieh Mei-yu (趙謝美玉), 64, supports his efforts.
"We don't need a lot of money. My oldest child is 40 and one of them is a teacher," Chao Hsieh said. "As long as my husband is happy, we can live a simple life and save more money to give to others."
Taichung Mayor Jason Hu (胡志強), who wrote to the magazine to recommend Chao, said Chao was the pride of Greater Taichung and that his nomination has helped the world know the kindness of Taiwanese.
The other Taiwanese listed are all businessmen: Evergreen Group (長榮集團) founder Chang Yung-fa (張榮發), 84; Wowprime Corp (王品集團) chairman Steve Day (戴勝益), 58; and 84-year-old Chi Mei Group (奇美集團) founder Hsu Wen-long (許文龍).
Comments will be moderated. Keep comments relevant to the article. Remarks containing abusive and obscene language, personal attacks of any kind or promotion will be removed and the user banned. Final decision will be at the discretion of the Taipei Times.