Shilin urban renewal protest turns violent
A protest against an urban development project in Taipei's Shilin District (士林) yesterday descended into violence after the construction firm involved sent workers to clean up the site, drawing new attention to a controversial project that has been stalled for more than three years.
The urban renewal project, approved by the Taipei City Government, has been stalled despite the government sanctioning the demolition of two houses belonging to a family surnamed Wang (王), who were against the project. The family and a group of supporters have camped out at the site ever since and are insisting that the construction firm rebuild their houses.
The latest clash occurred yesterday morning when Le Young Construction Co (樂揚建設) placed a dumpster on the site and started to clean up debris.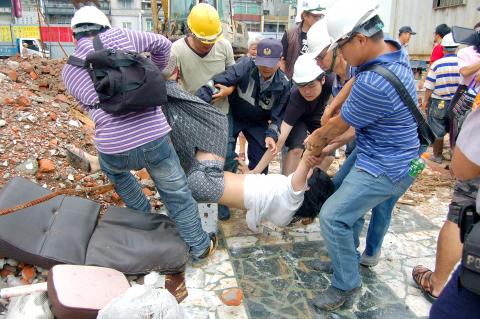 A protester is carried away from the site of the Wenlin Yuan construction project in Taipei's Shilin District yesterday.
Photo: Huang Chi-hao, Taipei Times
The move was met with a protest by the Wang family and their supporters, who pushed and shoved the construction workers, accusing them of trespassing on private property.
Amid the clashes, a member of the Urban Renewal Victims' Alliance, surnamed Kuo (郭), accused construction workers of pushing him and tearing his pants, while police stood by.
"The urban renewal project is a violent collaboration between the city government and the construction firm," he said.
Some construction workers also accused the protesters of injuring them during the clashes and they filed complaints with the police.
The construction company defended the legitimacy of its actions by producing a document that it claimed said the city government had asked the firm to clean up the site ahead of further construction.
However, the city's Construction Management Office denied issuing any document asking the construction firm to clean up the site.
The Taipei City Government has been criticized over its handling of the project, under which the construction firm plans to turn an old residential complex of 38 households into a 15-story high-rise apartment block. It evicted the Wang family in March, despite ongoing protests, and later agreed to help the Wang family and the construction firm negotiate over the project.
Members of the Wang family yesterday said they would not agree to the project unless the construction firm rebuilt their houses on the site.
Although the family has refused to give up its land, the construction firm had already received the consent of more than 75 percent of the landowners on the site. However, the deadlock over the project continues as negotiations between the construction firm, the Wang family and the other landowners have failed to reach an amicable conclusion.
Comments will be moderated. Keep comments relevant to the article. Remarks containing abusive and obscene language, personal attacks of any kind or promotion will be removed and the user banned. Final decision will be at the discretion of the Taipei Times.