Jeremy Lin is legally an ROC national: official
Amid an ongoing public debate about whether NBA star Jeremy Lin (林書豪) is Taiwanese, Deputy Minister of the Interior Chien Tai-lang (簡太郎) seems to have an official answer, saying that, legally, Lin is a Republic of China (ROC) national.
The debate on whether Lin is Taiwanese intensified late last month when a junior-high school in Greater Taichung asked the question in a mid-term exam. The school held that the correct answer is that Lin is a US citizen.
However, some people have different opinions, saying that Lin was born to Taiwanese-American immigrant parents, and his relatives in Taiwan — such as his grandmother — insist he is Taiwanese.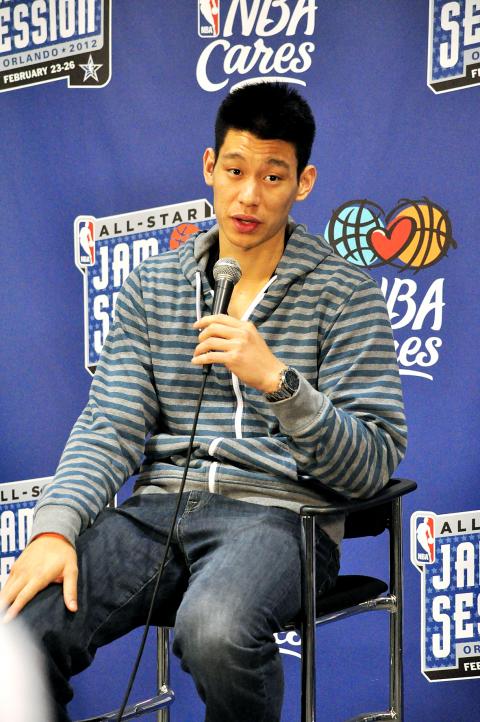 Jeremy Lin.
Taipei Times file photo
A Harvard economics graduate, Lin was born in the US. The 23-year-old point guard, the first NBA player of Taiwanese descent, came off the New York Knicks bench to global stardom in February after leading the struggling team to a seven-game winning streak.
At the time, many officials — including Greater Taichung Mayor Jason Hu (胡志強) — said that Lin is legally an American, but could also be Taiwanese if he so identifies himself.
The deputy minister seemed to have a different official answer yesterday.
"Of course Lin is an ROC national," Chien said at a meeting of the legislature's Internal Administration Committee. "Since Lin was born to parents who are ROC nationals, he is automatically granted ROC nationality. He is therefore an ROC national, unless he formally renounces his ROC nationality, but he hasn't done so as far as I know."
Chien was referring to Article 2 of the Nationality Act (國籍法), which stipulates that anyone who has at least one parent who is an ROC national is automatically granted ROC nationality.
Chien made the remarks during discussions of whether ROC citizens born overseas should be allowed to run for president.
Taiwan Solidarity Union Legislator Huang Wen-ling (黃文玲) had asked Chien if someone born and raised in another country, citing Lin as an example, should be allowed to run for president if the person obtains ROC citizenship.
Comments will be moderated. Keep comments relevant to the article. Remarks containing abusive and obscene language, personal attacks of any kind or promotion will be removed and the user banned. Final decision will be at the discretion of the Taipei Times.