MA'S RE-INAUGURATION: Ma speech focuses on economic growth
NO SURPRISES: As the president was sworn in for a second and final term, Ma Ying-jeou also touched on the controversial 'one country, two areas' proposal
President Ma Ying-jeou (馬英九) yesterday pledged to strengthen economic growth in pursuit of social justice in the next four years as he was inaugurated for a second term, while reiterating his promise of maintaining cross-strait peace and avoiding discussing the possibility of cross-strait political talks.
Ma, who won re-election in January, was sworn in for his second term at the Presidential Office in Taipei yesterday morning together with Vice President Wu Den-yih (吳敦義), accompanied by first lady Chow Mei-ching (周美青) and Wu's wife, Tsai Ling-yi (蔡令怡).
The swearing-in ceremony proceeded amid tight security, with a heavy police force and barbed-wired barricades surrounding the peripheral areas of the Presidential Office.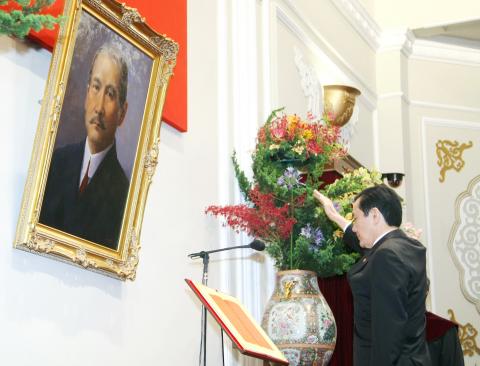 President Ma Ying-jeou is sworn in in front of a portrait of Republic of China founder Sun Yat-sen at the Presidential Office in Taipei yesterday. Ma was sworn in for a second and final four-year term, while the opposition rallied against energy price increases and imports of US beef containing ractopamine residue.
Photo: Hsu Chao Chang, AFP
In his inauguration speech, titled "Upholding ideals, working together for reform and creating greater well-being for Taiwan," Ma prioritized economic development and other domestic issues, including social justice, energy conservation and cultural development.
He promised to increase the nation's competitiveness with "five pillars" — economic growth, social justice, a "green" environment, cultural development and cultivating talent.
On cross-strait relations, Ma reiterated that his administration would continue to pursue peace across the Taiwan Strait and maintain the cross-strait "status quo" under the "three noes" policy — no unification, no independence and no use of force — and the so-called "1992 consensus," while defending the nation's sovereignty in mentioning the concept of "one country, two areas (一國兩區)."
"Over the past 20 years, the two sides of the Taiwan Strait have been defined as 'one Republic of China [ROC], two areas' ... This is an eminently rational and pragmatic definition, and constitutes the basis for assuring the ROC's long-term development and safeguarding Taiwan's security," he said.
He vowed to facilitate follow-up negotiations on the cross-strait Economic Cooperation Framework Agreement (ECFA), which are scheduled to be completed within the next two years, while promising to promote exchanges focusing on issues of democracy and human rights.
Stable cross-strait relations, the use of viable diplomacy and strong national defense will form the "three legs" of national security, Ma said.
The government would continue to purchase weapons of a defensive nature from the US to establish a sturdy national defense force, he added.
Later at an international press conference, Ma dismissed concerns about the possibility of political talks and a peace treaty between Taiwan and China, insisting there is no urgency in discussing a peace agreement with China at this stage.
"There's no urgency for us to discuss the issue with the mainland [sic]. As I've said last year, [signing a cross-strait peace agreement] requires public support and approval via a referendum. We do not have immediate plans for such a peace treaty now," he said.
He also stressed the government's efforts in seeking free-trade deals with major trade partners, including the US, and reiterated the expectation for Taiwan to join the Trans-Pacific Partnership by 2020.
As local media outlets continued to press Ma on the public backlash against government policies, ranging from the US beef import issue to rising electricity and fuel prices, Ma said he has apologized about the poor policymaking process to the public on several occasions and he vowed to improve communication with the public and legislators before initiating policies.
On the opposition's call for a Cabinet reshuffle, Ma defended the Cabinet's efforts in implementing policies, but said he would make adjustments in Cabinet personnel in the future, if necessary.
He also dismissed calls for him to resign as Chinese Nationalist Party (KMT) chairman, and said doubling as KMT leader is necessary to facilitate government reform.
"I double as KMT chairman in order to make party politics run smoothly ... Our party can assist the Cabinet in promoting policies and serve as a communication platform between the legislative and executive branches," he said.
Comments will be moderated. Keep comments relevant to the article. Remarks containing abusive and obscene language, personal attacks of any kind or promotion will be removed and the user banned. Final decision will be at the discretion of the Taipei Times.