Japan switches off last nuclear power reactor
A Japanese power firm began switching off the country's last working reactor, leaving it without nuclear power just over a year after the world's worst atomic accident in a quarter of a century.
As technicians close down the No. 3 unit at Tomari in Hokkaido, the debate over whether Japan needs nuclear power has been reignited, amid increasingly shrill warnings of summer power blackouts.
Hokkaido Electric Power, which runs the plant, said they started inserting control rods at 5pm that would halt the chain reaction and bring the reactor to "cold shutdown" sometime on Monday.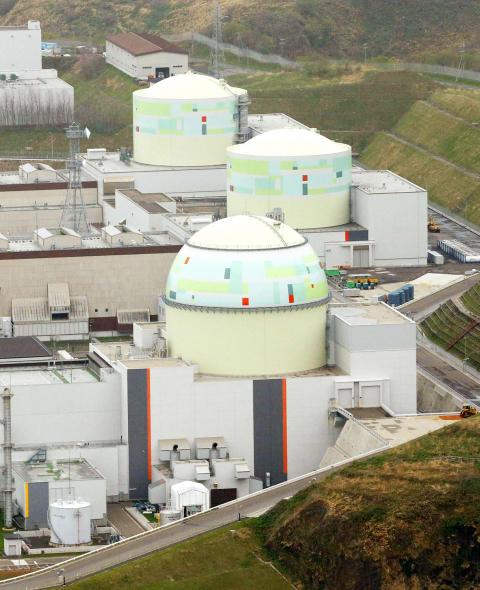 Hokkaido Electric Power Co.'s Tomari nuclear power plant is seen in Tomari town on Hokkaido. Japanese utility Hokkaido Electric Power Co began shutting the country's last active nuclear reactor yesterday.
Photo: Reuters
"Power output started declining at the No. 3 unit," said Tomohiko Shibuya, a Hokkaido Electric Power spokesman. "We have not heard of any trouble so far. Power generation there is scheduled to stop completely in about six hours."
The shuttering will mark the first time since the 1970s that resource-poor and energy-hungry Japan has been without nuclear power, a technology that had provided a third of its electricity until meltdowns at the Fukushima Dai-ichi nuclear power plant after the earthquake and tsunami disaster in March last year.
"A new [era in] Japan with no nuclear power has begun," said Gyoshu Otsu, a 56-year-old monk who joined a protest against nuclear power in front of the industry ministry in Tokyo which supervises the nation's power utilities.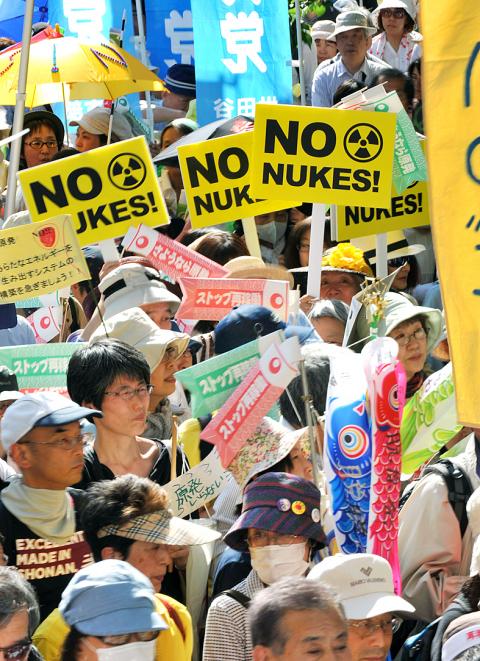 People gather at an anti-nuclear demonstration yesterday at a park in Tokyo, Japan.
Photo: AFP
"Generating nuclear power is like a criminal act as a lot of people are still suffering," said Otsu, wearing white Buddhist clothes.
"If we allow the situation as it is now, another accident will occur," he added.
Protest organiser Masao Kimura said: "It's a symbolic day today. Now we can prove that we will be able to live without nuclear power."
Separately, about 5,500 demonstrators staged a rally at a park near Tokyo Tower and later marched through central Tokyo carrying banners which read: "Sayonara [Goodbye], nuclear power."
"We have to take action now, so that Fukushima should be the last nuclear accident not only in Japan, but all over the world," Mizuho Fukushima, head of the opposition Social Democratic Party, said during the rally.
When power generation stopped late yesterday, Japan's entire stable of 50 reactors would be offline, despite increasingly urgent calls from the power industry and bodies like the Organisation for Economic Cooperation and Development, who fear dire consequences for the world's third-largest economy.
Last month, Kansai Electric Power, which supplies mid-western Japan, including the commercial hubs of Osaka, Kyoto and Kobe, said a hot summer could see supply fall nearly 20 percent short of demand.
Kyushu Electric Power, covering an area further west, and Hokkaido Electric Power also said they would struggle as air conditioning gets cranked up in Japan's sweltering summer.
Comments will be moderated. Keep comments relevant to the article. Remarks containing abusive and obscene language, personal attacks of any kind or promotion will be removed and the user banned. Final decision will be at the discretion of the Taipei Times.