Taiwan faces balance of naval capability crisis
A backlog of costly arms acquisitions by Taiwan could be forcing the navy to cut back on requests for frigates from the US, which threatens to exacerbate the widening tonnage gap in the Taiwan Strait as the nation decommissions ageing vessels.
Citing a Taiwanese defense industry source, Defense News said in a report published this week that the navy could request two — rather than four, as initially planned — decommissioned long-hull Oliver Hazard Perry-class frigates as excess defense articles (EDA) from the US.
The article said the plan to acquire the four frigates was cancelled late last year because of cost and technical considerations, adding that the military was struggling to pay for roughly US$18 billion in weapons released by the US in the past four years.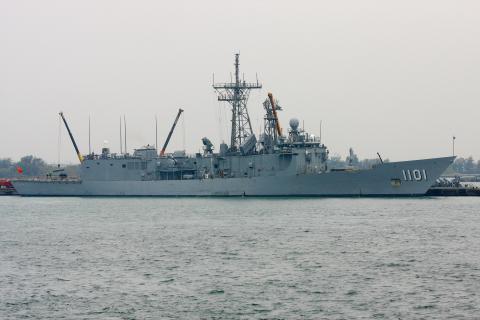 The Perry-class PFG-1101 frigate is pictured at Zuoying Naval Base in Kaohsiung on Jan. 24, 2008.
Photo: Jimmy Chuang, Taipei Times
Although China Shipbuilding Corp (中船) is capable of building Perry-class frigates — it has built eight so far, known locally as Cheng Kung-class — the source told Defense News that acquisitions from the US would be the quickest and least costly way to add the much-needed vessels to the navy. Building them would cost upwards of US$2 billion, the source said, much higher than the "near-scrap" price under EDA, even when refurbishment and upgrade costs are added.
The Ministry of National Defense denied there were plans to request fewer frigates from the US because of budgetary considerations and added it was in negotiations to ensure the acquisition were fully operational rather than semi-complete or empty shells.
Still, the navy will be forced to decommission aging frigates in the coming years. Its eight 3,800-tonne Knox-class frigates, acquired from the US in the 1990s after nearly 20 years of service in the US Navy, are due for replacement, but so far such plans appear to have stalled.
If replacements are not found, the navy will be down to 18 vessels with more than 3,800-tonne displacement — four Kidd-class destroyers, eight Perry-class frigates and six La Fayette-class frigates — Defense News said. This would continue a downward trend in tonnage for the navy, which went from 43 destroyers and frigates above 3,000 tonnes during the 1996 Missile Crisis, 39 in 2000 and 18 after the Knox-class frigates are taken out of service.
Plans to produce smaller vessels in the 2,000-tonne range also appear to have been cancelled due to budget problems.
Since Taiwan's acquisition of the Knox-class frigates, the People's Liberation Army Navy (PLAN) has commissioned a number of heavy-class destroyers and frigates, both Russian-made or domestically produced. According to Jane's Fighting Ships 2011-2012, by next year, the PLAN could have at least 28 destroyers and frigates with displacement of more than 3,000 tonnes, with possibly more in production.
While not all of the PLAN's combat vessels are intended for a Taiwan contingency, the balance of power at sea in the Taiwan Strait continues to shift in China's favor, especially if no way is found to replace vessels that are due for decommissioning.
Some navy analysts, including James Holmes of the US Naval War College, have argued that rather than embark on a tonne-for-tonne race with China, Taiwan should focus its efforts and finite budgets on developing fast-attack craft such as the 170-tonne Kuang Hua VI missile boat.
So far, 31 KH-6s, divided in three squadrons, have entered service.
Comments will be moderated. Keep comments relevant to the article. Remarks containing abusive and obscene language, personal attacks of any kind or promotion will be removed and the user banned. Final decision will be at the discretion of the Taipei Times.