Malaysia gambling ring netted US$1bn: report
A soccer betting and fraud ring busted by Malaysian police grossed more than US$1 billion, reports said yesterday, after an operation that led to the arrests of scores of Chinese and Taiwanese nationals.
Police conducted the raid in the city of Kajang, near Malaysia's capital, Kuala Lumpur, on Thursday after receiving a tip-off, the latest high-profile effort to clamp down on rampant illegal sports betting in Asia.
The Malaysia ring operated for a month from several luxury bungalows in an upscale gated community "home to several ministers and former cabinet members," the Star newspaper reported.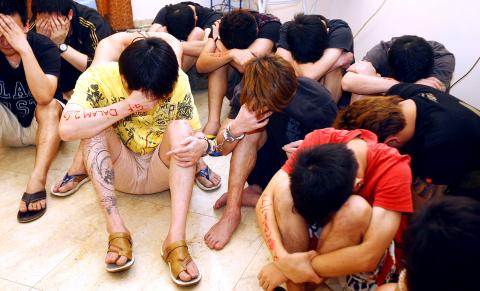 In a photograph taken on April 5, 2012, suspected gamblers hide their faces following their arrest by the Malaysian police during a raid in the outskirts of Kuala Lumpur. The operation led to the arrests of scores of Chinese and Taiwanese nationals.
Photo: AFP
Police believe the operation grossed nearly 4 billion ringgit (US$1.3 billion), it said.
The bungalows had closed-circuit video systems for security and police found "suspects engrossed in their laptops and telephones in a classroom-like atmosphere with all the tables neatly arranged in rows," the report added.
Suspects were equipped with 241 mobile phones and 43 computers, the New Straits Times said.
Kajang police chief Abdul Rashid Abdul Wahab said on Thursday the group took bets on English Premier League soccer games and organized other forms of online gambling.
Soccer, particularly the English game, is hugely popular in Malaysia, but sports betting is illegal and those found guilty can be jailed.
Abdul Rashid said the group also carried out Internet scams that sought to obtain the credit card numbers of people in Taiwan, China and Portugal.
The Star said members had detailed scripts to follow in dealing with victims.
Abdul Rashid said 132 Chinese and Taiwanese nationals, along with five Malaysians, were arrested, but the Star quoted police sources saying 144 people were netted, including 54 women.
Reports quoted police as saying the foreign suspects, mostly in their 20s, had arrived in Malaysia early last month.
Neither the police nor the press reports have indicated who was behind the operation.
Comments will be moderated. Keep comments relevant to the article. Remarks containing abusive and obscene language, personal attacks of any kind or promotion will be removed and the user banned. Final decision will be at the discretion of the Taipei Times.