Wu Den-yih meets with Li Keqiang at Boao Forum
HARD WORK: The head of the Taiwanese delegation, Fredrick Chien, said when Wu and Li met, it seemed like they were working on solutions for cross-strait problems
Vice president-elect Wu Den-yih (吳敦義) yesterday met Chinese Vice Premier Li Keqiang (李克強) at the Boao Asia Forum in Hainan, China, where the pair reportedly agreed on the need to address a variety of cross-strait issues.
Wu, who is accompanying a delegation of about 60 officials, is attending the forum in the capacity as the highest consultant for the Cross-Straits Common Market Foundation.
During their meeting, Wu and Li are said to have agreed on the need to establish a mechanism for the control and oversight of insurance and bonds. The two reportedly also agreed to complete in the first half of this year an accord on cross-strait insurance policies, as well as begin negotiations on a cross-strait currency clearing accord.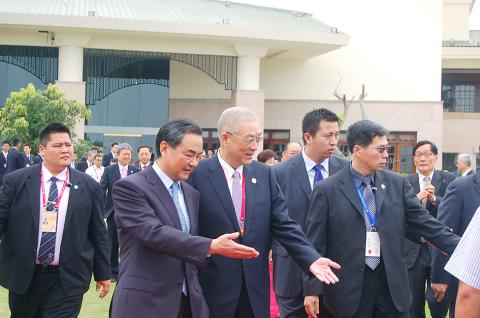 Vice president-elect Wu Den-yih, center, and China's Taiwan Affairs Office Minister Wang Yi, second left, enter an outdoor meeting venue at the Boao Asia Forum in Hainan, China, yesterday.
Photo: Peng Hsien-chun, Taipei Times
Sources said Li agreed to increased imports of Taiwanese agricultural and fish products to China. Li added that Chinese investments in Taiwan were not for the sole benefit of Taiwanese markets, but were for the mutual benefit of both sides of the Taiwan Strait.
Through the expansion of the Chinese market, Taiwan will be able to expand into international markets, Li said.
"We will also [endeavor] to find a solution for equal negotiations [between Taiwan and China] regarding Taiwan's international space," he said.
Meanwhile, China's Taiwan Affairs Office (TAO) Director Wang Yi (王毅) hosted an outdoor banquet for the Taiwanese delegation after the Wu-Li meeting.
Wang began the banquet by welcoming Wu, saying: "The South China Sea and China welcome you all, especially Mr Wu Den-yih, who will soon be assuming more important responsibilities."
Wang also said economic cooperation was still the priority for cross-strait relations this year.
Cross-strait relations are taking a new, multi-directional development and we must also think hard about how to maximize benefits for citizens across the Strait, Wang said, adding that the two sides would start "seeing more difficulties" when working together on deepening economic cooperation.
"I think that an important and essential focal point for resolving any problems is maintaining, as well as fortifying, mutual political trust," Wang said. "By so doing, we can promote smoother cross-strait economic cooperation, and as we continue to solve economic problems, it will provide a more solid guarantee of further developments in cross-strait relations."
The Boao Forum has not only provided a chance for interaction for businesspeople from both sides of the Strait, it has also become the most important platform of dialogue between high-ranking cross-strait administrators, Wang said.
While Wu did not make any public comments during the banquet, the head of the Taiwanese delegation, former foreign minister Fredrick Chien (錢復), praised Wang, saying he had "contributed the most" toward promoting cross-strait relations.
It is "very good to have you [Wang]" as the director of the TAO, Chien said.
Regarding the Wu-Li meeting, Chien said: "Despite the fact that this was the first time both men met, it was more like they were meeting again after having been separated for a long time. They were so sincere in their conversation and their deep insights into the issues, it just gave the feeling that they were truly thinking of solutions to cross-strait issues. I felt very honored to have been able to observe the meeting."
Most of the Taiwanese delegation attended the banquet, including Cross-Straits Common Market Foundation chairman Chan Huo-sheng (詹火生), as well as Taiwan Stock Exchange Corp chairman Schive Chi (薛琦).
On the Chinese side, in addition to Wang, former China Banking Regulatory Commission chairman Liu Mingkang (劉明康), Central Huijin Investment Co chairperson Lee Jiange (李劍閣) and Cosco Group chairman Ma Zehua (馬澤華) were among those who attended the banquet.
Translated by Jake Chung, Staff Writer
Comments will be moderated. Keep comments relevant to the article. Remarks containing abusive and obscene language, personal attacks of any kind or promotion will be removed and the user banned. Final decision will be at the discretion of the Taipei Times.