Fong Fei-fei, the 'Queen of Hats,' passes away at 58
Taiwanese pop diva Fong Fei-fei (鳳飛飛), whose legacy includes 81 albums and numerous popular singles, died of lung cancer in Hong Kong on Jan. 3, a representative confirmed yesterday. She was 58.
Lawyer Chiang Yen-wei (江燕偉) said the singer's body has been cremated and the urn placed at a Fokuangshan-affiliated temple in Dasi Township (大溪), Taoyuan County, where Fong was born.
According to Fong's official Web site, the singer had thanked her fans for supporting her throughout her career.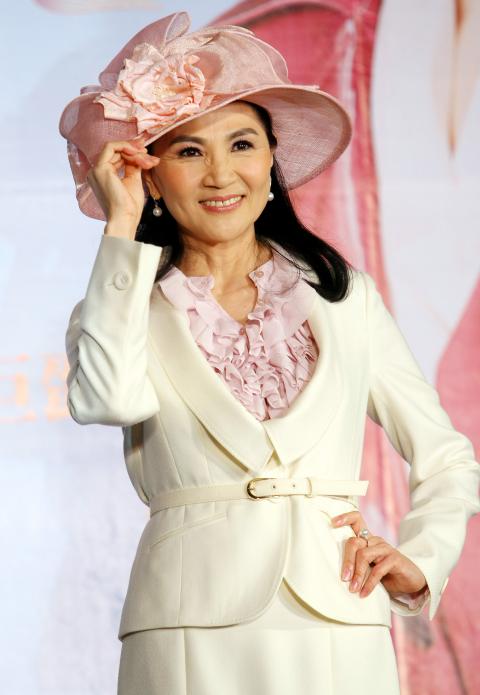 Taiwanese diva Fong Fei-fei smiles in an undated photograph. Fong died of lung cancer on Jan. 3 in Hong Kong.
Photo: CNA
"I have lived a happy and wonderful life," Fong said. "Thank you for being by my side all this time, my brothers and sisters. As for the songs I never got to sing in this life, I will sing them to you in my next life."
The Web site said that Fong had insisted on personally signing birthday and New Year cards for fans, even during the last month of her life.
Chiang said Fong's death had only been announced now because she wanted a low-key funeral.
"It [her death] happened at a time that was very close to the Lunar New Year holiday," he said. "Fong was a very considerate person and wanted to keep everything low-key. She insisted that we not make an announcement until after the funeral was over. We hope fans will understand why we chose to handle the matter in this way."
Chiang said that Fong canceled a concert in June last year after finding something wrong with her vocal cords.
After comprehensive examinations, she was diagnosed with lung cancer, which had already affected her vocal cords, he said.
Fong apologized to her fans for canceling the concert at the last minute, but said that doctors had recommended she rest for a year to recuperate.
Born Lin Chiu-luan (林秋鸞) in August 1953, Fong's talent was first discovered at a singing contest in 1968.
Some of her popular songs include Wish You Happiness (祝妳幸福), I am a Cloud (我是一片雲), The Wild Goose on the Wing (雁兒在林梢) and When I Heard the Applause (掌聲響起).
Fong was known as the "Queen of Hats," because she wore a different hat every time she performed.
Her unique voice and style made her a popular figure for other singers to imitate.
In addition to singing, Fong was also cast in several movies and TV dramas in the 1970s and 1980s and hosted a number of entertainment shows.
In 1980, she married Hong Kong businessman Zhao Hongqi (趙宏琦), who died of lung cancer in 2009 at the age of 70.
Comments will be moderated. Keep comments relevant to the article. Remarks containing abusive and obscene language, personal attacks of any kind or promotion will be removed and the user banned. Final decision will be at the discretion of the Taipei Times.