Lin outduels Kobe, leads Knicks to win
NEW HIGH: The point guard scored a career-high 38 in his third start to power the Knicks to victory. His fans in Taipei and his uncle in Changhua were up early to watch
"Linsanity" reigned at Madison Square Garden in New York for another night on Friday, as blossoming point guard Jeremy Lin (林書豪) outdueled Kobe Bryant to lead the New York Knicks to a fourth consecutive win with a 92-85 victory over the Los Angeles Lakers in the National Basketball Association (NBA).
Lin, an overlooked 23-year-old who had been cut by two other NBA teams earlier this season, led New York with a career-high 38 points and seven assists, while rookie Iman Shumpert was the next highest scorer for the Knicks with 12 points.
"Thirty-eight points. I was shocked," New York coach Mike D'Antoni told reporters. "Because it came easily and within the context of team basketball. I was shocked to see how many points he had."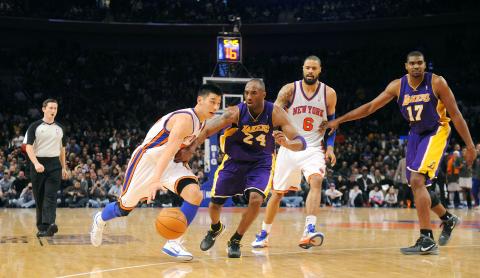 New York Knicks point guard Jeremy Lin, second left, drives to the basket as Los Angeles Lakers shooting guard Kobe Bryant, center, defends during the second half of their game at Madison Square Garden in New York on Friday.
Photo: EPA
The Lakers, looking as though they were feeling the effects of back-to-back games after beating the Celtics in overtime in Boston on Thursday, shot a poor 37.5 percent from the floor as they fell to 15-12.
"We didn't have the energy to play well. We were very lethargic," a despondent Bryant said. "I wasn't aggressive in the first half, I was stuck in the mud."
Bryant, who scored only 10 points in the first half, heated up after the intermission to pace the Lakers with 34 points. Spaniard Pau Gasol added 16 points for Los Angeles.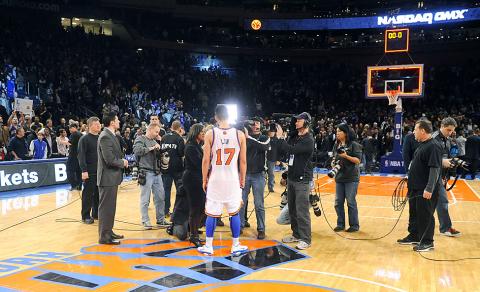 New York Knicks point guard Jeremy Lin speaks with the media after a game against the Los Angeles Lakers at Madison Square Garden in New York on Friday.
Photo: EPA
Spurred on by the dazzling performance of Lin, the NBA's first Taiwanese-American player, the Knicks led by as many as 14 points in the second quarter, 12 points in the third and 13 in the fourth at 86-73 before a late fight-back by the Lakers brought them within six at 88-82.
Lin put on one last burst with a reverse layup and a pair of free throws and drew a charge against Matt Barnes to help ice the victory and improve New York to 12-15 for the season. The former Harvard player has been an overnight sensation and his No. 17 jersey was quickly sold out after finally being made available at concession stands at Madison Square Garden.
Meanwhile, the cold weather in Taipei did little to dampen the enthusiasm of NBA fans struck by "Linsanity." More than 500 fans turned up at the Pacific Core Living Mall (京華城) early yesterday morning (Friday night in New York) to watch the Knicks' televised game broadcast from Madison Square Garden to support Lin.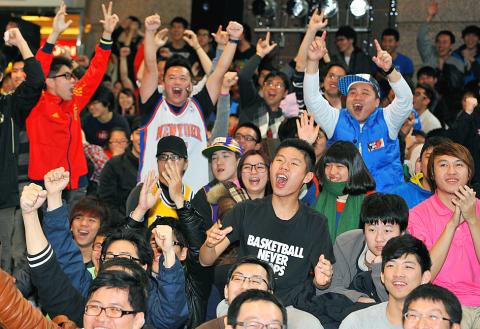 Basketball fans celebrate while watching the NBA game between the New York Knicks and the Los Angeles Lakers at Living Mall in Taipei yesterday. Jeremy Lin, the first Taiwanese-American player in the NBA, led the Knicks to a 92-85 victory over the Lakers by scoring 38 points.
Photo: Chien Jung-fong, Taipei Times
Anticipating "Linsanity" in Taiwan, ESPN STAR Sports set up a live broadcast starting at 9am from the Living Mall department store. According to Simone Kang (康小玲), a senior manager at ESPN STAR Sports, the Lakers enjoy a lot of support in Taiwan, and to have a Taiwanese-American playing so well on the opposing team and to turn their fortunes in such a short time warranted having the game broadcast live.
However, Kang was surprised by the number of fans who came to watch. Previous ESPN STAR Sports live broadcast events of Major League Baseball games featuring Taiwanese star Wang Chien-ming (王建民) have attracted 300 to 400 fans.
In Changhua County, Lin's uncle Lin Heng-cheng (林恆正) rose early to watch the game. According to the uncle, Jeremy Lin's father went to the US on a study scholarship and settled there, only returning with Jeremy Lin last year to visit relatives. Lin Heng-cheng's first impression of his nephew was that he was a refined, unassuming and polite young man, adding that the whole family was now very proud of him and hoped that he would return to visit everyone once the basketball season is over.
Against the Lakers, Jeremy Lin shot 13-for-23 from the floor including two-for-four from three-point range. His drives to the hoop netted him 13 free throws, of which he made 10.
"I don't remember anybody getting to the rim for that many layups against us without another body being there," Lakers coach Mike Brown said. "You have to give him credit. He played a terrific ball game. He was the difference in the ball game."
Jeremy Lin shunned the praise directed at him and credited coach D'Antoni after another win without the team's top two players — the injured Carmelo Anthony and Amar'e Stoudemire, who is on bereavement leave.
"Coach D'Antoni is an absolute offensive genius," said Jeremy Lin, whose 38 points represented half his season total from 29 games last year for Golden State. "He makes us look good."
D'Antoni said he continued to be amazed by Jeremy Lin, who has scored 25, 28, 23 and now 38 points, the past three as a starter.
"You don't see many guys play like that ... in their whole career," the Knicks coach said. "I don't know what to tell you. I have never seen this. It is not often that a guy is going to play four games, the best you are going to see, and nobody knows who he is."
Bryant, a 13-times All Star, also saluted Lin.
"He played extremely well," said Bryant, a five-time NBA champion and twice NBA Finals Most Valuable Player. "He has been phenomenal. We watched some tape on him. We came up with a strategy that we thought would be effective, but he was knocking down his jump shot, penetrating, and he got around our guards."
"It is a great story. It is a testament to perseverance and hard work. It is a good example to kids everywhere," Bryant added.
"The level this kid is playing at, I've never seen anything like it," Knicks teammate Jared Jefferies said. "As a team, he lifts us up. It's weird to have a guy come in and be your team leader. He inspires all of us to play harder because this kid gives his all on a daily basis."
Comments will be moderated. Keep comments relevant to the article. Remarks containing abusive and obscene language, personal attacks of any kind or promotion will be removed and the user banned. Final decision will be at the discretion of the Taipei Times.