Ma applauds cross-strait online Chinese dictionary
BLOWING ONE'S HORN: The president said the database would help the growing number of people who are learning Mandarin to understand cross-strait differences
President Ma Ying-jeou (馬英九) yesterday applauded the launch of an online cross-strait Chinese dictionary that incorporates a database on the languages used in Taiwan and China, a move to further bilateral cultural exchanges across the Taiwan Strait.
The launch of the online Chinese Language Knowledge Database (中華語文知識庫), compiled by the General Association of -Chinese Culture (GACC), an institution under the Presidential Office, implemented one of Ma's campaign promises during the 2008 presidential election to establish a cross-strait dictionary and facilitate cross-strait cultural exchanges as people on either side of the Taiwan Strait use different Chinese characters and phrases.
"The best way to handle the differences between traditional and simplified Chinese characters is to list both and explain the -differences. The database will help the two sides understand each other and promote cultural exchanges. There are no political intentions," Ma said at the launch ceremony.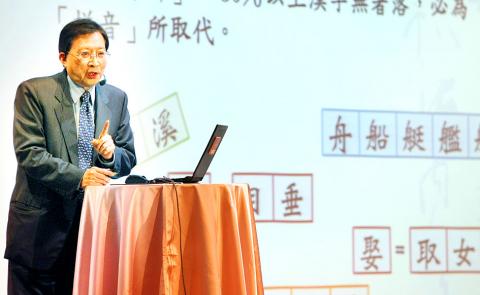 General Association of Chinese Culture president Liu Chao-shiuan speaks at a press conference held by the Chinese Language Knowledge Database at National Taiwan University Hospital's International Conference Hall in Taipei yesterday.
Photo: CNA
While defending the use of traditional Chinese characters since his two terms as Taipei mayor, Ma said it would be difficult to ask China to adopt traditional characters or for Taiwan to use simplified Mandarin instead.
"What we should do is to understand the different languages and look at the characters from a non-political perspective. Maybe the two sides will develop a new set of characters that can be used and -that would be acceptable across the [Taiwan] Strait," he said.
GACC chairman Liu Chao-shiuan (劉兆玄) said the database includes a compilation that juxtaposes characters and phrases commonly used by people from both sides of the Strait in their daily lives.
The online platform (chinese--linguipedia.org) can also be operated in a way similar to that of Wikipedia, allowing users to suggest more content or edit posted content after a submission is approved by experts, he said, adding that the association would eventually launch applications to extend the database service to users of smartphones and tablet computers.
The site includes a search -engine that allows users to look up words spoken by people from Taiwan and China. In addition to the definition, it will also show the equivalent used by the other side.
Ma said the database would also help the growing number of people who are learning Mandarin worldwide understand the differences between the languages adopted in Taiwan and China.
One of the examples he gave was the term "playing the trumpet" (吹喇叭), which means "giving someone a blowjob" in Taiwanese slang, but means "fawning over somebody" in China.
Additional reporting by CNA
Comments will be moderated. Keep comments relevant to the article. Remarks containing abusive and obscene language, personal attacks of any kind or promotion will be removed and the user banned. Final decision will be at the discretion of the Taipei Times.