Academics urge 'China Times' boycott
DO NOT WANT: One professor said the 'China Times' owner's control over the paper's editorial line and what reporters write made him feel like he was in a totalitarian regime
More than 60 academics and members of civic groups launched a petition yesterday to boycott the Chinese-language China Times newspaper over recent controversial remarks by its owner, Tsai Eng-meng (蔡衍明), concerning the 1989 Tiananmen Square massacre.
Tsai, chairman and chief executive of the Want Want Group (旺旺集團) and owner of multiple media outlets including the China Times, said in an interview last month with the Washington Post that the 1989 crackdown on June 4 in Beijing did not constitute a massacre.
A joint petition drafted by academics and civic groups, including the Taipei Society and pro-democracy advocates, yesterday called for a "boycott of the crooked China Times."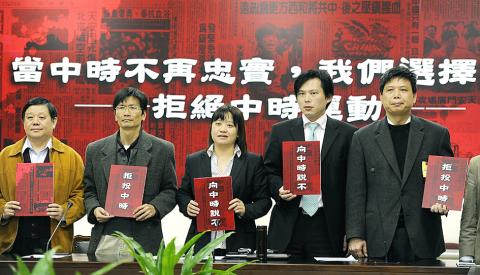 Representatives of academic and civic groups announce a campaign to boycott the Want Want Group-owned China Times at a press conference in the legislature in Taipei yesterday.
Photo: George Tsorng, Taipei Times
Petitioners called on the public to reject such an "unfaithful medium," accusing the China Times of abandoning its responsibilities as a media outlet and allowing itself to become a tool for Tsai to ingratiate himself with a totalitarian regime.
Taipei Society director Huang Kuo-chang (黃國昌) appealed for more academics to join their efforts to blacklist the China Times, adding that they might petition government agencies in the near future.
National Chengchi University's Department of Radio and Television associate professor Kuo Li-shin (郭力昕) said Tsai's remarks had damaged the professionalism, autonomy and freedom of journalism.
Kuo also called on columnists perceived as pan-blue to back the boycott by "not writing or publishing" in the China Times in a bid to heal a split within society that divides people into either pan-blue or pan-green camps.
"This is just the first step," Kuo said, adding that Tsai's constant attempts to acquire and merge different media outlets have monopolized the supposedly diversified public voices of Taiwanese society.
Chiou Wen-tsong (邱文聰), an assistant researcher at Academia Sinica, expressed concern over how little attention the media have paid to Tsai's remarks, describing the phenomenon as "the gradual collapse of Taiwan's defense mechanism for its democracy."
With the owner of a media outlet being in total control of its editorial line and monitoring what its reporters can put in their -articles, it appears as if Taiwanese are under the control of a totalitarian regime again, National Chengchi University professor Ku Chung-hwa (顧忠華) said.
Wang Dan (王丹), a student leader in Tiananmen Square in 1989 who initiated the boycott against the China Times last month via a post on his Facebook page, yesterday wrote on his Facebook page: "In my opinion, people are entitled to express their stance on historic incidents and to defend their freedom of speech in their own manner. It's not necessary to force columnists currently working at the China Times to quit writing because of public pressure. So long as they can ensure that their articles are not altered or removed, we should respect their choices."
Meanwhile, according to a reporter working at the China Times, employees scarcely talked about the controversy triggered by Tsai, adding that Tsai's remarks and the China Times' pro-China stance had caused jeering among his co-workers.
"We are only trying to make a living," the anonymous reporter said, adding that Tsai, who last week said his remarks had been distorted and taken out of -context by the Washington Post and that he would communicate with people who misunderstood him, should keep his word and clearly explain his remarks.
Translated by Stacy Hsu, Staff Writer
Comments will be moderated. Keep comments relevant to the article. Remarks containing abusive and obscene language, personal attacks of any kind or promotion will be removed and the user banned. Final decision will be at the discretion of the Taipei Times.