Reporter says he was beaten up as result of election
PRESS FREEDOM: Chiang Wen-hsin said he had no idea who was responsible for the beating, which left him with two broken legs and several broken ribs
A reporter was beaten by masked men early on Wednesday morning in an incident he claimed could be related to the legislative election on Saturday.
Greater -Kaohsiung-based reporter Chiang Wen-hsin (江文兟), 56, who works for the -Chinese--language Taiwan Times, was beaten by four men wielding baseball bats who pushed their way into his residence when he returned home early on Wednesday morning.
As a result of the attack, both Chiang's legs were broken and he suffered multiple broken ribs and fingers.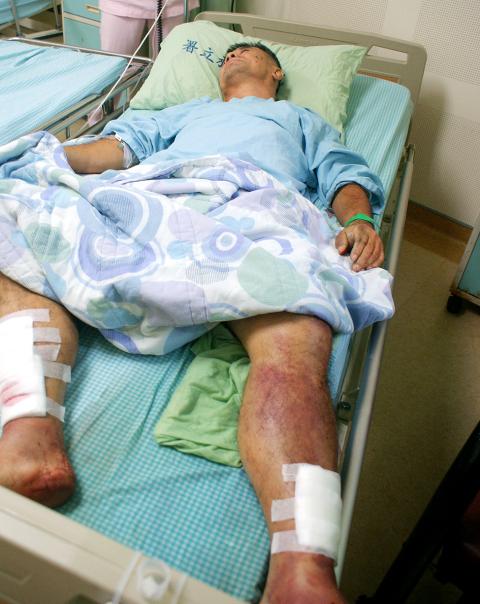 Taiwan Times reporter Chiang Wen-hsin was beaten by four men wielding baseball bats early Wednesday morning. Both Chiang's legs were broken and he suffered multiple broken ribs and fingers.
Photo: Taipei Times
Although his injuries were not life-threatening, the damage to his hands means that Chiang will be unable to write any news articles until her recovers.
"I do not have disputes with anybody," Chiang said.
He later added that the legislative elections in Greater Kao-hsiung had at times been quite tense.
At one point he received a call from a supporter of a certain political faction accusing him of writing articles that were biased.
According to the police, Chiang returned to his home in Ciweishan (旗尾山) after meeting with friends at a McDonalds in Greater Kaohsiung's Cishan District (旗山) and was attacked outside his residence.
The attack lasted for about 10 minutes and he was only able to shout for help after regaining consciousness, Chiang said.
The police's New Year Security Taskforce, an annual group formed during the Lunar New Year period to patrol local areas and step up security, stated work on Tuesday.
Police stopping motorists on Ciwei Bridge and conducting sobriety tests said that a white car refused to stop, but managed to escape, after being chased by police. The police have listed the passengers of the vehicle as prime suspects in the beating.
A special team has been established to investigate the case.
The police declined to comment on whether the attack on Chiang was motivated by an election--related dispute or something else, saying only that the investigation was ongoing.
In response, the Taiwan Times issued a statement saying that it strongly condemned violence and expected the police to arrest the perpetrators as soon as possible.
Translated by Jake Chung, Staff Writer
Comments will be moderated. Keep comments relevant to the article. Remarks containing abusive and obscene language, personal attacks of any kind or promotion will be removed and the user banned. Final decision will be at the discretion of the Taipei Times.