2012 ELECTIONS: Ma wins re-election
FOUR MORE YEARS: Ma Ying-jeou won 51.6 percent of the total votes to Tsai Ing-wen's 45.63 percent, while voter turnout, at 74.38 percent, was less that the 76.33 turnout in the previous presidential election in 2008, though all the numbers won't be finalized until a Central Election Commission meeting on Thursday
President Ma Ying-jeou (馬英九) yesterday secured a second four-year term in office, ending the Democratic Progressive Party's (DPP) hope for a return to power.
Ma won re-election with more than 6.8 million votes, leading his DPP challenger, Tsai Ing-wen (蔡英文) — who garnered more than 6 million votes — by about 800,000 votes.
According to the figures released by the Central Election Commission (CEC) after the vote counting process was completed shortly before 10pm, Ma received 6,891,139 votes, or 51.6 percent of the total votes; Tsai won 6,093,578 votes, or 45.63 percent of the total; while the People First Party's James Soong (宋楚瑜) took 369,588 votes, or 2.77 percent of the total votes cast.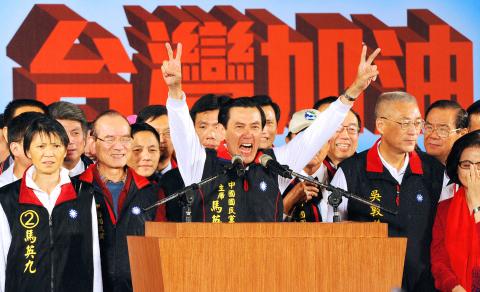 President Ma Ying-jeou, center, raises his arms in victory while greeting supporters outside the party's campaign headquarters in Taipei last night after winning a second term. First lady Chow Mei-ching, left, Ma's running mate Premier Wu Den-yih, third right, and Wu's wife, Tsai Ling-yi, right, look on.
Photo: Toshifumi Kitamura, AFP
The voter turnout was 74.38 percent, with 13,452,016 of the 18,086,455 qualified voters casting their votes, CEC figures showed.
Central Election Commission Chairwoman Chang Po-ya (張博雅) announced the numbers immediately after the vote-counting process was completed at a press conference at the Vote Counting and Information Center in Taipei.
"The figures will be finalized at a CEC meeting on Jan. 19," Chang said. "After the commission confirms the numbers, we will publish the official results."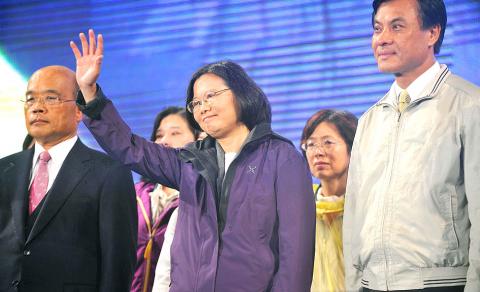 Democratic Progressive Party presidential candidate Tsai Ing-wen, center, waves to supporters at her campaign headquarters in New Taipei City last night after conceding the election to President Ma Ying-jeou. Tsai's running mate, Su Jia-chyuan, right, and party heavyweight Su Tseng-chang, left, look on.
Photo: Patrick Lin, AFP
Although Ma won, the total number of votes he received dropped by more than 767,000, from 7,658,724 in 2008, when he received 58.45 percent of the total vote.
On the other hand, votes for the DPP's presidential candidate increased by 648,000 from 5,445,239 votes in 2008, a growth of 4.05 percent.
Speaking before thousands of jubilant supporters at his national campaign headquarters in Taipei, Ma said his cross-strait policies had resonated with voters.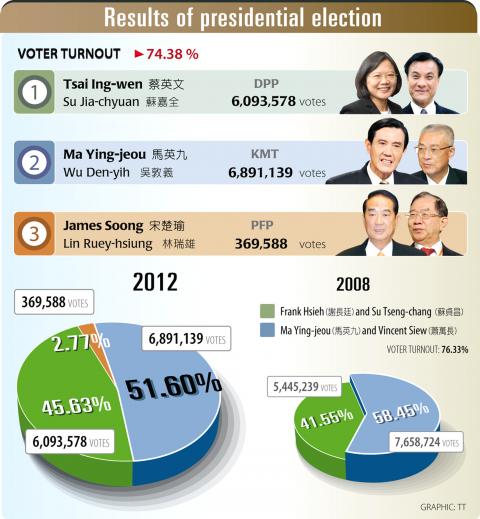 GRAPHIC: TT
"They gave us support for our policy to put aside differences with the mainland [China], to search for peace and turn it into business opportunities," he said.
"This is not Ma Ying-jeou's personal victory, but one for the Taiwanese people. It's also a victory for our direction toward a clean government, prosperity and peace," he said.
"I want to thank everyone for your support that has given me the opportunity to achieve the changes Taiwan needs in another four years [in office]. I will never let you down," he added.
Ma's re-election is set to be seen in Beijing as a big victory for Chinese President Hu Jintao (胡錦濤), who has moved away from China's previous policy of repeatedly threatening Taiwan with war and instead has tried to woo Taiwanese by showing the economic benefits of closer ties.
There was no immediate reaction from Beijing on the election results.
Tsai conceded defeat at a press conference in New Taipei City (新北市) soon after Ma spoke to his supporters.
Tsai congratulated Ma on his victory and offered to resign immediately as DPP chairperson, saying that she took full responsibility for the loss.
"It was never easy to challenge an incumbent president. We didn't do well enough in central and northern Taiwan. I am sorry that I have let our supporters down," Tsai said.
"I know everyone is sad about the result. It's OK to cry," she added. "It is OK to feel depressed and disappointed, but don't be frustrated and don't give up. We still need to fight for Taiwan with optimism."
Tsai urged Ma to listen to the people's voice in his second term and despite his victory, she still thinks that a domestic consensus is essential before engaging in any further negotiations with Beijing.
She expressed her gratitude to her supporters, saying that their determination for reform should be carried on and that the DPP would be back in the future.
This was the second time Soong has run for president, following his initial bid in 2000, when he received 4,664,932 votes — 36.8 percent of the total votes at the time — and was the candidate with the second- highest number of votes.
Comments will be moderated. Keep comments relevant to the article. Remarks containing abusive and obscene language, personal attacks of any kind or promotion will be removed and the user banned. Final decision will be at the discretion of the Taipei Times.