Diplomat's lawyer seeks plea bargain in US court
STRATEGY: MOFA said that the Taiwanese representative took the unusual step of waiving her rights to preliminary and detention hearings to secure her prompt release
The case of a Taiwanese representative posted in the US who stands accused of defrauding a Philippine housekeeper has been disentangled from disputes about diplomatic immunity between the US and Taiwan after the government came to an agreement of a plea bargain.
Facing US federal charges of fraud in foreign labor contracting, Jacqueline Liu (劉姍姍), director-general of the Taipei Economic and Cultural Office (TECO) in Kansas City, Missouri, told a court at 9:30pm on Wednesday she was waiving her rights to a detention hearing for a possible bond, as well as a preliminary hearing.
Liu's lawyer, James Wirken, told reporters that plea negotiations with prosecutors have been going well and that he hoped to have the case disposed of within days.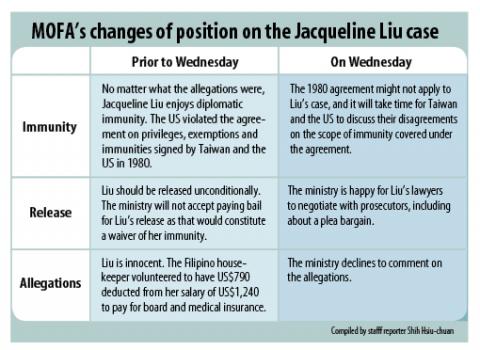 "Our next step is trying to finalize a plea agreement with the United States Attorney's office," Wirken was quoted by the Kansas City Star as saying.
Liu remained in custody at a federal facility in Fort Leavenworth, Kansas, without bond.
Her case will go before a grand jury in the next 30 days as long as her attorney and the US Attorney cannot come to an agreement before then.
In Taipei, Ministry of Foreign Affairs (MOFA) spokesman James Chang (章計平) said that Liu waiving her rights was a legal strategy aimed at securing "the release of Liu as soon as possible."
Chang avoided questions on why the ministry accepted a plea deal with prosecutors to settle the case, given that it has contended that Liu has diplomatic immunity and defended her innocence.
"The lawyer will continue to negotiate with prosecutors on possible solutions, including what you just mentioned [about a plea bargain]," Chang said.
Liu was arrested by the FBI on Thursday last week for allegedly breaching the terms of an -employment contract that she had signed with a housekeeper — who was paid by the foreign ministry — by underpaying her, confiscating her passport, threatening her with deportation and keeping her in virtual isolation in Liu's Overland Park, Kansas, home.
According to media reports, Wirken met with assistant US Attorney Cynthia Cordes in private for about 20 minutes before the hearing started.
The hearing lasted for 10 minutes with Judge Robert Larsen asking Liu several times if she had voluntarily agreed to waive her rights to a preliminary and detention hearing, which he said was an unusual decision.
Liu gave terse answers without elaboration.
At the hearing, Cordes contended that Liu did not enjoy diplomatic immunity because she has an E-1 visa, as opposed to an A1 visa or A2 visa, which the US reserves for diplomats officially recognized by the government.
Wirken responded by saying that that the E1 visa is a diplomatic visa the US specifically created for Taiwanese representatives based on the 1980 Agreement on Privileges, Exemptions and Immunities the US signed with Taiwan.
He said that Liu did not waive any diplomatic rights.
Wirken told the Kansas City Star that US officials and the Taiwanese government disagree about immunity and he quickly took that question off the table.
"She doesn't really have full diplomatic privileges," Wirken said.
After failing to convince the US that the 1980 agreement should apply in Liu's case, the ministry no longer stuck to its demands that Liu enjoyed diplomatic immunity because hiring a foreign national to work as a maid falls within the scope of her official duties under the agreement.
"We are handling the immunity issue and the case separately," Chang said.
The ministry also appeared to distance itself somewhat from Liu's case by saying that Wirken represented only Liu and not the government and that Liu, and not the ministry, would have to cover her legal fees.
A senior official at the ministry said that having Liu waive her rights to preliminary and detention hearings was a damage control strategy used to prevent the allegations against Liu from further harming the nation's reputation.
Some lawmakers did not agree with the decision.
If Liu completes a plea bargain, that would "put the country in a very embarrassing situation," Democratic Progressive Party Legislator Tsai Huang-liang (蔡煌瑯) said yesterday. "That Liu agreed to enter into plea bargaining was tantamount to giving the ministry a slap in the face. Didn't the ministry just come to her defense a few days ago? Now it seems that the ministry tried to cover up her mistakes."
Chinese Nationalist Party (KMT) Legislator Lin Yu-fang (林郁方) said that seeking a plea bargain could settle the case in the shortest time.
"Due to the lack of diplomatic relations, it's already not that easy to contend immunity with an E1 visa," he said ."What made this case more complicated was the debate on whether the employment of the housekeeper was related to her official duties."
Comments will be moderated. Keep comments relevant to the article. Remarks containing abusive and obscene language, personal attacks of any kind or promotion will be removed and the user banned. Final decision will be at the discretion of the Taipei Times.