2012 ELECTIONS: Hakkas unhappy with Wu's stance
LINGUISTIC IMPERIALISM: Local Hakka leaders are demanding that the KMT apologize for its suppression of languages other than Mandarin during the Martial Law period
Leaders from local Hakka groups yesterday slammed former Chinese Nationalist Party (KMT) chairman Wu Po-hsiung (吳伯雄) for calling Democratic Progressive Party (DPP) Chairperson Tsai Ing-wen (蔡英文) a "pseudo-Hakka" and demanded that the KMT apologize for what they called its past policy of "linguistic genocide."
Representatives from various groups and two DPP legislative candidates in Hakka constituencies demanded that Wu — a Hakka — and President Ma Ying-jeou (馬英九), who doubles as KMT chairman, apologize for the party's suppression of languages other than Mandarin during the Martial Law era.
They also called for the establishment of a native language monument to remind Taiwanese of the long period of suppression in Taiwan.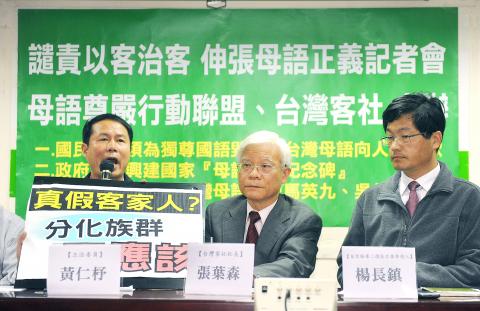 From left to right, Democratic Progressive Party (DPP) Legislator Huang Jen-shu, Taiwan Hakka Society president Chang Yeh-shen and DPP legislative candidate Yang Chang-chen, held a press conference in Taipei yesterday to criticize Chinese Nationalist Party (KMT) chairman Wu Po-hsiung's "divisive" comments about DPP Chairperson Tsai Ing-wen's Hakka-language abilities.
Photo: Liao Chen-huei, Taipei Times
"Ma and Wu should be ashamed of themselves for being accomplices of the suppression, a serious crime against humanity," Taiwan Hakka Society chairman Chang Yeh-shen (張葉森) said.
The leaders held the press conference in response to comments by Wu, who told a rally in support of Ma's re-election campaign on Sunday that Tsai was a "pseudo- Hakka" because she could not speak Hakka and had not spoken it in more than 50 years.
Many people are not able to speak their mother tongue, such as Hakka, Hoklo (also known as Taiwanese) or any of the Aboriginal languages because the KMT only promoted Mandarin and prohibited the use of other languages for decades, Chang said.
In 1988, Wu, who served as minister of the interior and was regarded as a top Hakka politician at the time, and then-Cabinet member Ma did nothing to assist a Hakka awareness movement that had emerged that year and did not stop the KMT from the "Nazi-like" suppression of native languages and cultures, Chang said.
"It is ironic that now Wu is accusing people of not speaking fluent Hakka and Ma is busy telling people that he is Hakka, when he is not," Chang said.
What really matters to Hakka, the second-largest ethnic group in Taiwan behind Hoklo, is whether a candidate is committed to promoting Hakka culture rather than his or her language proficiency, said Yiong Cong-ziin (楊長鎮), a DPP legislative candidate in Miaoli County.
"Ma, Wu and the KMT should look themselves in the mirror and think hard about why [Taiwan] was able to preserve Hakka and Hoklo during the Japanese colonial period [from 1895 to 1945], but it almost failed to survive the Martial Law period," he said.
Huang Jen-shu (黃仁杼), a DPP legislative candidate in Taoyuan County, said several factors could contribute to or impair one's Hakka proficiency, adding that lack of language proficiency should never be regarded as a "cardinal sin."
Huang said that if Wu failed to apologize for his comments, he did not rule out organizing a protest in front of KMT headquarters.
The KMT would be the last political party to brag about its contribution to Hakka people, Taiwanese Hakka Association of the World chairman Peter Lo (羅能平) said.
"From what I've seen, the DPP established the Council for Hakka Affairs and the Hakka Television Service and it was committed to promoting cultural diversity during its eight years in power, while the KMT has done nothing in the past six decades," Lo said.
Comments will be moderated. Keep comments relevant to the article. Remarks containing abusive and obscene language, personal attacks of any kind or promotion will be removed and the user banned. Final decision will be at the discretion of the Taipei Times.