LGBT Pride Parade draws 30,000 people in Taipei
With music, self-made signs and creative costumes, an estimated more than 30,000 people from across Taiwan and several other countries yesterday marched through the streets of Taipei during the annual Taiwan Lesbian, Gay, Bisexual and Transgender (LGBT) Pride parade, being held for the ninth consecutive year, calling for an end to discrimination against sexual minorities.
Tens of thousands of people poured onto Ketagalan Boulevard, the departure and ending point of the parade hours before 2pm, when the parade was scheduled to depart.
Participants carried balloons and self-made placards with slogans supporting gay rights and opposing discrimination, and many also dressed in special costumes to show their support for diversity.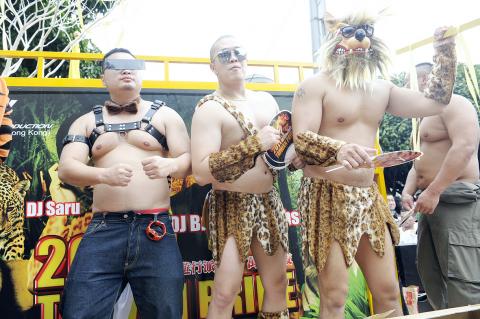 Four men participate in Taipei City's annual Taiwan Lesbian, Gay, Bisexual and Transgender (LGBT) Pride parade, which took place yesterday for the ninth consecutive year, calling for an end to discrimination against sexual minorities.
Photo: George Tsorng, Taipei Times
Although the atmosphere was festive, the objective of the parade was serious.
"We are standing here together — whether you belong to the LGBT community or not — to fight back against discrimination against the LGBT community in this country," one of the organizers of the parade, nicknamed A-Cheng (阿正), told the crowd. "Discrimination against LGBT people may seem to have decreased, but in fact, it's still there, it just changed its form and was 'upgraded.'"
He said that 10 years ago, LGBT communities were confronted directly by people who called them all sorts of names, but "nowadays, people would tell you: 'I don't have any problems with gays, but ...' What comes after the 'but' could be: 'I don't think gays should be able to legally get married,' 'students should not be taught about homosexuality at school,' or something else that's still discriminatory in nature."
J.J. Lai (賴正哲), co-founder of the first Taiwan LGBT Parade in 2003, said the situation may have improved a little, but discrimination from the general public and politicians still exists.
"Nine years ago, we departed from the 228 Peace Park with only a few hundred people. Today, we're on Ketagalan Boulevard with more than 30,000 people," Lai said.
"Nine years ago, there was only one Taiwan LGBT Pride Parade in Taipei, but this year parades are taking place in Taipei, Taichung, Kaohsiung and Hualien," he added. "We can't deny there have been changes. However, we should not overlook the threats posed by homophobic people and organizations."
Lai accused President Ma Ying-jeou (馬英九) of having broken his campaign pledges four years ago that he would promote LGBT rights in his policies.
"Four years have passed and he's running for his second term, but we're still not getting what he promised — it's all bullshit," he said.
While Democratic Progressive Party presidential candidate Tsai Ing-wen (蔡英文) promised to legalize civil unions, Lai said he was disappointed that Tsai said such a policy should be implemented only "when there's consensus in society."
"If there's social consensus, why would we need you, politicians, to push for it?" Lai said. "We don't care whether Ma is gay or Tsai is a lesbian, we want actual policies benefiting the LGBT communities."
Part of the parade marched through neighborhoods around National Taiwan Normal University, where many conservative families live, hoping that the residents would acquire a better understanding of LGBT communities through more contact, organizers said.
After the parade, demonstrators rallied on Ketagalan Boulevard and stepped on the ground 100 times, a gesture meant to represent that gay rights have gone nowhere, despite the efforts.
Comments will be moderated. Keep comments relevant to the article. Remarks containing abusive and obscene language, personal attacks of any kind or promotion will be removed and the user banned. Final decision will be at the discretion of the Taipei Times.