Ma promises referendum before Chinese peace pact
SEEKING UNITY: President Ma said no peace deal would be signed without public support and he downplayed comparisons to the 1951 deal between Tibet and Beijing
President Ma Ying-jeou (馬英九) yesterday promised to hold a referendum before signing any peace agreement with China and stressed that his administration would also leave such a pact aside if China failed to accept his "three noes" policies and the "1992 consensus" as premises of cross-strait peace talks.
Stepping up his efforts to dismiss concerns about unification behind his recent proposal to see a peace deal within a decade, Ma said a peace pact would only be signed with strong domestic support and a public consensus on the issue could be determined either through a referendum or polls.
"If we decided to proceed with the peace agreement, a referendum would be held first to gauge public opinion about the issue, and we won't sign the agreement if it fails the referendum ... This is to show both our determination and caution in handling such a pact," Ma told a news conference at the Presidential Office.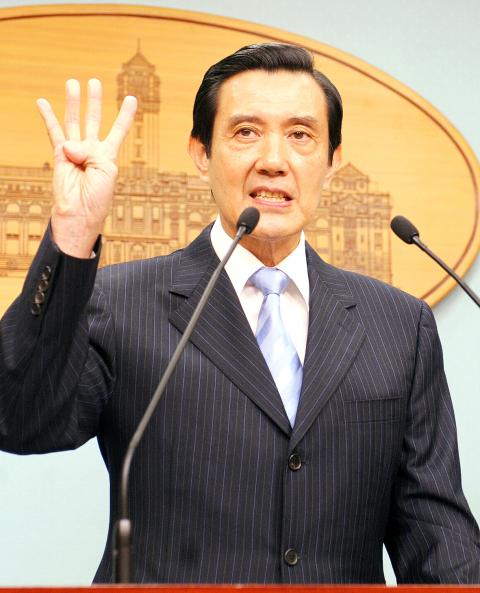 President Ma Ying-jeou gestures and elaborates on his proposal for a peace agreement with China at a press conference in Taipei yesterday.
Photo: George Tsorng, Taipei Times
When asked about his opposition to holding a referendum on the cross-strait Economic Cooperation Framework Agreement (ECFA) before it was signed in June last year, Ma said a peace pact would have much more of an impact on society than the ECFA, and added that referendums, despite doubts about how representative of public opinion they are, remain a major means to reflect public opinion.
Before signing the ECFA with China, Ma and the Chinese Nationalist Party (KMT) rejected the idea of a referendum on the pact despite calls from the Democratic Progressive Party (DPP) and many civil groups, who warned that the agreement would promote unification.
Stressing the economic nature of the ECFA, Ma said holding a referendum was time-consuming and expensive, and that only issues of great importance, such as those involving Taiwan's sovereignty, need be put to a plebiscite.
Ma denied his peace pact proposal would lead to political negotiations on unification or independence, and said his "three noes" policy — no unification, no independence and no use of force — and the "1992 consensus" — which he said refers to "one China, with each side having its own interpretation" — would remain the most important principles in promoting cross-strait relations.
"If the mainland refuses to accept our principles, then we will put the peace agreement on hold ... We don't have to sign the agreement within the next decade, and there's no timetable for such a pact," Ma said.
Signing a peace agreement with China was one of the proposals Ma outlined for what he calls a "golden decade," one of the planks in his re-election campaign platform. The proposed peace talks, mentioned by Ma on Monday, drew criticism from the DPP, with DPP Chairperson Tsai Ing-wen (蔡英文) accusing him of risking Taiwan's sovereignty and democratic values.
She also cited the 1951 deal between Tibet and China as an example of Beijing's lack of credibility when it comes to peace pacts, warning that such an agreement could have serious consequences for the nation.
However, Ma yesterday said that China had treated Tibet as a province when it signed the 1951 pact, and that situation would not apply to Taiwan, which is a sovereign nation.
"It is a ridiculous comparison and Chairperson Tsai did not know what she was saying ... I urge [her] not to make such unbecoming comments," he said.
He also said that Tsai was -flip-flopping on the question of a peace agreement, saying that as former vice chairperson of the Mainland Affairs Council she supported the establishment of a cross-strait mechanism to promote cross-strait peace eight years ago.
"It's unfair and unreasonable that some people intentionally distort our efforts to seek sustainable peace across the Taiwan Strait," he said.
Meanwhile, in Tianjin, China, where the latest round of cross-strait talks are taking place, Association for Relations Across the Taiwan Straits Deputy Chairman Zheng Lizhong (鄭立中) said ending cross-strait hostility and signing a peace agreement "have been the common wish of compatriots from both sides of the Strait."
His comments were in response to press queries about China's reaction to Ma's peace pact proposal.
Cross-strait negotiators in Tianjin are focusing on cooperating on nuclear safety in this round of talks.
Additional reporting by CNA
Comments will be moderated. Keep comments relevant to the article. Remarks containing abusive and obscene language, personal attacks of any kind or promotion will be removed and the user banned. Final decision will be at the discretion of the Taipei Times.