Tomas Transtromer wins Nobel Prize in Literature
This year's Nobel Prize in Literature was awarded yesterday to Tomas Transtromer, a Swedish poet whose surrealistic works about the mysteries of the human mind have won him acclaim as one of the most important Scandinavian writers since World War II.
The Swedish Academy said it recognized the 80-year-old poet "because, through his condensed, translucent images, he gives us fresh access to reality."
In 1990, Transtromer suffered a stroke, which left him half-paralyzed and unable to speak, but he continued to write and published a collection of poems entitled The Great Enigma in 2004.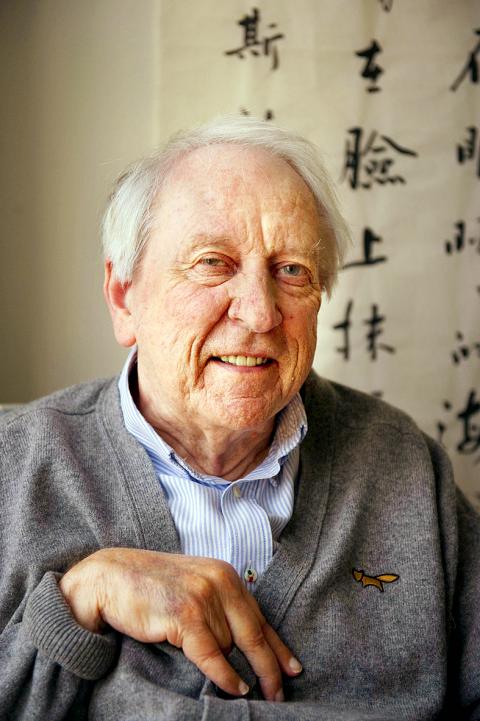 Swedish poet Tomas Transtromer is pictured at his home in Stockholm, Sweden, on March 31.
Photo: AFP
"Waking up is a parachute jump from dreams. Free of the suffocating turbulence the traveler sinks toward the green zone of morning," the poem reads. "Things flare up. From the viewpoint of the quivering lark he is aware of the huge root systems of the trees, their swaying underground lamps. But aboveground there's greenery — a tropical flood of it — with lifted arms, listening to the beat of an invisible pump."
Transtromer has been a perennial favorite for the 10 million kronor (US$1.5 million) award and in recent years Swedish journalists have waited outside his apartment in Stockholm on the day the literature prize was announced.
Transtromer's most famous works include the 1966 Windows and Stones, in which he depicts themes from his many travels, and Baltics from 1974.
His works have been translated into more than 50 languages and have influenced poets around the globe, particularly in North America.
"He's been writing poetry since 1951 when he made his debut and has quite a small production, really," said Peter Englund, the permanent secretary of the academy. "He's writing about big questions. He's writing about death, he's writing about history and memory, and nature."
Transtromer is the first Swede to receive the literature prize since Eyvind Johnson and Harry Martinson shared it in 1974.
Englund has said that the academy is especially cautious about awarding Swedish writers out of fear of being seen as biased.
"And so I think we've been quite thoughtful and haven't been rash," Englund said yesterday.
Since the 1950s, Transtromer has had a close friendship with American poet Robert Bly, who translated many of his works into English. In 2001, Transtromer's Swedish publishing house Bonniers published the correspondence between the two writers in the book Air Mail.
Earlier this year, Bonniers released a collection of Transtromer's works between 1954 and 2004 to celebrate the poet's 80th birthday.
Born in Stockholm in 1931, Transtromer grew up alone with his teacher mother after she divorced his father — a journalist. He started writing poetry while studying at the Sodra Latin school in Stockholm and debuted with the collection Seventeen Poems at age 23.
He received a degree in psychology from Stockholm University and later divided his time between poetry and his work as a psychologist.
British bookmaker Ladbrokes said a surge of late bets yesterday had made Transtromer the 4-6 favorite for the prize.
"He was second favorite to begin with and stayed quite prominent throughout," spokesman Alex Donohue said.
"This morning, he became the favorite after a surge of late bets, several of which were from Sweden," he said, adding that the betting pattern was not suspicious. "The nearer you get to the event, there are always going to be people who have an idea of what is going on ... we're certainly not suggesting anything untoward was going on."
Comments will be moderated. Keep comments relevant to the article. Remarks containing abusive and obscene language, personal attacks of any kind or promotion will be removed and the user banned. Final decision will be at the discretion of the Taipei Times.