Canadian MP's flirty e-mails made public
A senior Canadian lawmaker and secretary to the minister of foreign affairs apologized on Friday after his flirtatious e-mails to a journalist with Xinhua news agency were made public.
Bob Dechert, a Conservative MP for the Missisauga-Erindale riding near Toronto, was forced to explain the missives on Friday after a mass e-mail distributed to media, academics and political contacts the previous day described his amorous messages to Shi Rong (施蓉), the Toronto bureau chief for Xinhua. The e-mails, sent from Dechert's parliamentary account, were dated around April last year.
One, dated April 17 last year and signed "Bob Dechert, MP," read: "You are so beautiful. I really like the picture of you by the water with your cheeks puffed. That look is so cute, I love it when you do that. Now, I miss you even more."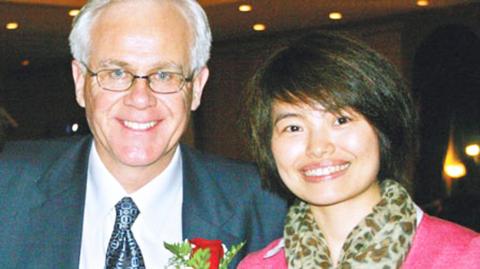 Canadian MP Bob Dechert is seen with Xinhua news agency reporter Shi Rong in this undated photo.
Photo: Screengrab from CBC News Web site
Another e-mail, sent three days later, read: "Dearest Rong ... How is your day? Did your interviews at Royal Bank go well? Did you get enough information for your articles?"
Informing her he had just arrived in Ottawa, Dechert then wrote: "I enjoyed the drive by thinking of you."
"We [the Canadian House of Commons] will be voting at 6:30 p.m. If you have time, watch on TV or on your computer [on the CPAC Web site] and I will smile at you," the message read, concluding with: "I miss you. Love, Bob."
Dechert, who is married, played down the nature of his relationship with Shi on Friday.
"[Shi] is a journalist whom I have come to know as a friend. I met her while doing Chinese-language media communications," he said.
"These e-mails are flirtatious, but the friendship remained innocent and simply that — a friendship. I apologize for any harm caused to anyone by this situation," the Globe and Mail quoted him as saying.
The MP claimed the e-mails had been "leaked" as part of a domestic dispute between Shi and her husband. Shi told a Canadian newspaper that her husband had "hacked" into her e-mail account.
Dechert is one of the two secretaries to Canadian Minister of Foreign Affairs John Baird, whose first visit abroad as Canada's top foreign affairs official was to Beijing in July. Dechert assumed that position following the Canadian federal elections on May 2. Prior to the assignment, he was parliamentary secretary to the justice minister.
Dechert's responsibilities under Baird are for North America and are unrelated to the Asia-Pacific region, government sources have told the Canadian Press, adding that he had been asked to give an account of his relationship with Shi to an unidentified government official.
As part of their functions, parliamentary secretaries answer questions in the House of Commons when the minister is not present, a government official said, adding that such a position normally does not come with access to Cabinet-level information and is usually limited to briefing notes.
Western intelligence agencies have long suspected journalists from Xinhua of also being under the employ of the Chinese intelligence apparatus. In at least one Western country, the domestic intelligence service operates under the assumption that Xinhua reporters are "undeclared" intelligence officers.
Beijing's definition of what constitutes intelligence material is rather vague. It is known that journalists working for Xinhua, the People's Daily and other state-owned publications are also tasked with producing neibu cankao ziliao (內部參考資料), or "internal reference reports," on subjects that are deemed too sensitive for public consumption. Those reports are circulated only among Chinese officials.
While it has yet to be determined whether Dechert was the target of a "honey trap," the Chinese intelligence apparatus has a long tradition of using attractive women to compromise or blackmail government officials, business leaders and individuals in the arms industry.
In an interview last year, Canadian Security Intelligence Service Director Richard Fadden said at least two Canadian Cabinet ministers at the provincial level, as well as a number of other government officials were "under the control" of foreign intelligence agencies.
While he did not specify any countries, it was widely understood that Fadden was referring to China.
Comments will be moderated. Keep comments relevant to the article. Remarks containing abusive and obscene language, personal attacks of any kind or promotion will be removed and the user banned. Final decision will be at the discretion of the Taipei Times.