Su Jia-chyuan tapped as Tsai's VP mate
EAGER AND WILLING: Though not the DPP presidential candidate's first choice, Su said he did not mind, as he and Tsai Ing-wen have a strong mutual understanding
Democratic Progressive Party (DPP) Chairperson Tsai Ing-wen (蔡英文) ended months-long speculation yesterday, announcing DPP Secretary-General Su Jia-chyuan (蘇嘉全) as her running mate for next year's presidential election.
Su said he is ready to tackle the challenge with his political experience and the "excellent chemistry" he has with Tsai, as the pair had led the DPP's recovery from a landslide loss in the 2008 presidential election.
The Tsai-Su ticket will challenge President Ma Ying-jeou (馬英九), who is running for re-election, in what public opinion polls show could be a neck-and-neck race. Ma of the Chinese Nationalist Party (KMT) announced on June 19 that he would pair up with Premier Wu Den-yih (吳敦義) for the January poll.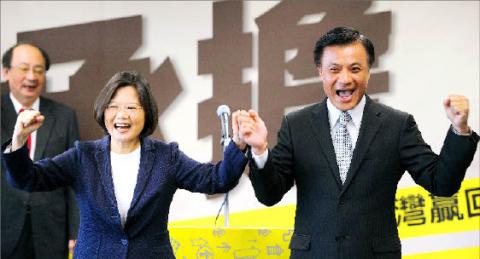 Democratic Progressive Party (DPP) Secretary-General Su Jia-chyuan, right, joins hands with DPP Chairperson Tsai Ing-wen during a press conference in Taipei yesterday. The DPP presidential candidate announced her choice of the former Pingtung County commissioner and Council of Agriculture head as her running mate to help secure rural grassroots support in the January presidential elections.
Photo: Sam Yeh, AFP
Su's selection came as no surprise after former premier Su Tseng-chang (蘇貞昌) officially turned down Tsai's offer following a string of rejections by other non-DPP members Tsai had preferred, leaving the 54-year-old Pingtung native the only viable pick.
Tsai was confident that she and Su Jia-chyuan would be able to ride the momentum they had created for the DPP in the past three years, during which they helped the party to a series of electoral victories.
Tsai praised Su Jia-chyuan for his success as a Pingtung County commissioner and Council of Agriculture chairman, saying that he would be able to play a critical role in the DPP's plan to revive domestic industries and markets.
The DPP presidential candidate also expressed her appreciation for Su Jia-chyuan's humility and patience in allowing her to first explore opportunities to form a presidential ticket with non-DPP members and other party heavyweights, such as Su Tseng-chang.
"I would be the one who understands Chairperson Tsai best after working with her for the past three years," Su Jia-chyuan said.
Su Jia-chyuan stressed that he "had always accepted any task that Tsai wanted him to do without questions asked," such as participating in the Greater Taichung mayoral race last year, when he almost turned what was expected to be a crushing loss into a near-victory in five months.
Because of that mutual understanding, Su Jia-chyuan said, he did not mind that he was not Tsai's top choice, nor being described as Tsai's "spare tire" by the media.
Concluding his speech, Su Jia-chyuan called for voters to "give the DPP and the Tsai-Su ticket a chance so Taiwan will be able to stand with dignity."
"Su Jia-chyuan is an ideal choice [for running mate]. The DPP legislative caucus will offer unconditional support," DPP caucus whip Tsai Huang-liang (蔡煌瑯) said.
Citing his performance in Greater Taichung in November last year, Tsai described Su Jia-chyuan as a "powerful and explosive candidate" who will shock his opponents once again.
DPP Legislator Wong Chin-chu (翁金珠) said Su Jia-chyuan should be able to consolidate the party's support base in central Taiwan, which is expected to be the crucial battleground in determining the final outcome.
DPP Legislator Huang Shu-ying (黃淑英) praised Su Jia-chyuan's down-to-earth and genuine personality, saying that he would be a big plus for Tsai's campaign.
At a separate setting yesterday, King Pu-tsung (金溥聰), executive director of Ma's re-election campaign office, declined to comment on Tsai's choice of Su Jia-chyuan as running mate, and said the Ma campaign office would follow its schedule in seeking victory in the presidential election.
"Our rival had a lot of criticisms against the KMT's vice presidential candidate when we announced the nominee and we disagreed because we believe the nominee is the best choice. We will not do the same to them ... Although there are criticisms, we will not make any comments," King said.
Faced with the appointment of Su Jia-chyuan, who lost in Greater Taichung by a thin margin, but has since maintained close contacts with grassroots groups in the Taichung area, the KMT said it would work harder to consolidate support in central Taiwan.
Ma's campaign team originally planned to launch its central Taiwan office in Greater Taichung tomorrow, but will delay the schedule as Greater Taichung Mayor Jason Hu (胡志強) and Changhua County Commissioner Cho Po-yuan (卓伯源) would have been unable to attend the launch ceremony.
Comments will be moderated. Keep comments relevant to the article. Remarks containing abusive and obscene language, personal attacks of any kind or promotion will be removed and the user banned. Final decision will be at the discretion of the Taipei Times.