Abe warns on health of US-Japanese alliance
'FILLED WITH UNCERTAINTIES': Democratic Progressive Party Chairperson Tsai Ing-wen said the US-Japan military alliance remains key to order in the Asia-Pacific region
Former Japanese prime minister Shinzo Abe told a conference on regional security in Taipei yesterday that the March 11 earthquake and tsunami marked a "turning point" in the US-Japanese alliance and warned that if both countries did not find ways to resolve their financial difficulties, they would have no choice but to cut their defense budgets.
In a keynote speech at the International Symposium on Regional Security of the Asia-Pacific and Peace in the Taiwan Strait, Abe said the damage from the tsunami was comparable to that caused by war.
The symposium was organized by the Taiwan National Security Institute and the Taiwan Foundation for Democracy.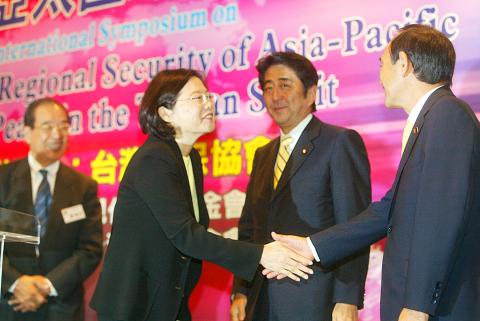 Former Japanese prime minister Shinzo Abe, second right, looks on as Democratic Progressive Party Chairperson Tsai Ing-wen, second left, shakes hands with former Japanese minister of general affairs Yoshihide Suga in Taipei yesterday.
Photo: CNA
While the financial crisis in the US has already forced Washington to cut defense spending, Japan, which is also facing financial problems in the wake of the disaster in March, could also be compelled to do so and that would have a negative impact on troop morale and Japan's ability to modernize its armed forces, Abe said, referring to such a scenario as a "national security crisis."
Those developments coincided with the rapid buildup of the Chinese military, Abe said, adding that the past 20 years of modernization had resulted in Beijing's increased ability to project its power, especially at sea.
Building on this new ability, Beijing has conflated a "strategic frontier theory" with its claims to an exclusive economic zone in the East China Sea and the South China Sea, which stems from what Abe, who was prime minister from September 2006 to September 2007, called "dangerous logic."
A paper delivered for the occasion and written by former Japanese vice minister of defense Akihisa Nagashima, who could not attend the symposium as he has just been appointed special adviser to Japanese Prime Minister Yoshihiko Noda for foreign and defense matters, said China's efforts to enhance its combat capabilities along its coastal waters have become a "real threat."
Democratic Progressive Party Chairperson Tsai Ing-wen (蔡英文), who is scheduled to visit Japan next month, said at the conference that Taiwan's ability to handle regional problems was contingent on the strength of the US-Japan alliance, which remained key to regional order.
Despite the warming ties across the Taiwan Strait, the situation remains "filled with uncertainties," Tsai said, adding that China's latest military white paper, released in March, made it clear that the main task of the People's Liberation Army remained opposing Taiwanese independence and facilitating unification.
She said relations with China should be based on reciprocity and only when China has democratized could the two sides approach dialogue in a unitary fashion.
Unfortunately, she said, dialogue between the Chinese Nationalist Party (KMT) and the Chinese Communist Party has so far avoided discussing democracy.
In the afternoon session, Steve Yates, who served as deputy assistant to former US vice president Dick Cheney on national security affairs, said the pressing question now was how a Washington weighed down by fiscal constraints would deal with an "emboldened, non-democratic China" whose "peaceful rise" was far from assured.
"China has turned the request for a cooperative partnership into an attempt to influence US policies and gradually displace the United States in the Asia-Pacific region," said Yates, an expert on Asia.
Yates said the situation called for the US to strengthen mutual defense commitments and greater collective capability, adding that to this end, the US should lift restrictions on some transfers of technology to allies such as Taiwan and Japan to create a "multipolar deterrent" against China.
Comments will be moderated. Keep comments relevant to the article. Remarks containing abusive and obscene language, personal attacks of any kind or promotion will be removed and the user banned. Final decision will be at the discretion of the Taipei Times.